Photo Flash: In Rehearsal with Horse Trade's EIGHTYTHREE DOWN
It's New Year's Eve 1983 and Martin's plan for a quiet night in his parents' basement is thrown into chaos when his old friend Dina and her hooligan roommates arrive with a gun, a bag of stolen books, and a dangerous idea.
Horse Trade Theater Group in association with Hard Sparks will present Eightythree Down, written by J. Stephen Brantley (Village Voice Pick of the Year for Distortion Taco; Winner of 2011 Fresh Fruit One-Act Competition for Shiny Pair of Complications) and directed by Daniel Talbott (2007 NYIT Award for Outstanding Direction of Rules of the Universe; Keep Your Baggage With You (at all times) at Theater for the New City). The production will feature Melody Bates*(Caucasian Chalk Circle at La Mama E.T.C.; Mac Wellman's Obie Award-winning Jennie Richee), Ian Holcomb (Macbeth with Theatre for a New Audience; Transport with Irish Arts Center), Bryan Kaplan (Knuckleball at the Edinburgh Fringe Festival), and Brian Miskell (Purple Rep's The Un-Marrying Project; The Stray Dog with Rising Phoenix Rep) with Sound Design by Janie Bullard, Set Design by Eugenia Furneaux-Arends, Lighting Design by Brad Peterson and Costume Design by Tristan Raines (2011 revival of Rent at New World Stages). The production team will also include Stage Management by Amanda Michaels, Assistant Director Evan Caccioppoli, Assistant Stage Manager Alex Marks, and Casting by Jenn Haltman.
*Appears courtesy of Actors' Equity Association. Eightythree Down is an Equity Approved Showcase.
Eightythree Down was originally developed under the guidance of Pulitzer Prize nominated playwright, Craig Lucas at the 2009 Southampton Writers Conference and It also earned the 2009 Georgia Theatre Conference Award.
"J. Stephen Brantley's Eightythree Down is a marvelous comedy of manners and menace, stylishly imagined in the vein of The Petrified Forest, and Daniel Talbott is just the gender-twisting wunderkind to bring it to life. Can't wait." Playwright Craig Lucas
The production, presented by Horse Trade Theater Group and Hard Sparks will run September 1-17 at UNDER St. Marks (94 St. Marks Place between 1st Ave and Ave A), Thursday through Saturday at 8pm. Tickets ($18/$15 students & seniors) are available online at www.horseTRADE.info or by calling Smarttix at 212-868-4444.
J. STEPHEN BRANTLEY (Playwright) is an actor and playwright whose work has been commissioned by Lincoln Center Director's Lab and Performance Space 122, where his Distortion Taco was named a Village Voice Pick Of The Year. His plays Blood Grass (Sam French Final Forty, 2011), Furbelow, Good God Enters Flossing, The Jamb, Nevertheless, Shiny Pair Of Complications, and Struck have been performed across the United States. Brantley's award-winning one-act Break has been produced in Provincetown, New York, New Orleans, Los Angeles, Portland, Cranston RI, and at the Absolut Dublin International Gay Theatre Festival. J.Stephen is also a graduate of NYU's Experimental Theatre Wing, a member of EAT and TOSOS, and Artistic Director of Hard Sparks. He is currently collaborating with Theatre 167 on the third installment of their epic Jackson Heights trilogy.
Daniel Talbott (Director) Recent directing work includes Squealer (Lesser America at Theater for the New City), The Umbrella Plays (the teacup company/FringeNYC - Overall Excellence Award: Outstanding Play and at The Tank), Keep Your Baggage With You (at all times) (Theater for the New City), Footprint by Mac Rogers (part of +30NYC for Red Fern Theatre), Afterclap by Daniel Reitz, Birthday and Nobody, both by Crystal Skillman (Rising Phoenix Rep at the Seventh Street Small Stage), and Fall Forward (Sitelines/River to River Festival produced by the Lower Manhattan Cultural Council). His play Slipping was produced at Rattlestick with Piece by Piece Productions (named one of the top ten plays of 2009 by The Advocate), premiered in Chicago at The Side Project, and was part of the International Dublin Gay Theatre Festival. It was published last year by Dramatists Play Service and was a finalist for a 2011 Lambda Literary Award for Drama. His play What Happened When was produced at HERE Arts Center and The Side Project and was published as part of the Plays and Playwrights 2008 anthology. He received a 2011 Theater Hall of Fame Fellowship, a 2007 New York Innovative Theatre Award for directing, a Drama-Logue Award, two Dean Goodman Choice Awards and a Judy Award for acting, and was also named one of the 15 People of the Year 2006 by nytheatre.com. He is a member of MCC Theater's Playwrights' Coalition, of last year's 24Seven Lab, and of TOSOS. He is a graduate of Juilliard and of Solano College Theatre's ATP, and teaches at the Primary Stages Einhorn School of Performing Arts (ESPA). He is one of the literary managers of Rattlestick Playwrights Theater and the artistic director of Rising Phoenix Rep (recipient of the 2007 NYIT Caffe Cino Fellowship Award).
HARD SPARKS champions the work of early- to mid-career actors and playwrights. We make art for a diverse audience of theatergoers who demand daring performances of dangerous plays. Hard Sparks is committed to producing challenging new works, to maintaining the dignity of theatre artists, and to partnering with local community-based organizations to improve people's lives.
HORSE TRADE THEATER GROUP is a self-sustaining theater development group; with a focus on new work, it has produced a massive quantity of stimulating downtown theater. Horse Trade's Resident Artist Program offers a home to a select group of Independent Theater artists, pooling together a great deal of talent and energy. It is also the home of FRIGID New York - the first and only festival of its kind in New York City.
Photo Credit: Daniel Talbott


Horse Trade Theater Group's space at Under St. Marks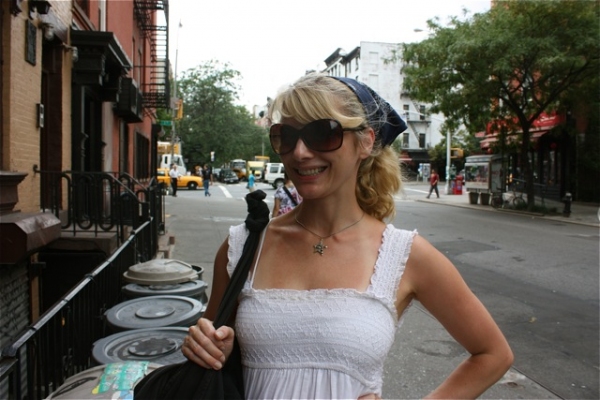 Melody Bates

J.Stephen Brantley and Melody Bates

Brian Miskell and Bryan Kaplan

Evan Caccioppoli, Bertie Michaels, and J.Stephen Brantley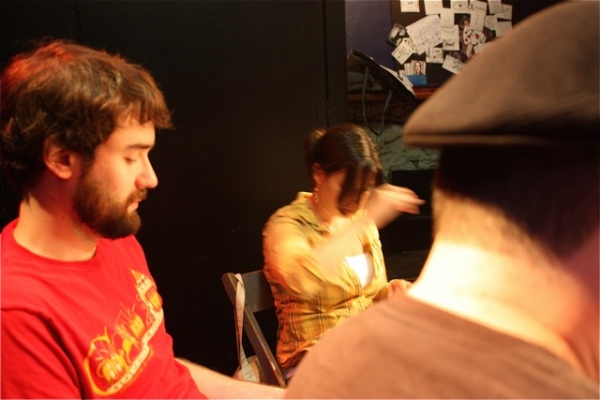 Alex Mark, Bertie Michaels, Evan Caccioppoli

Ian Holcomb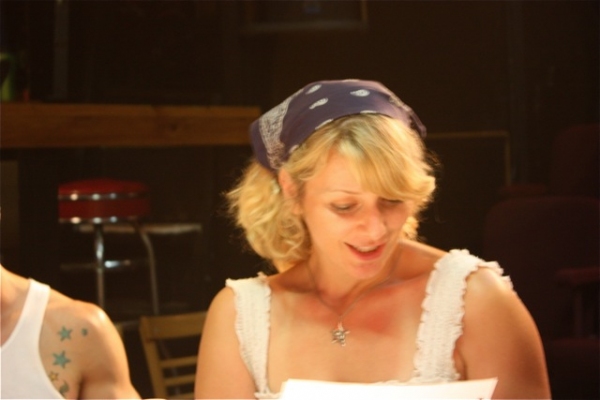 Melody Bates

Evan Caccioppoli and J.Stephen Brantley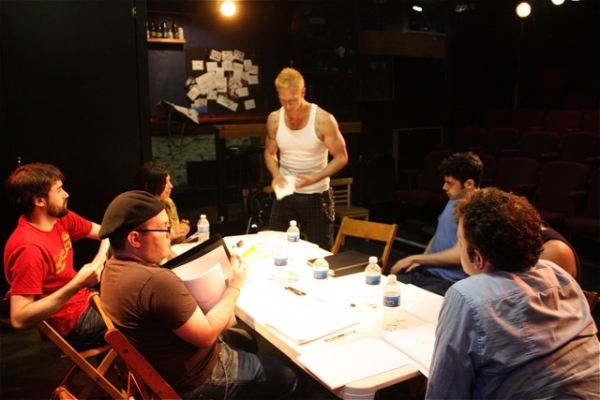 Alex Mark, Bertie Michaels, Evan Caccioppoli, J.Stephen Brantley, Brian Miskell and Ian Holcomb

Brian Miskell, Bertie Michaels, Melody Bates, J.Stephen Brantley, and Bryan Kaplan

Bertie Michaels, Melody Bates, and J.Stephen Brantley