Photo Flash: Fuller, Feldshuh, Gillette, Budd and More at DOUBLE TAKE
Sally Mayes (Tony Nominee "She Loves Me," "Closer Than Ever," "Urban Cowboy" and Jeff Harnar finished their September run at The Laurie Beechman Theatre with an audience that included Tovah Feldshuh (Tony Nominee "Golda's Balcony"), Penny Fuller (Tony Nominee "Applause"), Anita Gillette (Tony Nominee "Chapter Two"), Karen Akers (Tony Nominee "Grand Hotel" and "Nine"), Bill Hutton (the original Joseph "Joseph and the Amazing Technicolor Dream Coat"), Mark Waldrop (Director "When Pigs Fly"), songwriter Tom Toce and award-winning singer Julie Budd.
Rex Reed writes, "Two powerhouse performers giving it all they've got is more than anyone has a right to hope for in the world of entertainment. "DOUBLE TAKE" is a double dose of wit, sparkle, savvy and music, stirred with love, laughter and a lifetime of dedication to show business sensationalism! I absolutely loved every enchanting minute of it."
The next performance is a special Cabaret Convention week matinee Thursday October 20th at 2pm. Music Director Alex Rybeck, bass Bob Renino and drums Dan Gross>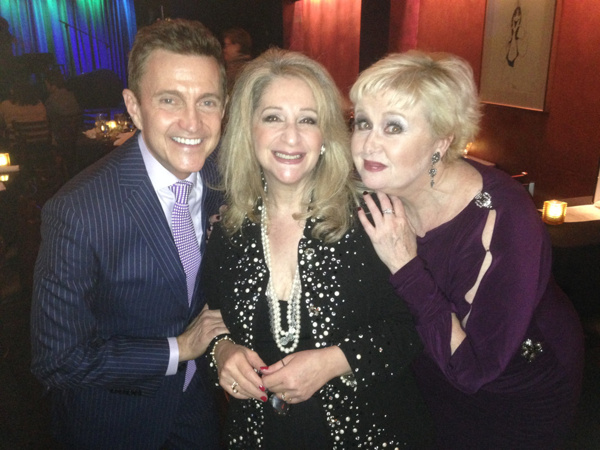 Jeff Harnar, Julie Budd, Sally Mayes after DOUBLE TAKE at The Laurie Beechman Theatre

Bill Hutton, Penny Fuller, Jeff Harnar, Tom Toce, Mark Waldrop after DOUBLE TAKE at The Laurie Beechman Theatre

Jeff Harnar, Tovah Feldshuh, Anita Gillette, Alex Rybeck after DOUBLE TAKE at The Laurie Beechman Theatre