Photo Flash: First Look at Stage Left Studio's WOMEN AT WORK Festival, Opening Sept 23
The 7th Annual Women at Work Festival will feature solo shows and short plays by and/or about women, September 23 through October 7 at Stage Left Studio. Ten productions of new works, popular touring plays and visiting artists have been accepted into the festival line-up. Producer
Cheryl King
will include two special performances of "Selected Short Subjects," a hand-selected collection of contemporary, edgy playwrights and monologists who deal with themes of particular interest to women. Check out photos from some of the shows below!
The festival donates all net proceeds to The Girl Effect, a global organization that provides funds to girls around the world so that they can raise themselves, their families and villages out of poverty. Advanced tickets are highly recommended. All tickets are $20 dollars and can be purchased through the theatre's website,
www.stageleftstudio.net
, where you can also find scheduling information.
LISTEN! CAN YOU HEAR ME NOW?
The true story of a hearing child's life as the sole interpreter for deaf parents. Having grown up in a home where ringing telephones and doorbells set off flashing lights and being able to hear makes you an outsider, Gloria Rosen takes us on a funny, irreverent and poignant journey to find her own voice. Written by and starring Gloria Rosen and directed by
Peter Flint
and Michael Leoni.
FRANK WOMEN
A cornucopia of excellent character actresses speak their plain truths as they take on the roles of American playwright
Frank Blocker
's canon. Welfare mothers, nuns, maids, rodeo riders and murderers dispense wisdom and advice, from the heartbreaking monologue "Every Day Clothes" to the hilarious Iona Winchester. Because of packed houses from its original 2-night engagement, reservations are highly recommended. Featuring Theresa Gambacorta,
Gaby Gold
, Amy Heath Bell,
Cheryl King
, Stefani Searcy,
Jeremy Neal
, Jenn Wehrung, Elza Zagreda. Directors include Kristin Cassidy, Theresa Gambacorta, Valerie Hager,
Cheryl King
, Vincent Marano, Regina O'Malley and Abby Williams.
EXPIRATION DATE
(Staged Reading) One hundred years in the future, life as we know it is radically different: cold, sterile and artificial. Mildred wants to "expire" on her 150th birthday but her family and friends try to convince her to transition into another life form, a "People-Pod." Albert, her son, wants her to join husband and father Arthur as a P-Pod in order to keep the family intact. Written by Rose-Marie Brandwein and featuring
Dorothy Chansky
, Emil G. Keller,
Maureen Kenny
, Isabella Knight, Madeline Rhodes, Nicholas Russell, KC Weakley, the production is directed by J. K. Musser.
FINDING Elizabeth Taylor
Yes, it's her real name and it's a lot to live up to—the eyes, the men, the diets, the diamonds, the booze. And oh...how she's tried. A love letter to La Liz and the other
Elizabeth Taylor
; two women obsessed with life and its finer points. Written by and starring Elizabeth Claire Taylor. Directed by
Cheryl King
.
HOW TO GET INTO MY PANTS
The journey of a 35+ Spiritual Girl in a Material World, awakening sexually and learning to balance the sacred and the sexual, in NYC. A Tour de Force of stand up, cabaret & a musical play...all wrapped into a one-woman show of sexual healing via cabaret...including, Spiritual Girl, Kiela's funny & touching rendition of Material Girl, w/ back up dancers...not to be missed! Written by Kiela Mellott and featuring Kiela. Directed by Jerry Brody with accompaniment by Mitchell Raftery.
NATURAL NOVICE
She's smart, she's funny, she's pretty…and hairy. A comic exploration of what it means to move from a commune to New York City as a woman who doesn't shave. Not only light-hearted self-analysis, but also a feminist critique of the social structures of aesthetic and how a woman defines herself. Featuring Siobhan O'Loughlin and directed by Mario Giacalone with accompanist Zack Branch on cello.
SELECTED SHORT SUBJECTS
The "best of" short plays and monologues featuring the working woman: Treatment by William LoCasto; Forsythia by Richard Ballon; The Year of Dead Cats, Erica Herd's true story of a daughter and mother dealing with Alzheimer's (Sep 29 only); Drama at the Point, Karen Sklaire's solo show about her time as a teacher in the Bronx; Sandbag, "Pope Joan," TMZ-style Cinderella story One Half Sister by Frank Blocker, and a monologue from Macbeth: The Murder Mystery co-written with Lydia Bolen. Featuring Jacinthe Connor, TC Corwin, Erica Herd, Cheryl King, Jeremy Neal, Stefani Searcy, Nomi Tichman and Karen Sklaire. Directors include Theresa Gambacorta, Regina O'Malley, Barry Rowell, Cheryl King.
NAKED IN ALASKA
A true story of a Holly-Go-Lightly girl with a dark past who becomes an exotic dancer at The Showboat Showgirls in Fairbanks, Alaska. Sexy pole tricks, eccentric Alaskan characters, glittery costumes, great rock n' roll, and a big heart! All for the sake finding a tribe to call her own. Featuring Valerie Hager and directed by Scott Slavin and with costumes by Matt Knife.
MY MOTHER'S CARS
On the eve of her mother's near fatal car crash, Megan is about to move to New York City. A comedic look at the co-dependant dance of mother and daughter on their individual roads to freedom, following a dream, female friendship and love. Written by and starring Megan Dunlop and directed by Amber Godfrey.
THE BEST LAID PLANS / VIVIEN ON THE ROCKS
The Best Laid Plans is comprised of three short plays by Susan Laubach. Mary and Dora are best friends until a fellow cruise ship passenger takes an interest in Mary. In "Your Tour Guide, Wanda," an Eastern European hopes this is her last tour before a long-awaited transfer to Tuscany. The third short play, "The New Neighbor," features Maeve, doyen of the gated community Mayfield Close, horrified by her new overly-blonde and wildly inappropriate neighbor, Heather.The evening also features a short play by Adriana Jones exploring
Vivien Merchant
, celebrated actress and first wife of
Harold Pinter
. Vivien is tired of being a footnote in her ex-husband's various obituaries. So, she's back from the dead to tell her story on her own terms in this gripping, intimate one-act. Written by Susan Laubach and Adriana Jones and featuring Stephanie Braxton, Susan Laubach and Adriana Jones. The show is directed by
Gretchen Cryer
and
Daniel Robert
s.
HE/SHE AND ME
The story of Pat, whose long time husband Sam becomes Sheila. Pat must delve deep to rediscover their connection—and herself—redefining true love and what makes a marriage. This show has been met with critical acclaim throughout the United States. Written by and starring Sharon Mathis, directed by Robert Drake.
Photos courtesy Stage Left Studio.


Siobhan O'Loughlin in Natural Novice

Siobhan O'Loughlin in Natural Novice

Siobhan O'Loughlin in Natural Novice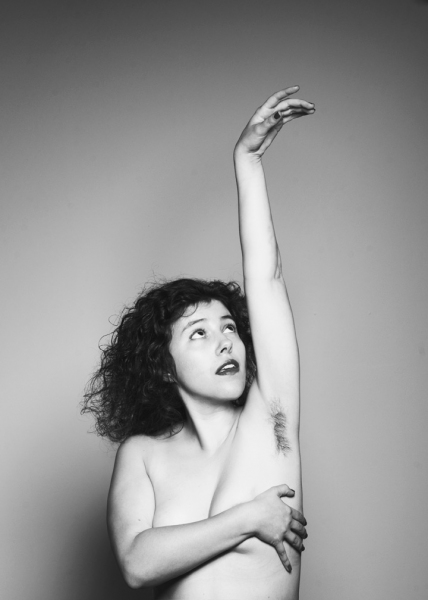 Siobhan O'Loughlin in Natural Novice

Sharon Mathis in HE/SHE AND ME

Sharon Mathis in HE/SHE AND ME

Kiela Mellott in How To Get Into My Pants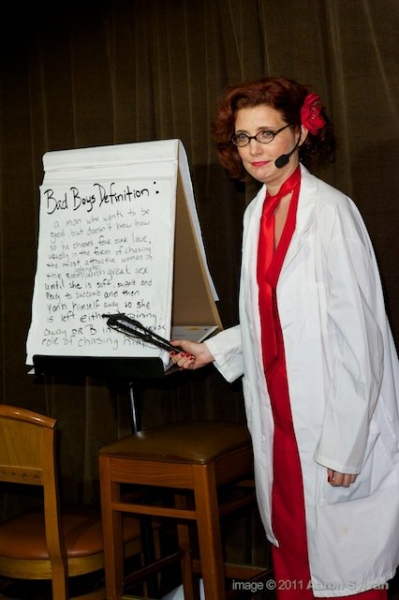 Kiela Mellott in How To Get Into My Pants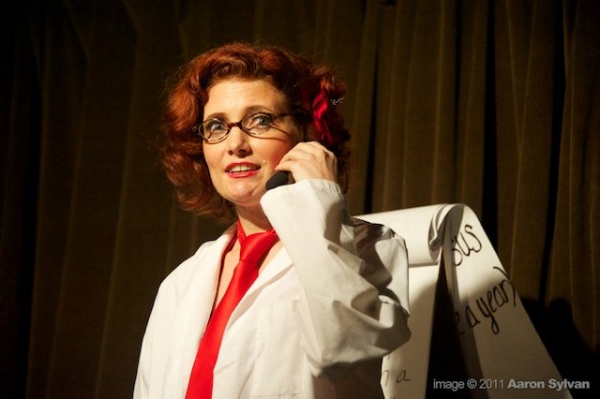 Kiela Mellott in How To Get Into My Pants


Related Articles View More Off-Off-Broadway

Stories

Shows
More Hot Stories For You