Photo Flash: FRANK WOMEN Celebration of Frank Blocker at Stage Left Studio
Stage Left Studio presented a two-night celebration of American playwright
Frank Blocker
's canon of work on August 17 and 18 at 7:30 pm, entitled "Frank Women." The stellar cast included Tam Paquette, once the face of Toyoto's original "Hot, Hot, Hot" campaign and a former Bud Girl, who flew in from Florida to lend her comic chops to the evening's festivities. Acclaimed acting coach and star of the touring solo show Bald in the Land of Big Hair, Lisa Hamilton of Houston, Texas, shared her skills along with fellow Texan, character actress Chericia Curtis, a national comedy winner and former beauty queen. They joined a dozen actresses and comediennes to channel selections from Blocker's established plays as well as several new monologues and performance pieces.
Check out photos from the show below!
Known for "well-written women," Blocker premiered several new monologues including "What I Learned from Aunt Mary," "This is Your Mother," "My Cantaloupes," and "The Kroger What's Near My House." Inspired by the American experience, the characters presented included Southerners, Northerners, Midwesterners, sun-drenched Westerners, and even a monologue in broken Spanglish.
The cast was rounded out by company members from Stage Left Studio's Forbidden Kiss LIVE! show: Gaby Gold, Cheryl King (Grapefruit), Jenn Wehrung, Elza Zagreda (Dating, Depression and Dirtbags) and show regular Valerie Hager. Seasoned character actresses Amy Heath Bell, Theresa Gambacorta, Stefani Miller and Nomi Tichman also joined the show along with sole male interloper, Jeremy Neal. Ellen Rosenberg is the light and sound designer.
Directors included Karen Baker (University of North Carolina-Greensboro), Kristin Cassidy, Vincent Marano, Regina O'Malley (AMDA), Barry Rowell (Peculiar Works Project) and Abby Williams. Performers Gambacorta, King and Hager also directed some of the selections.
Blocker is currently starring in self-penned Stabilized Not Controlled, also at Stage Left Studio, Sundays at 5:00 pm. Other plays include Southern Gothic Novel: The Aberdeen, Mississippi Sex-Slave Incident (Drama Desk Award nomination), Good Jew, Patient Number, Air Marshals, The Wisconsinners and Eula Mae's Beauty, Bait & Tackle.
FRANK WOMEN returns for a special performance on Sept 23, 7:30 pm, as part of the 7th Annual Women At Work Festival at Stage Left Studio. For more about the show and Stage Left, visit www.stageleftstudio.net. 
Photos courtesy Stage Left Studio.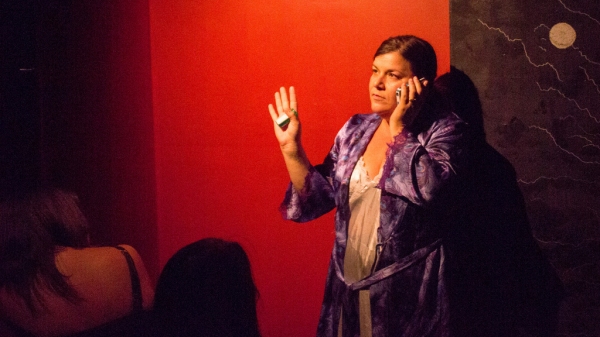 Jenn Wehrung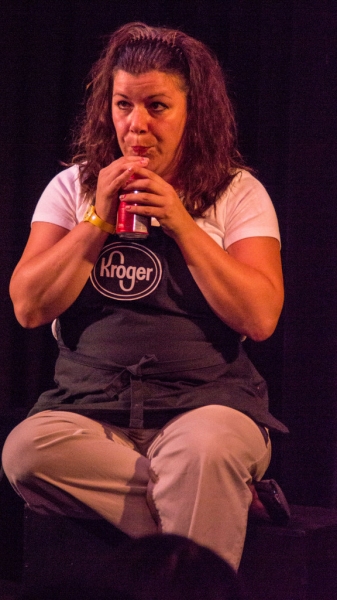 Jenn Wehrung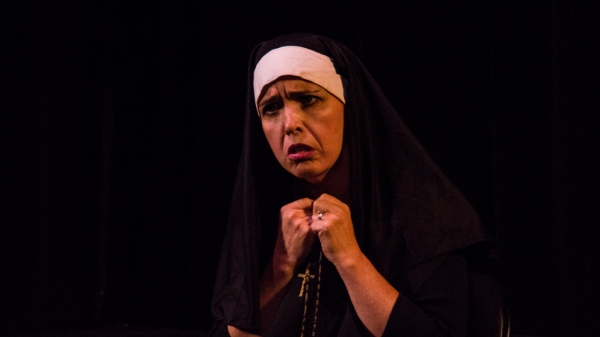 Amy Heath Bell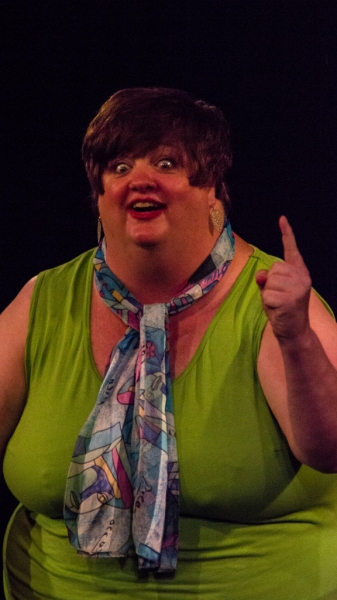 Stefani Searcy