Nikki M. James, Simon Jones and More to Star in THE DEVIL'S DISCIPLE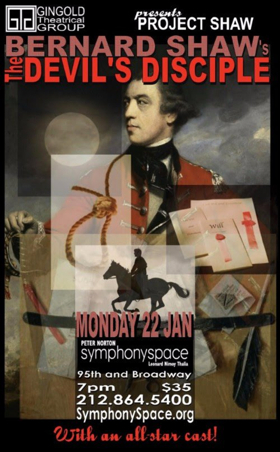 Gingold Theatrical Group (David Staller, Artistic Director) is proud to announce the first presentation of the 13th Season of Project Shaw, a special series of evenings offering some of Shaw's greatest works and those of his contemporaries, presented monthly at Symphony Space's Leonard Nimoy Thalia Theatre (2537 Broadway at 95th Street).
The 13th season kicks off January 22nd with The Devil's Disciple, written in 1896.
Bernard Shaw
's classic comedy weaves a story around the unlikely backdrop of the American Revolution! Some of Shaw's most entertainingly iconographic characters fill out this tale of revolt: of one country against another as well as of the inexhaustible battle of the human spirit - how we choose to create and define ourselves in the face of societal expectations. In this play, we find ourselves in a 1777 New Hampshire village where Dick Dudgeon opens his heart to life. Along the way, everyone goes through profound changes of discovery, hope and strength. Artistic Director
David Staller
directs a cast that features
Andy Baldeschwiler
,
Sidney J. Burgoyne
,
Bradford Cover
,
Richard Ferrone
,
Midori Francis
(The Wolves),
Nikki M. James
(Tony Award - The Book of Mormon),
Simon Jones
(Farinelli and the King),
Ted Koch
(Junk),
James Prendergast
,
Michael Raver
,
Derek Smith
(The Lion King), and
Dana Smith
-Croll. The 13th season will continue with Shaw's Pygmalion (February 19th), The Doctor's Dilemma (May 21st), Buoyant Billions (June 18th), Back to Methuselah (Part 1 - October 22nd, Part 2 - November 19th), and from Shaw's contemporaries, Chicago by
Maurine Dallas Watkins
(the basis of the long running musical, on July 23rd), The New Word by J. M. Barrie & O'Flaherty along with Shaw's V.C. (September 24th), and The Enchanted Cottage by
Arthur Wing Pinero
(December 17th). "This is the irreverent comedy that finally brought Shaw fame as a playwright, and how appropriate this sudden success should have happened right here in New York City. Shaw's inspiration was the American War of Independence from the British. Our struggle against Empirical rule was of natural interest to the Irish Shaw, an activist for human rights and free speech. The play was a sensational hit on Broadway in 1897. It remains one of his most vital and insightful comedies and perfectly embraces our theme for 2018: 'The Power of Persistence, a theatrical survival guide'," said Mr. Staller. All the plays in this series will be presented in a concert-reading format at the
Leonard Nimoy
Thalia Theater at
Symphony Space
, 2537 Broadway at 95th Street. Tickets are $35 and are available by calling (212) 864-5400 or online at
www.symphonyspace.org
. Special reserved VIP seating available for $50 by contacting the Gingold office 212-355-7823 or info@gingoldgroup.org.
Symphony Space
's
Leonard Nimoy
Thalia Theatre space is completely accessible. Now celebrating its 13th year, Gingold Theatrical Group's Project Shaw made history in December 2009 as the first company ever to present performances of every one of Shaw's 65 plays (including full-length works, one-acts and sketches). They are now also including plays by writers who most inspired Shaw to begin his playwriting career, including work by Chekhov, Ibsen, Wilde, Barrie, and
Harley Granville-Barker
-- while continuing its new play development and educational programs. For those interested in lively off-site discourses, each Project Shaw event is followed by a talk-back with cast members. GTG's
David Staller
and
Stephen Brown
-Fried are also hosting a monthly Shaw Club discussion group. Always lively, they meet the Monday evening after every Project Shaw event at 520 8th Avenue. For reservations, which are required, call 212-355-7823 or email info@gingoldgroup.org.