New York Deaf Theatre Presents EVERY BRILLIANT THING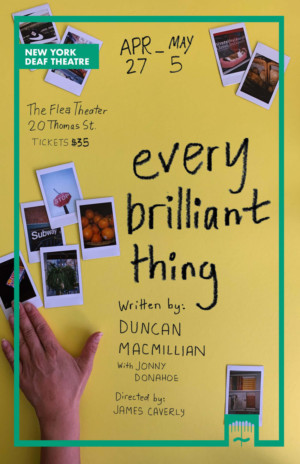 New York Deaf Theatre (NYDT) closes their 39th season with an accessible performance of EVERY BRILLIANT THING by Duncan MacMillan with Jonny Donahoe. This production marks James Caverly's directorial debut in New York City. Previews begin Saturday, April 27, and Opening night is on Sunday, April 28 at 7:00pm.
EVERY BRILLIANT THING presents all audiences an interactive experience of Duncan Macmillian with Jonny Donahoe's play in both American Sign Language and spoken English simultaneously. You're six years old. Mum's in hospital. Dad says she's "done something stupid." She finds it hard to be happy. So, you start to make a list of everything that is brilliant about the world. Everything that is worth living for. 1.) Ice cream. 2.) Kung Fu movies. 3.) Staying up past your bedtime and being allowed to watch TV. 4.) The colour yellow. You leave the list on Mum's pillow. You know she's read it because she's corrected your spelling. Soon, the list will take on a life of its own. A play about depression and the lengths we will go to for those who we love.
EVERY BRILLIANT THING will be presented as part of the Anchor Partner program at The Flea Theater. The Flea's three theaters in Tribeca were built to be shared with companies stretching to the next level, without a home of their own. NYDT is thrilled to be back at the Flea as an Anchor Partner this season.
James Caverly makes his directorial debut with New York Deaf Theatre. Directing credits: Romeo & Juliet at the Community College of Baltimore County; Cloud 9 (Assistant Director), Doctor Faustus, Noises Off, and The Philadelphia at Gallaudet University; The McWilliamses at National Theatre of the Deaf; and Quid Pro Quo (workshop) at Mosaic Theatre Company. Broadway credit: Children of a Lesser God (u/s) at Studio 54. Regional: I     Was Most Alive With You at Huntington Theatre Company; Tribes at Berkeley Repertory Theatre, Studio Theatre, and Speakeasy Stage Company; Beertown and Squares at Dog & Pony DC, and has toured with the National Theatre of the Deaf. Film: Chicago Med; A Bennett Song Holiday; Red Line.
New York Deaf Theatre is the premiere Deaf theatre non-profit organization for the New York City metropolitan area; supporting, developing, and presenting Deaf and Hard-of-Hearing artists since 1979. NYDT produces theatre accessible to Deaf and hearing audiences, using combinations that include American Sign Language (ASL), spoken English, projected subtitles, and nonverbal theatrical elements. Committed to honor Deaf Culture, NYDT fosters talents of local artists who use ASL and creates opportunities for differently-abled theatre professionals to work and collaborate through inclusive productions and programming. For more information, visit www.newyorkdeaftheatre.org.
The Flea Theater, under Artistic Director Niegel Smith and Producing Director Carol Ostrow, is one of New York's leading Off-Off-Broadway companies. Winner of several Obie Awards, a Special Drama Desk Award for outstanding achievement and an Otto Award for political theater, The Flea has presented over 100 theatrical, musical and dance performances since its inception in 1996. Past productions include premieres by Steven Banks, Thomas Bradshaw, Erin Courtney, Bathsheba Doran, Will Eno, Karen Finley, Amy Freed, Sarah Gancher, Sean Graney, A.R. Gurney, Jennifer Haley, Hamish Linklater, Enrique Gutiérrez Ortiz Monasterio, Itamar Moses, Anne Nelson, Qui Nguyen, Adam Rapp, Jonathan Reynolds, Kate Robbins, Roger Rosenblatt, Elizabeth Swados, and Mac Wellman. Successes include Drama Desk, nominated She Kills Monsters, These Seven Sicknesses, Restoration Comedy, The Mysteries and ten World Premiere productions by A.R. Gurney, including the SJ Best New Play of 2013, Family Furniture.
EVERY BRILLIANT THING runs April 27 - May 5 with performances Tuesday to Sunday at 7PM; and Saturday & Sunday at 3PM. The Flea is located at 20 Thomas Street between Church and Broadway, three blocks north of Chambers, close to the A/C/E, N/Q/R/W, 4/5/6, J/M/Z and 1/2/3 subway lines. Tickets can be purchased by calling The Flea Box Office (212-226-0051), online at www.theflea.org or www.newyorkdeaftheatre.org.