Meet The Cast And Production Team Of UNAFFORDABLY UNHEALTHY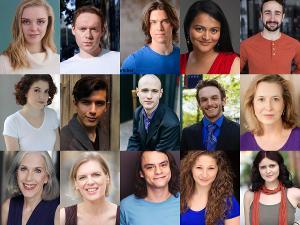 Next week, The Tank - one of the leading curators of independent theatre in New York City - will present the world premiere of Unaffordably Unhealthy, the new one-act drama by Anthony J. Piccione.
Inspired by true stories, Unaffordably Unhealthy is an exploration of how to stay alive in America, through the eyes of twelve different people with different backgrounds and ailments across the United States, the common theme - how hard it is to obtain and afford proper health insurance and the obstacles they encounter to treat their varied injuries and illnesses - is addressed.
Performances are scheduled for February 25 & 26; March 3 & 4 at 7pm; and February 29 and March 7 at 3pm. Tickets cost $20, and can be purchased by visiting www.thetanknyc.org. A portion of proceeds will be donated to Healthcare-NOW!, an organization dedicated to fighting for a national Medicare for All program that will ensure universal health care for every single American citizen.
Read below to learn more about the cast and production team.
CAST BIOS
Ishani Basu studied acting at the Barrow Group Theater and has appeared in the films Henna and How to Disappear. She is grateful to be part of the cast of Unaffordably Unhealthy!
Emily Brady is honored to help shed light on the healthcare crisis that is gripping our country through this new work! Off-Broadway: Murder on the Nile (Kay Mostyn), A Christmas Carol (Belle, Mrs. Cratchit, Dance Captain), Cinderella the Musical (Nadine), Beauty and the Beast (Norma), The Selfish Giant (Dance & Vocal Soloist) - The Players Theatre. Emily is an Atlanta, GA native and is a graduate of The American Musical and Dramatic Academy (NYC). She is currently performing in Swing! A Musical (Principal Female Dancer) at St. Luke's Theatre Off-Broadway as well as Spring Awakening (Marianna Wheelan, Female Swing) for the Access Theatre NYC.
Cathy Cavender - After a long career in magazines, Cathy Cavender returned to singing and acting, passions from earlier in life. She has appeared in numerous cabaret venues throughout NYC, and in productions of Village Light Opera Group (most recently, Ragtime), Curtain Call in Stamford, and at the White Plains Performing Arts Center and Musicals at Richter in Danbury. She's also appeared in many student and independent films, usually as "mom." She performs with the Linda Ronstadt tribute and, Different Drum, in Connecticut, where she lives.
Chelsea Clark is excited to be part of this wonderful production and work with such a talented cast and crew. Chelsea's first feature film, The Death of April, has been released domestically and internationally. Through the Screen Actors Guild (SAG), she has performed in a recurring principal role as Vera in Steven Soderbergh's The Knick. She has appeared as a lead character in Jimmy T. Martin's six-episode Dead On Acting, and she has been the lead in Sam Cooke's film short Monomyth, which has been well received at three film festivals. Chelsea enjoys writing, and has written and produced a film and several monologues. She is currently writing two full-length feature films. www.chelseaclark.us
Scotty Corn feels a personal connection with Unaffordably Unhealthy and is here to find his own peace and help give a voice to others suffering the trifles of feeling dehumanized as a patient. His recent works includes playing antagonist, Bex in the original cast of Rough Sleep at Manhattan Repertory Theatre and playing lead role Scotty Kernel in Video Game Addiction (Manhattan International Film Festival). Scotty also writes and produces for No Seats film productions. Scotty received his degree in Theatre at Missouri State University and has trained under actors, such as Tom Logan, Melanie-Dreyer Lude, and Maggie Marlin-Hess. Scotty would like everyone to know he's just a phone call away. "Don't hesitate if you need a friend." Scotty is also currently seeking representation! Scotty would like to thank his best friends and roommates, Ben Morris, Brandon Day, and Rene Uolla for their unconditional support, as well as his mother, Cindy Corn, and his father, Robert Corn, for allowing me to play and pretend in the backyard after dark. Finally, he would like to thank his brother, Rob Corn, for giving him a reason to fight for his dreams, "Because everyone deserves a voice."
Carson Frost is brand new to the New York scene! He graduated from the University of Wisconsin - Stevens Point with a BFA in Acting and Dance and has now been in NYC for a little over three months. This is Carson's second show in NYC so far and he is pumped to be in something tackling an issue as pertinent as healthcare in America!
Sarah Elizabeth Haga moved to NYC in May of 2019 after graduating from Brevard College in North Carolina with a major in Theatre Performance and two minors in Creative Writing and English. She works as an actress, writer, costume designer, (and Madre'D). This will be her NYC stage debut! She'd love to thank her parents, boyfriend, and friends for their constant belief in her dreams.
Louise Heller is delighted to be part of this ensemble production of Unaffordably Unhealthy. She also performed in Anthony J. Piccione's A Therapy Session with Myself (Kate/ Ms. Appleton/Beth) (Kraine Theatre). Regional: Hamlet (Gertrude) (Hudson Theatre Works), Schwarz Gemacht (Ruth) (Jersey City Theatre Center), A Royal Family (Miss Peake) (Shakespeare Theatre of New Jersey), The Mount (Katherine Gross) Lenox, The Mount. Other select New York theatre credits: Hamlet (Polonius), Little Women (Marmee), Spring's Awakening (Mrs. Gabor), Murder on the Nile (Miss Folliot-Ffoulkes), Twelve Angry Women (Juror #3) at Alpha Theatre; O Negative (Helen) and At The Gallery (Louise) at the Hudson Guild Theatre; Marco Millions (multi-lingual ensemble piece) at Target Margin Theatre. She has starred in the award-winning short film Victor!! and other indie feature and short films.
Mason Mickey - As a graduate of the New York Conservatory for Dramatic Arts, Mason is excited to join the ensemble of Unaffordably Unhealthy, as well as working alongside Nathan Cusson and Anthony J. Piccione. When he's not flaunting his ginger locks about various sets, stages and auditions, he's devouring inhumane amounts of caffeinated milkshakes disguised as "coffee" and finding ways to affirm that Seinfeld is a modernized Hitchhiker's Guide to the Galaxy!
Susan O'Doherty is an actor, improviser, storyteller, clinical psychologist, and hypnotherapist. She is featured in comedy shorts for The Huffington Post, Hyperbolic Media, and Upright Citizens Brigade; music videos for the singers Giselle and Roxiny and the rapper King J, and various films and videos. She is a founding member of Redshirts, the only all-women, Star Trek inspired musical improv team in the known universe. Sue is the author of Getting Unstuck Without Coming Unglued: A Woman's Guide to Unblocking Creativity (Perseus/Seal Press).
Holly Painter is a recent graduate from NYU Tisch. Her recent credits include Real Louisa in Imagined Dialogues at the 13th St Repertory Theatre and Sasha in We Are Not Well at the Lee Strasberg Institute. She would like to thank her boyfriend, her roommate, her parents and most importantly, her cat. She hopes you enjoy the show and go out and VOTE!! hollyapainter.com
Jordan Schreiber is thrilled to be joining the cast of Unaffordably Unhealthy! He's honored to be able to tell this story with a genuinely concerned cast and creative team, and hopes this message can invoke truthful change. Grateful to all involved in casting and the big guy upstairs for this opportunity to perform. Favorite Roles include Tarzan in Disney's Tarzan, Peter in Silent Sky, Claudio in Much Ado and Bert in Mary Poppins.
PRODUCTION TEAM BIOS
Cody Motivans (Stage Manager) This is the first production Cody has worked on in New York City since moving from Connecticut in the fall of 2019. He has primarily been an actor in previous projects and backstage crew member. He has done backstage work for Thread City and Lion in the Winter, and has acted in Julius Caesar, Hamlet! For Kids, To Kill a Mockingbird, Body Awareness, and To Damascus. He is excited to have this first experience in New York City with such a talented group of people and to work on such a unique show with an incredible message to our society.
Nathan Cusson (Director) marks his NYC directoral debut with Unaffordably Unhealthy! Born and raised in Willimantic, CT, Nathan received his BA in Theatre from Eastern Connecticut State University in May 2018 and moved to NYC in September of that same year. In the past, he has taken on the various roles of director, AD, producer, writer, and actor. His favorite roles prior to this performance are as Me (A Therapy Session with Myself), Peter van Daan (The Diary of Anne Frank) and Arjuna (Chitra). SAG Eligible. Seeking representation. If you're reading this, you are not blind. Cheers.
Anthony J. Piccione (Playwright/Producer) is an award-winning playwright and producer based in New York City. His full-length drama A Therapy Session with Myself premiered last year in January 2019 at the Hudson Guild Theatre before transferring in May to the Kraine Theater for an extended year-long run, and was recently acquired by UK-based publisher Smith Scripts. Additionally, his eclectic canon of one-acts has previously been presented in NYC at The Tank, the Hudson Guild Theatre, Planet Connections Theatre Festivity, Midtown International Theatre Festival, and Manhattan Repertory Theatre, as well as at regional venues such as Playhouse on Park, Hole in the Wall Theatre, the Windsor Art Center, and Windham Theatre Guild, and are published at Smith Scripts, Heuer Publishing & Off the Wall Plays. His short drama What I Left Behind was named the NYWinterfest's Best Short Play of 2018, and he was also nominated for Planet Connections Theatre Festivity's Outstanding Playwright award for his avant-garde one-act 4 $tages. He also works as a scriptwriter-for-hire, and his work has been commissioned by Sesame Workshop, Speaks Volumes Productions, and various other clients. He received his BA in Theatre from Eastern Connecticut State University in 2016 and is a proud member of the Dramatists Guild of America. Website: www.anthonyjpiccione.com Facebook: www.facebook.com/AnthonyJPiccione.OfficialPage Twitter: @A_J_Piccione Instagram: @anthonyjpiccione