James Clements' FOUR SISTERS is Re-Imagined At Theatre For The New City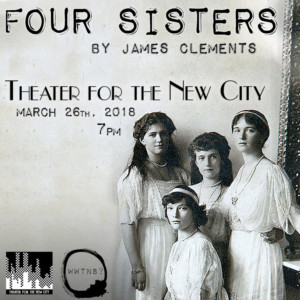 What Will the Neighbors Say? is excited to announce its reading of Four Sisters, a play by Co-Artistic Director James Clements, at Theatre for the New City. Presented as part of the theatre's Scratch Night Series, WWTNS? will share the re-imagined script on Monday, March 26th at 7pm at 155 1st Avenue. There is a $5.00 suggested donation to support the continuation of this vital artistic development program.
Comprised of personal writings of the four Grand Duchesses, select lines from Chekhov's "Three Sisters," Biblical passages, and imagined language, the play examines the role of women in wartime, the performative properties of female bodies, and the destruction of domestic histories. Each actor is of a different ethnicity, to further demonstrate the globalized and timeless nature of the Romanov's story.
Produced by WWTNS? co-founders Clements, Sam Hood Adrain, Jorge Morales-Picó and Ana Cristina Schuler, the piece features Rosie DeSantis as Olga, Lindsay Wolff as Tatiana, Melannie Vásquez Lara as Marie, and Lucy Livingston as Anastasia. Morales-Picó will design sound, including arranging the live performance of original music, alongside frequent WWTNS? collaborators Elizabeth Stewart designing lights, Lauren Barber set and props, and Johanna Pan costumes and make-up.
Four Sisters was developed with the generous support of Donn Russell, co-founder of the Peg Santvoord Foundation. It received a developmental reading at the Sheen Centre in December 2016, and a workshop production at the American Theatre of Actors in March 2017.
What Will the Neighbors Say? is a new theatre company based in New York City with a global perspective. WWTNS? creates theatre that examines historical, social, political and economic narratives that have been disregarded, misrepresented, or otherwise untold in order to provoke discourse in our audience and community. WWTNS? maintains a consistent commitment to diversity, arts education, community outreach, and artistic experimentation.
Now in its 45th year, Theater for the New City is a unique cultural institution that has earned a nationwide reputation for its dedication to nurturing established and emerging playwrights who experiment with new forms and to presenting other experimental and developmental theaters with a very active program of Community Art Services and Festivals which continue to expand theater accessibility.