JIMMY AND CAROLYN Starts Tonight at Queens Theatre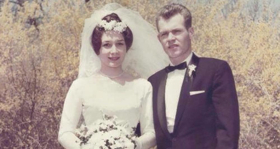 JIMMY AND CAROLYN begins performances tonight, September 15, 2017 and runs through Sunday, October 1, 2017 in the theatre's studio space located at The New York State Pavilion in Flushing Meadows-Corona Park.
In this funny, true-to-life world premiere play, Jimmy, a retired auto body repairman, and his homemaker wife Carolyn drive from Florida to idyllic Weekapaug, Rhode Island to celebrate Jimmy's birthday at the fancy beach house of their gay son, James, and his life partner, William, a landscaper from Costa Rica. Once the pepperoni loaf has been devoured, the Italian cookies eaten, the cigarettes smoked, and the Pinot Grigio drunk, amid the laughter, dark truths are exposed as the family struggles to make sense of their irreconcilable memories of the past, and the choices they face moving forward.
Queens Theatre has assembled an extraordinary cast of performers for this world premiere production, including Lisa Harrow (Carolyn). Harrow is best known to New York audiences for her performance in WIT in its long-running off-Broadway production. Her stage career started at the Royal Shakespeare Company in the United Kingdom, performing opposite Judi Dench in TWELFTH NIGHT and Patrick Stewart in THE MERCHANT OF VENICE. Harrow has worked extensively across the country in theatre as well as film and television. She has performed on London's West End in MAN AND SUPERMAN and IN PRAISE OF LOVE, at Yale Repertory Theatre in THE CHERRY ORCHARD, as Prospero in THE TEMPEST at Chataqua Theatre, among many other credits. She won the Australian Film Institute Award for Best Actress for her performance in LAST DAYS AT CHEZ NOUS.
Brad Bradley (James) is a Broadway veteran, whose credits include BILLY ELLIOT, the original cast of SPAMALOT, the revival of ANNIE GET YOUR GUN with Bernadette Peters and Reba McEntire, THOU SHALT NOT, STEEL PIER, and A CHRISTMAS CAROL. Bradley also appeared as a back-up dancer for Michael Jackson in a Pepsi commercial at age 12, and will direct a spot for this year's upcoming Macy's Thanksgiving Day Parade.
Luis Carlos de La Lombana (William) is an award winning actor and voice over artist who has appeared in numerous films, television shows, and stage productions, including 666 at the Minetta Lane Theatre, as Mick Jagger in SLICES OF LIVES at Black Nexxus, on film including LA VIDA INESPERADA, GAL, and RED KNOT. He has won three ATI Awards, three HOLA Awards, and three ACE Awards.
Sam Tsoutsouvas (Jimmy) has appeared on Broadway multiple times, most recently in the 2001 production of Andrew Lloyd Weber's BY JEEVES. A veteran of stage and screen, Tsoutsouvas' career includes the feature film THE IMMIGRANT with Marion Cotillard, a guest role on LAW & ORDER: CRIMINAL INTENT, and as the voice of a talk radio host in the video game GRAND THEFT AUTO: SAN ANDREAS. Tsoutsouvas recently completed filming for the pilot episode of ADULT BEHAVIOR, A New Television series.
James Andrew Walsh co-wrote the Broadway bound Liberace bio-musical, All That Glitters. Other credits include: TV comedy pilot Welcome Home, Jeanie Darling, and the limited series pilot for The Gods of Newport, based on the John Jakes bestseller of the same name. James is currently directing the national tour of the HIV/AIDS-themed immersive theatre experience As Much As I Can, commissioned by GlaxoSmithKline. He has acted in national tours and productions of numerous plays/musicals regionally and in New York City, and been seen on TV in The Family, Brooklyn Taxi, Castle, Shine, and Law and Order (SVU, Criminal Intent).
James Andrew Walsh wrote Jimmy and Carolyn in 2015. In April 2016, the play received two readings, both directed by Tom Wojtunik: one at the home of Sunta Izzicupo in Los Angeles and the other at Queens Theatre. This production, directed by Brooke Ciardelli, is the next step in the play's development. Rehearsals began on September 5, 2017 at Silvercup Studios in Long Island City.
"We are thrilled to be working with a stellar cast and production team. Everyone is committed to being a part of this special play's development and has done extraordinary work in a short period of time," said Executive Director Taryn Sacramone
JIMMY AND CAROLYN is directed by Brooke Ciardelli, founder of Northern Stage Company in Vermont. JIMMY AND CAROLYN marks Ciardelli's ninth world premiere. She as directed productions around the world, from the United Kingdom to Vienna to Zimbabwe. This production reunites Ciardelli and Harrow, having previously directed Harrow and Patrick Stewart in a production of WHO'S AFRAID OF Virginia Woolf?
Stephen DeAngelis is Casting Director.
Jimmy and Carolyn will have a limited run of twelve performances: Fridays 9/15, 9/22, and 9/29 at 8:00pm, Saturday 9/16 at 2pm and 8pm, Sundays 9/17 and 9/24 at 3pm, Saturday 9/23 at 2pm, Thursday 8/28 at 8pm, Saturday 9/30 at 2pm and 7pm, and Sunday 10/1 at 5pm. Single tickets are on sale for $18. Tickets may be purchased by calling 718-760-0064, at the Queens Theatre Box Office at 14 United Nations Avenue South in Flushing Meadows-Corona Park in Queens, or online at www.queenstheatre.org. All major credit cards are accepted.
JIMMY AND CAROLYN opens Queens Theatre's 29th Season after being developed as part of Queens Theatre's New American Voices Project. Established in 1989 in Philip Johnson's iconic New York State Pavilion in Flushing Meadows Corona Park, Queens Theatre is a member of New York City's Cultural Institutions group and is supported, in part, by The New York City Department of Cultural Affairs and The New York City Council. Major season supporters include The New York State Council on the Arts, the National Endowment for the Arts, Bank of America, Con Edison, Delta Air Lines, the Howard Gilman Foundation, the Jerome Robbins Foundation, the Lily Auchincloss Foundation, Mertz Gilmore Foundation, New York Community Bank, Queens Center Mall, Singers Forum Foundation, and the Shubert Foundation. A full list of supporters can be found at www.queenstheatre.org.

Related Articles View More Off-Off-Broadway

Stories

Shows
More Hot Stories For You