IT'S NOT STAMPED ON YOUR FOREHEAD By Natasha Cobb Kicks Off The 31st Season Of The Strawberry One-Act Festival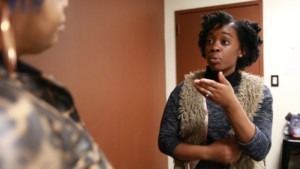 The Riant Theatre (Van Dirk Fisher, Artistic Director) -- the Audelco Award-winning nonprofit providing a nurturing developmental environment for playwrights and theatre creators of diverse cultural backgrounds -- proudly presents THE STRAWBERRY ONE-ACT FESTIVAL. A celebration of cultural diversity, THE STRAWBERRY ONE-ACT FESTIVAL will be presented at the Theatre 54 @ Shetler Studios (244 West 54th Street, between Broadway and 8th Avenue, NYC) Wednesday, May 16th through Sunday, May 27th, 2018. This spring's festival marks the 31st Season of The Riant Theatre's renowned short play competition, and also will feature the premieres of two full-length one-act plays. Reflecting the diversity written into the mission of its presenter, THE STRAWBERRY ONE-ACT FESTIVAL has produced over 1,500 one-act plays since it began in 1995 (in recent years, the festival has often been presented biannually due to demand from artist submissions and audiences alike).
Tickets for all performances during THE STRAWBERRY ONE-ACT FESTIVAL are priced as follows: General admission - $25 advance/$27 at the box office. Tickets are on sale now through www.therianttheatre.com or by calling 646-623-3488. Festival Pass discount packages are also available upon request.
The following two full-length plays will premiere at THE STRAWBERRY ONE-ACT FESTIVAL, each will be performed 4 times over a two-week period (NOTE: These two plays are open for REVIEW):
- FOR A LIFE
By Cody Buser
Directed by Phil Setren
Fri, May 18th at 6pm / Sat, May 19 at 6pm / Fri, May 25th at 8:30pm / Sat, May 26th at 5pm
In a world where life is the greatest commodity, what can be fabricated and what holds true to being human? When Adam - an artificial human - begins to question his creation, and what is real versus unreal when it comes to being human, Janet - his Proprietor - struggles to answer his questions while hiding the true motive behind his creation: her mortality.
Playwright Cody Buser's plays include: For a Life, Let's Dig Up Dad!, How to be a Successful Super Villain, Remission, and Crazy in Love. Cody's work has been produced at Sebsi Studios in Saugerties NY, as well as at the Hudson Guild Theater in Chelsea NY as part of the 2016 and 2017 NY Summerfests. In 2017 Cody founded Second to the Right Productions, in continuation of producing new works. Cody earned his B.A. in Creative Writing at SUNY New Paltz where his work was published in the school's annual Stonesthrow Review Literary Journal.
- CHILDREN ARE FOREVER: ALL SALES ARE FINAL
By Julia Jackson
Directed by Laurence C. Schwartz
Fri, May 18th at 8:30 pm / Sun, May 20th at 6pm / Fri, May 25th at 6:00 pm / Sat, May 26th at 7pm
A mixed-race lesbian couple trying to adopt a baby - what could go wrong? Take the rollercoaster ride of adoption in this unvarnished look at the adoption industry, that is both hilarious and ...?
Playwright Julia Jackson is a comedienne and solo artist known for her biting social commentary, as well as actually biting audience members from time to time. This rising comedy star has performed at the Edinburgh Fringe Festival, and was a Semi-Finalist in the San Francisco International Comedy Competition. Her solo performance piece CHILDREN ARE FOREVER: ALL SALES ARE FINAL won the Best Non-Fiction Show Award at the 2016 United Solo Festival in New York City, and was published in the 2016 "Plays and Playwrights" by Indie Theatre Now. Julia has worked with Robin Dana Carvey and Paul Mooney, and appeared in the film Some Prefer Cake.
THE STRAWBERRY ONE-ACT FESTIVAL will also continue its tradition of staging both world and New York premieres of short theatrical works presented as part of The Strawberry One-Act Competition. Nicknamed "the 'American Idol' for playwrights" by the New York Daily News, THE STRAWBERRY ONE-ACT FESTIVAL features a playoff-style competition of plays received through submissions from across the country. Audience members vote for their favorite play among those presented each evening to determine which plays advance to the FINALS, which are judged by a jury of industry experts. In addition to the opportunity for finalists to be selected for publication in print in the festival's anthology The Best Plays From The Strawberry One-Act Festival, awards are presented for Best Director, Best Actor, Best Actress and Best Costumes in addition to Best Play, which comes with a $1,500 prize and a development deal for a full-length play produced by the Riant Theatre.
The Strawberry One-Act Competition:
Round 1
Every play in The Strawberry One-Act Festival will be performed two times in Round 1 of the competition. After the votes are tallied the play with the least votes will be eliminated from the competition. The remaining plays will advance to the Semi-Finals, where they will perform with different plays for 2 performances. The Semi-Finals are on Tues, May 22nd, Wed, May 23rd and Thurs, May 24th at 6pm & 8:30pm. After the votes are tallied the play with the least votes will be eliminated from the competition. The remaining plays will advance to the Finals.
Finals
The Finals will be performed on Saturday, May 26th at Noon. The Industry Judges will see all Finals performances. This season's judges will include a Casting Director, a Literary Agent, a Theatre Producer and a Broadway Actor (TBA).
Nominations
Nominations for all awards will be announced at the Festival's conclusion.
Awards Ceremony
A gala Awards Ceremony is scheduled to be held on Sunday, May 27th at 5pm at Theatre 54 @ Shetler Studios, 244 W. 54th St, 12th Fl, NYC.
Strawberry Festival actor alumni include Academy Award-nominees Jesse Eisenberg (The Social Network) and Chazz Palminteri (Bullets Over Broadway, A Bronx Tale), Golden Globe Award-winner Ving Rhames ("Don King: Only in America," Bringing Out the Dead, Mission Impossible), Ato Essandoh (Jason Bourne, HBO's "Vinyl," "Elementary"), and Chance Kelly (American Sniper, NBC's "Aquarius").
"Independently created and presented theatre, once a vital part of this city's cultural landscape, is sadly becoming increasingly rare in the current economic and political environment. I am honored, through The Riant Theatre's Strawberry One-Act Festival, to continue providing an opportunity for playwrights, actors, singers, directors and designers the opportunity to create vital new work," says Van Dirk Fisher, Artistic Director.
The Riant Theatre (formerly The Black Experimental Theatre) was founded by Van Dirk Fisher in 1979 as a not-for-profit organization with the mission of providing a nurturing environment to develop new plays and outstanding artists - particularly for the African-American Playwrights facing limited access to resources for developing and presenting their work. Through the years, the company has extended its mission of furthering the understanding between the races by celebrating diversity through theatre. By 1991, the theatre company expanded to a loft in Tribeca and was renamed The Riant (which means 'merriment and laughter' in French). Since 1995, The Riant Theatre has been producing and presenting THE STRAWBERRY ONE-ACT FESTIVAL (now often presented twice a year -- in February/March and July/August). Its current programs also include The Core Project, an ongoing intensive workshop for writers, directors and actors to develop new plays and present them in stage readings; New Play Reading Series, in which plays are read before an invited audience and followed by a question and answer session with the playwright and artists; and the Musical Theatre Workshop, for students, in which they learn Broadway, gospel and classical style songs under the guidance of theatre professionals and work on scenes and choreography that will lead to a performance. The Riant Theatre also has a strong Youth Mentoring Program, which provides internships for teenagers and college students interested in the arts. This unique organization has grown to become a place where artists - singers, writers, actors, directors, musicians, and visual artists - can come together to collaborate on new works and share ideas. For his accomplishments with The Riant Theatre, Van Dirk Fisher received the 2009 AUDELCO Special Achievement Award. Visit www.therianttheatre.com.
THE STRAWBERRY ONE-ACT FESTIVAL - Short Plays To Be Presented in Competition
Series A: Wed, May 16th at 6pm & Thurs, May 17th at 8:30pm
-PERIOD PIECE by Jess Rawls
It's everywhere.
-MILE MARKER 117 by Peter M. Carrozzo
A man and a woman, with a wreath and an iPhone speaker, arrive a Mile Marker 117 to pay their respects, but this year one has an ulterior motive.
-IT'S NOT STAMPED ON YOUR FOREHEAD by Natasha Cobb
Struggling to come to terms with her bipolar diagnosis, a young woman pushes her therapist to a point of no return.
Series B: Wed, May 16th at 8:30pm & Thurs, May 17th at 6pm
-JUST LIKE THE MOVIES by Peter Scarpinato
Believe in the magic of love!
-RESERVATIONS FOR DINNER by Sean O'Leary
I thought trophy wives were supposed to be 20 years younger.
-JANET & JOYCE by Alex McFarlane
They say blood is thicker than water. But it may not be the case with Jane and Joyce.
-INTERVENTION INTENTION by Nancie Pacheco
Is your relationship strong enough to withstand scrutiny by the closest people in your lives? Could it pass the test of an intervention?
Series C: Sat, May 19th at 1pm & Sun, May 20th at 3:30pm
-THE GOOD SEEDS by Lauren Andrews
A thought-provoking yet humorous insight into married life and the modern age.
-THE ORANGE LILY by Dymon Taylor Davis
When you say you love me, do you really mean it?
A man and woman fall in love. Everything is like a movie until the woman becomes pregnant. The man is not ready to be a father and wants nothing to do with the woman. The woman has to decide between her baby and her husband.
-THE DOCTOR (PH.D) IN SPITE OF HIMSELF by Ajinkya Desai
We are very willing to stereotype South Asians as nerds, fearful of artistic risk-taking. However, we forget that most brown people have limited scope to pursue their artistic dreams.
Series D: Sat, May 19th at 3:30pm & Sun, May 20th at 1pm
-STEVE by Ian Eaton
After a tragic blow to his family, a young boy must determine if he should deal with a bully the easy way or the hard way.
-MARTIN'S TRUTH by Victor Vauban Jr.
Human beings are in constant pursuit of happiness, acceptance, guidance and above all, love. It couldn't be different for Martin, a young African-American man who never had access in some commodities many take for granted. The pursuit of his truth will lead him down unpredictable paths when he finds himself running with the big dogs.
-FRAGILE HEROES by Joseph Lizardi
Two young Marines, one badly wounded, and a young nurse taking care of them, try desperately to understand their role in a war, (Vietnam War) that is destroying their young lives and faith in their government's handling of it.
Series E: Sat, May 19th at 8:30pm & Mon, May 21st at 8:30pm
-LACRIMOSA by Christopher Marshall
Featuring: Kristin Dodson and DEANGELO KEARNS
Sometimes couples get so bored with each other that they would kill to get away from their union. Literally!
-THE COOKING LESSON by Robin Anne Joseph
Featuring: Albi Gorn and Jennie Gorn
When you need a recipe for finding your way back.
-DEUCES ARE WILD by Anthony Fusco
Featuring: Nick Marchetti and Steven Smith
Can a man distraught by a former relationship live with a total stranger he met on social media? How well do you know your roommate?
The Semi-Finals: (Plays TBD)
#1 Tues, May 22nd at 6pm and 8:30pm
#2 Wed, May 23rd at 6pm and Thurs, May 24th at 8:30pm
#3 Wed, May 23rd at 8:30pm and Thurs, May 24th at 6pm
The Finals: Sat, May 26th at 12pm
The Awards Show: Sun, May 27th at 5pm
Visit:
Facebook: https://www.facebook.com/strawberryoneactfestival/
Twitter: https://twitter.com/RiantTheatre
The Strawberry Festival Vimeo Channel: https://vimeo.com/ondemand/strawberryoneactfestival
The Creative Teams of the Plays in the Festival: http://thevine-strawberryoneactfestival.blogspot.com/2018/04/normal-0-false-false-false-en-us-x-none_15.html