Hannah Gadsby's NANETTE to Play Final Performance At SoHo Playhouse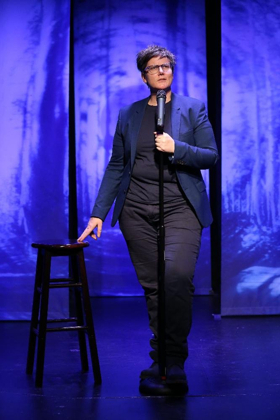 The final off-Broadway performances of Hannah Gadsby's critically acclaimed and multi-award winning show, Nanette, are scheduled for June 20 - 30 at SoHo Playhouse. Presented by Westbeth Entertainment, SoHo Playhouse, Barrow Street Productions and Token Events, tickets are on sale now for all performances.
For SoHo Playhouse tickets and details click here.
Gadsby's New York City debut opened off-Broadway on March 9 and was extended three times. Gadsby received rave reviews including The New York Times calling the show, "A riveting New York debut," and proclaiming Gadsby "A major new voice in comedy," and The New Yorker declaring Nanette to be, "As uproariously funny as it is profoundly furious." Gadsby performed Nanette to sold-out crowds at Largo in Los Angeles on June 6 and 7, 2018.
Gadsby will premiere Nanette worldwide on Netflix on Tuesday, June 19, 2018 at 3:01 AM ET. Gadsby filmed the show on January 20, 2018 at The Sydney Opera House following a yearlong run of performances that took her across Australia, to The Edinburgh Festival and to London for an extended run. The final live performance of Nanette will be on July 26 at The Just For Laughs Festival in Montreal.
Nanette is a turning point for Gadsby as she embraces her life as "not normal" and moves beyond the restrictions of traditional stand-up to tell her full story. The result is a show that has earned Gadsby rave reviews and multiple awards across the U.K. and Australia with The Times describing the show as, "A comedy masterclass for the first half-hour and the second half dissolves into dark, pin-drop theatre." For Nanette, Gadsby has won the 2018 Chortle Award for Best Comedy Show, The Edinburgh Comedy Award ("the Oscars of live comedy"), The Helpmann Award (Australia's equivalent to a Tony Award) for Best Comedy Performer, the Barry Award for Best Show at the Melbourne Comedy Festival and Best Comedy at the Adelaide Fringe Festival.
Due to demand, Gadsby's sold-out 2017 London run added a month of dates from February 5 through March 3, 2018, and she sold out her entire 2017 season at The Sydney Opera House, adding two final performances on January 20, 2018.
A stand-up comedian since 2006, Gadsby was a cast member on the TV series Please Like Me, which was seen on Pivot TV in the US and is now available on Hulu. The series was critically acclaimed and nominated for numerous awards including an International Emmy for Best Comedy Series. She also co-starred on the TV talk show, Adam Hills Tonight, and has written and presented her own TV documentaries and a three part series for ABC TV Australia. Her first book will be released in late 2018.
Westbeth Entertainment has consistently delivered critically acclaimed, financially successful, groundbreaking productions for over 30 years. WestBeth's ability to meld creative vision with financial and production savvy has created a unique company out of making artists' and audience's dreams come true.
With entertainment and audience enjoyment being a key element, our most recent productions include: Eddie Izzard's 'Force Majeure' US tour performed in all 50 states, Australia's comedy group Aunty Donna's 'New Show' tour of North America. Dylan Moran's 'Off The Hook' North American Tour, Noel Fielding (of The Mighty Boosh) North American debut tour 'An Evening with Noel Fielding', Simon Amstell's US tour. Los Vegas engagement of Brian Henson's 'Puppet Up! Uncensored' at the Venetian's Sands Showroom, Billy Connolly's High Horse tour, the off-Broadway run of comedian Trevor Noah's Born a Crime; Eric Idle's What About Dick at the Orpheum Theatre in Los Angeles. Currently on tour with Eddie Izzard 'Believe Me' US Tour, Aunty Donna 'Big Boys' WestCoast tour and Dylan Moran 'Grumbling Mustard' tour.
SoHo Playhouse (Darren Lee Cole, Artistic Director) has been one of Off Broadway's primary venues for new plays for the past 80 years. Formerly "Vandam Playhouse" the theatre has been home to countless dreams and movements. Many actors, directors, choreographers, production designers, theatre managers, technicians, and producers all received their start at SoHo Playhouse. Several of America's leading writers have premiered their work at 15 Vandam Street including; Sam Shepard, Edward Albee, Tracy Letts, Charles Buch, LeRoi Jones and Lanford Wilson. Award winning shows have included: "The Boys in the Band", "Killer Joe", "The Divine
Sister", "Mindgame", "Krapp, 39", "Piaf", "Room Service", "Jamaica Farewell", "Belly of a Drunken Piano", "Bukowski From Beyond", "The Emperor Jones", "Triassic Parq", "Rap Guide To Climate Chaos"", "The Other Josh Cohen", "Bill W and Dr Bob", "Bright Colors And Bold Patterns" and "Josephine: A Burlesque Cabaret Dream Play". Currently playing is "Rap Guide To Consciousness". The Playhouse has also proudly served as home to the Fringe Encore Series since 2005. Mr. Cole has served as Artistic Director since 2004.
Barrow Street Productions, founded in 2003, has produced and presented dozens of award-winning shows and artists, including BUG by Tracy Letts, TJ & Dave, Tribes by Nina Raine, Nilaja Sun's No Child, Gone Missing by The Civilians, Nina Conti, Daniel Kitson, and Sweeney Todd: The Demon Barber of Fleet Street by Stephen Sondheim, currently playing at the Barrow Street Theatre in New York's West Village.
Token Entertainment - Based in Melbourne Australia Token Events has been producing live comedy since 1993. Token is Australia's biggest producer of live comedy, presenting in tiny festival venues and grand concert halls such as the Sydney Opera House. Token is a regular presenter at the Edinburgh Fringe, earning more Edinburgh Comedy Award nominations than any other foreign presenter and winning the award twice in the last five years. Token focusses on bringing surprising, smart and engaging work to the stage, challenging the assumptions about live comedy and driving collaborations with creatives outside of the comedy world. More than 300,000 people came to Token shows in 2017 and we are the largest presenter in the Melbourne Comedy Festival, one of the biggest comedy festivals in the world where Token has presented the best show winner for the last four years running. Token Events is part of the Token Group which includes a talent management business and an award winning television production business.
Photo Credit Carol Rosegg