Full Cast Announced for U.S. Premiere of A LITTLE PRINCESS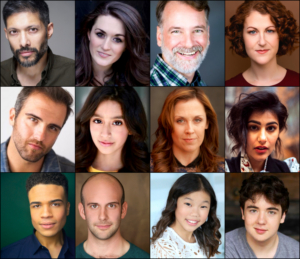 A Little Princess, based on the novel by Frances Hodgson Burnett, is a brand-new musical straight from London by British writing team Carl Miller (Book & Lyrics) and Marc Folan (Music & Lyrics).
The production stars Madison Elizabeth Lagares (On Your Feet, School of Rock) as Sarah Crewe, Rebecca Mason-Wygal (Kinky Boots) as Miss Minchin, Joshua Clifton Powell (Dirty Dancing) as Captain Ralph Crewe, Bronwyn Whittle (Annie Warbucks) as Amelia Minchin, Romie DeCosta as Ram Dass, David Michael Kirby as Carrisford, Sonia Rathee as Devi, Noah Mogaka as Mr. Fall, Cait Kiley as Mrs. Hodgson, and Scott Ryan Fuss (The Sound of Music) as Mr. Barrow. Rotating in the role of Becky is Lauren Yeobin Park, Katie Grgecic (The Sound of Music), Cosette Zynszajn, and Amelia Freiberger.
The young adult cast features Kate Karen and Julia Downes as Ms. Sowerberry / Ms. Whiteley; Rebecca Yi and Valeria Perez-Pliego as Madame Mariette / Ms. Howell; Arianna Salerno and Maya Levitt as Ms. Blum; Lauren Galvin and Cailyn Peddle as Ms. Harriet; Connor Ausman as Mr. Bloom.
London street children will be played by four rotating casts of young actors, including Liora Shuf, Isabella Preston, Natalia Artigas, Oriah Elgrabli as Anne; Chaise Anderson, Emily Yi, Ana-Sofia Rodriguez, and Noemi Bolano as Amy; Titus Landegger and Alexander Fraser as Albert; Claudia Fabella, Annika Mehta, Caroline Valencia, and Harper Harris as Addy; Victoria Roberts, Mia Cubillas, Madeleine Valencia, Haley Skye Ortiz as Avery; Olivia Kuan-Romano, Erin McLaughlin, Mayumi Raine Gant, Ava DiGiovanni as Ally.
Casting on the Seminary Girls can be found here on BroadwayWorld: www.broadwayworld.com/off-broadway/article/Seminary-Girls-Announced-For-US-Premiere-Of-A-LITTLE-PRINCESS-20190725
The Limited New York Engagement runs August 22-25, 2019, with performances daily at 2:00 pm, and evenings at 7:30 pm on Thurs & Friday, 8:00 pm on Saturday, and 6:00 pm on Sunday. The production is being staged at The Irene Diamond Stage at The Pershing Square Signature Center, located at 480 W 42nd Street.
The creative team includes Direction by Laura Luc (KOTA's Artistic Director), Music Direction by Cynthia Meng (Hadestown), with Choreography by Jeorgi Smith (Your Alien Tour). The production features Scenic Design by Matthew Imhoff, Lighting Design by Jennifer Fok and Costumes by Lucy Luc.
Tickets can be purchased through Ticket Central via www.TicketCentral.com, by calling 212-279-4200, or in person at 416 W. 42nd Street (12-8pm daily). For more information on A Little Princess, visit www.ALittlePrincess-NYC.com.