Dialogue with Three Chords to Kick Off 7th Season with THE APOCALYPSE SURVIVORS CLUB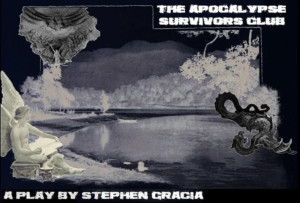 Dialogue with Three Chords (D3C) will kick off their seventh season of indie theatre in Greenwich Village with THE APOCALYPSE SURVIVORS CLUB, written by Stephen Gracia and directed by Michael LoPorto.
The full-length original play, about a support group for people whose lives were upended by an apocalypse that never happened, starts at 8pm on Thursday, August 31 downstairs at Mr. Dennehy's on 63 Carmine Street, New York, NY 10014. Admission is free with a $5 suggested donation.
When told of the date the world would end, the members of "The Apocalypse Survivors Club" did their part: giving away their possessions, breaking ties with friends and family - all in preparation for a clean ascent into paradise. "Now, that day has long passed," Gracia explained. "There was no apocalypse, and they have to rebuild not just their lives, but their understanding of the world and the afterlife."
This new work, along with two more full-length plays to come this fall, will revolve around the concept of ephemera. "The first three plays of the season are driven by specific moments," Gracia said, "and the weight of everything that comes after."
For his part, LoPorto expressed excitement for the start of season seven of D3C, which he referred to as "an incubator for ideas." He said the group would use their first three shows of the season as a proving ground for full-length plays they hope to produce in the near future.
Gracia and LoPorto co-founded D3C at Mr. Dennehy's in 2011. This past spring the group marked their 100th play produced in that space. In celebration of this milestone, D3C donated all proceeds from their spring shows to New York-based charities and organizations, raising nearly a thousand dollars for the Brooklyn College BFA actors, The New York Foundation for the Arts, The Ali Forney Center, and Planned Parenthood New York City.
More information on Dialogue with Three Chords can be found at www.facebook.com/dthreec.
THE APOCALYPSE SURVIVORS CLUB features: Jessica Bathurst, Ramona Floyd, John Harlacher, Mel Nieves, Anthony Marino, Lilli Stein, and Larry Greenbush.
Dialogue with Three Chords was founded by Stephen Gracia and Michael LoPorto and applies the do-it-yourself philosophy of punk to the stage and features short plays and live music. Their work has also been produced at HERE Arts Center, Dixon Place, The SOHO Gallery of Digital Art, Sargent Theatre, Makor Theater, DUMBO Theatre Exchange, Levenson Hall at Brooklyn College, and the Theaters at 45 Bleecker.
Related Articles View More Off-Off-Broadway

Stories

Shows
More Hot Stories For You