Crash Theater Co To Present TARARABOOM: A THREE SISTERS MISHMASH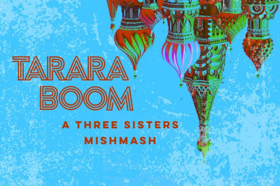 CRASH Theater Company announced today that it will present TARARABOOM: A THREE SISTERS MISHMASH, an adaptation of Chekov's classic masterpiece Three Sisters, reinvigorated with a naturalistic "real-life" framework for modern audiences. The production will run September 21st through October 7th at Access Theater, 380 Broadway, 4th floor. https://www.crashtheater.com

In TARARABOOM: A THREE SISTERS MISHMASH, Olga, Masha, and Irina are stuck. After the death of their father, they long to return to a time and place that exists only in their memory. Their world is populated with living ghosts and broken clocks, and love isn't quite strong enough to save them. But what difference does it make? Nothing even matters, anyway...

An exploration of what makes life absurdly serious and seriously absurd, the production uses Chekhov's text along with original scenes, music, and movement to explore the timeless themes of the classic play with a modern sensibility. TARARABOOM is an explosive reworking of and playful homage to one of Chekhov's best-loved works. SPOILER ALERT: The sisters still don't make it to Moscow.

Three Sisters, along with all of Chekhov's work, is incredibly relevant today, as it deals with themes like liberal elites isolating themselves from the realities of everyday life, people feeling disaffected with regular career paths and wanting more fulfillment in their work lives, and individuals seeking to understand massive cultural and ethnic reconfigurations in their society.

Based on their studies at the Moscow Art Theater, CRASH Theater Co. has adopted the Russian "etude" method of exploring the themes of a play. This method uses the exploration of characters and ideas in the rehearsal room to generate a wealth of original performance material. These etudes take many forms, often blending movement and music with the original text. The goal of this method is to give a contemporary audience a more three-dimensional understanding of the world of the play. Etudes keep the audience alert to an unpredictable, dynamic, and fun theater experience. In a modern world of screens, overstimulation, and instant gratification, CRASH keeps viewers engaged by interweaving performance styles, integrating live music and dance into dialogue, incorporating popular culture and media, and seeking out resonance in the audience's lives.

The desire for a more inclusive theater experience led Calder, Kruegel, Strimaitis and Goodman to create CRASH in the fall of 2016. The four initially showcased their adaptation of Chekhov's Three Sistersalong with several original etudes and songs at New York Theatre Workshop's Fourth Street Theatre. They went on to produce multiple workshop performances of the adaptation, titled TARARABOOM: A THREE SISTERS MISHMASH, at The Robert Moss Theater in October of 2017 as part of The Bridge Production Company's Bridge Residency - receiving overwhelming positive feedback, which resulted in this fully realized three-week run at the Access Theatre.

The production features Consulting Direction by Max Hunter, Set Design by Hannah Cook, Costume Design by Katja Andreiev, and Lighting Design by Stacey Derosier.

The entire cast of TARARABOOM: A THREE SISTERS MISH MASH are alumni of The American Repertory Theater/Moscow Art Theater MFA Acting Program at Harvard University: Rebecca Strimaitis, Kristin Wetherington, Kristen Alyson Browne, Danny Goodman, Elijah Guo, Justin Packard, Billy Calder and Matthew Lieff Christian.

Tickets are $22 and can be purchased online at https://www.artful.ly/store/events/15854

Performances run Sept 21 - Oct 7: Fridays at 8pm, Saturdays at 3pm & 8pm and Sundays at 2pm.
CRASH Theater Co. is a collective of theater artists founded on the principle that contemporary theater must reflect the diverse, multifaceted audience of today. CRASH commits to having women in creative and executive roles, people of diverse backgrounds in all casts, and original, ensemble-devised elements in all productions. CRASH seeks to reinvigorate classic masterpieces by refracting them through a modern, actor-driven lens. CRASH also emphasizes poetic modern narratives that break out of a naturalistic framework. In these ways, CRASH seeks to move beyond a traditional theater audience and gain relevance in contemporary storytelling.
Related Articles View More Off-Off-Broadway

Stories

Shows
More Hot Stories For You