Clyde Fitch's Sharp Satire THE CLIMBERS Opens Tonight at Metropolitan Playhouse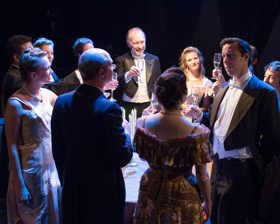 Metropolitan Playhouse opens its 26th season tonight with Clyde Fitch's sharp satire THE CLIMBERS. Directed by Metropolitan favorite Michael Hardart, the production runs through October 8. Metropolitan Playhouse is located at 220 E. 4th Street.
The cast features Levi Adkins, Becca Ballenger, Erin Beirnard, Margaret Catov, Ian Eaton, Alexandria Ann, Marc LeVasseur, David Licht, Matt McAllister, Erin Leigh Schmoyer and Alyssa Simon.
THE CLIMBERS is a sharp satire from the Gilded Age of both vulgar competitors for wealth and status, as well as the censorious critics who resisted them. In Fitch's incisive eye, the scramble to assert superiority is a curse for all sides in a play that is a welcome appraisal of a divided culture from a century past. His vote for compassion and empathy is one that should count again.
At the dawn of the 20th century, the altruistic and esteemed head of the Hunter family has died before his time, leaving his wife and three daughters with an unwelcome surprise. Desperate in his final months to keep up with the demands of their extravagant social life, he made a risky investment and lost the family's once substantial fortune, leaving them with no assets or income at all. Mr. Hunter's widow, youngest daughter, and son-in-law scheme to dupe others into making up their losses. Meanwhile, his sister and two elder daughters vow to care for themselves and their families whatever the personal costs. From these different campaigns spring both the wicked comedy and tender pathos of the play.
Clyde Fitch (1865-1909) between 1890 and 1909, wrote at least 62 plays-36 original scripts, 21 adaptations, and five dramatizations of novels. For most of his career, he was the reigning king of New York Theater: On one occasion, he had four plays running on Broadway; on another occasion, he had five. In the days before income tax, his annual earnings were equivalent to $15 million today. As sensational as his plays were, with their opulent, realistic settings and reliance on well-worn plots and melodrama, were hot controversies involving the man, including plagiarism (false), obscenity (acquitted) and homosexuality (true). Two of his finest plays (both revived at Metropolitan) raised eyebrows-what with Fitch's female lead in The Truth committing suicide, and audiences at THE CITY shocked and even fainting over Fitch's depiction of drug abuse, incest and an actor uttering the word "goddamn" for the first time on a Broadway stage. He collaborated with Edith Wharton to create a stage version of THE HOUSE OF MIRTH, last presented at Metropolitan in 2012. Off-stage, Fitch raised eyebrows with his sartorial flamboyance, effeminacy, luxurious lifestyle, and, early in his career, a brief romance with Oscar Wilde to whom he was often compared. Fitch died in France in 1909 at age 44.
Performances run Thursdays through Saturdays at 7:30 pm; Sundays at 3 pm; with an additional performance on Wednesday, October 4 at 3 pm. Tickets are $30 general; $25 students/seniors; $10 children, and may be purchased online at www.metropolitanplayhouse.org/tickets or by telephone at 800 838 3006.
METROPOLITAN PLAYHOUSE explores America's theatrical heritage through forgotten plays of the past and new plays of American historical and cultural moment. Now in its 26th season, the theater received a 2011 OBIE Grant from The Village Voice for its ongoing productions that illuminate who we are by revealing where we have come from. Called an "indispensable East Village institution" by nytheatre.com and "invaluable" by Back Stage, Metropolitan has earned accolades from The New York Times, The Village Voice, and The New Yorker. Other awards include Outstanding Performing Arts Group from the Victorian Society New York, and 18 nominations for NYIT Awards since 2010, with winners Lenore Wolf for short script, Sidney Fortner for costumes, Frank Anderson for lead actor. ReceNT Productions include ON STRIVERS ROW, LEAH, THE FORSAKEN, END OF SUMMER, O'NEILL (Unexpected), WALK HARD, ALISON'S HOUSE, INJUNCTION GRANTED, THE MAN OF THE HOUR, ICEBOUND, WITHIN THE LAW, THE HERO, A MAN'S WORLD, BOTH YOUR HOUSES, THE HOUSE OF MIRTH, DEEP ARE THE ROOTS, THE JAZZ SINGER, ONE-THIRD OF A NATION, UNCLE TOM'S CABIN, and DODSWORTH, as well as the Alphabet City and East Village Chronicles series.
Pictured: Ian Eaton, Alexandra Anne, Erin Beirnard, Alyssa Simon, Matt McAllister, David Licht, Erin Leigh Schmoyer, Becca Ballenger, Marc LeVasseur, Levi Adkins, and Margaret Catov. Photo by Vadim Goldenberg.
More Hot Stories For You