City Gate Revives Pulitzer Prize Winning RABBIT HOLE Next Month
Performances run October 14-22.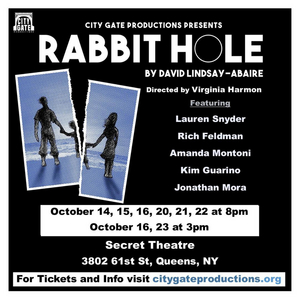 Becca and Howie Corbett have everything a family could want, until a life-shattering accident turns their world upside down and leaves the couple drifting perilously apart. RABBIT HOLE charts their bittersweet search for comfort in the darkest of places and for a path that will lead them back into the light of day.

This 2007 recipient of the Pulitzer Prize for Drama, premiered on Broadway in 2006. Cynthia Nixon won the 2006 Tony Award for Best Performance by a Leading Actress in a Play for her performance as Becca in the New York production, and the play was nominated for several other Tony awards.

The City Gates cast includes Lauren Snyder as Becca; Rich Feldman as Howie; Amanda Montoni as Izzy; Kim Guarino as Nat; and Jonathan Mora as Jason. It is directed by Virginia Harmon and produced by Regina Fischedick, Tim Reifshneider and Thom Harmon.
More Hot Stories For You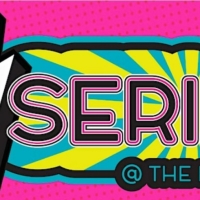 The Fled Collective to Present SERIALS, Cycle 5: The Return Of The Popular Late Night Short Play Competition

November 30, 2022

The beloved late-night play competition is BACK, reclaimed, and newly imagined to prioritize BIPOC and Queer voices.
---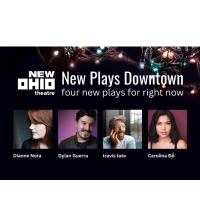 New Ohio Theatre to Present NEW PLAYS DOWNTOWN Reading Series in December

November 29, 2022

New Ohio Theatre will welcome audiences to New Plays Downtown, a new play reading series, running December 15th - 18th. The series, curated by Dianne Nora and New Ohio Theatre, will feature four new plays by Carolina Đỗ, Dylan Guerra, Dianne Nora, and travis tate.
---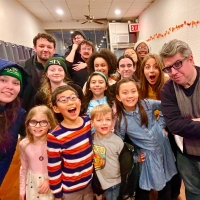 A CHRISTMAS CAROL to Open at The Secret Theatre This Holiday Season

November 29, 2022

A Christmas Carol will open at The Secret Theatre beginning December 15. The Secret Theatre's production of A Christmas Carol features a brand-new adaptation by their Artistic Director, Richard Mazda, who will also perform Scrooge.
---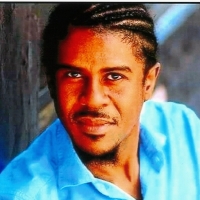 LEAVES Comes to NY Theater Festival This Week

November 29, 2022

Playwright Victor Vauban Jr. brings his award-winning play "LEAVES" to Teatro LATEA on Manhattan's Lower East Side as part of the New York Theater Festival on Wednesday, November 30, 2022 @ 4pm, Friday, December 2, 2022 @ 6:30pm and Sunday, December 4 @ 1pm.
---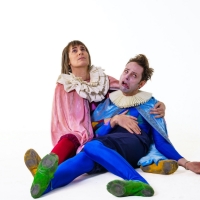 One Year Lease Theater Company's World Premiere of DEAD + ALIVE Begins Tonight

November 29, 2022

One Year Lease Theater Company's world premiere of DEAD + ALIVE begins previews tonight. Conceived by Helen Hayes and Edinburgh Stage Award winner Richard Saudek, DEAD + ALIVE is co-directed by Pher [sic] and Saudek, with original live music by Benjamin Domask-Ruh.
---