The Brick Presents HAMLET: WHAT DREAMS MAY COME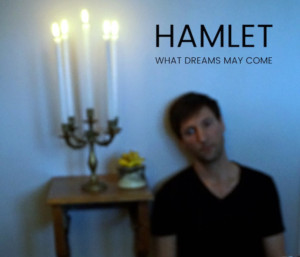 Created in collaboration between Drama Desk award-winning playwright Adam Mathias and Bakerloo Theatre Project Artistic Director William Addis, this stunning, fast-paced, four person adaptation uses Shakespeare's text in a post-modern exploration of the English language's most enigmatic anti-hero. In the instant following his death, Hamlet awakens in a surreal dreamscape and must replay the pivotal moments of his tragedy with the help of his mother, his friend, and his love.
Hamlet: What Dreams May Come will be presented at The Brick as part of their Shakespeare in the Theater Festival.
HAMLET: WHAT DREAMS MAY COME 
By Adam Mathias
Featuring: Joseph McGranaghan, Adam Thomas Smith, Anna Marie Sell, and Kayla Eisenberg
Directed By: Adam Thomas Smith
The Brick
579 Metropolitan Ave at Lorimer Street, Williamsburg, Brooklyn 
Aug. 17th at 7pm
Aug. 18th at 1pm
Aug. 19th at 7pm
Tickets ($20) may be purchased online at
www.bricktheater.com
or by calling 866-811-4111.
Adam Mathias (Adaptation, Music) is the recipient of the 2011 Drama Desk Award for Outstanding Book of a Musical, the 2008 Richard Rodgers Award and the 2007 Jerry Bock Award for Excellence in Musical Theatre, all for his off-Broadway musical See Rock City & Other Destinations—music by Brad Alexander, cast recording available. His musical A History of Summer, music by Jonathan Monro, has received workshop productions from Summerworks Festival in Toronto, Canada and from Pride Films & Plays in Chicago, IL. Adam teaches Musical Theatre Bookwriting for the BMI Lehman Engel Musical Theatre Workshop where he is a member of the Steering Committee. www.adamup.com
Adam Thomas Smith (Director, Horatio/Polonius) is an actor, director, writer, producer, and teaching artist based in New York. Adam has previously worked with The Royal Shakespeare Company, BAM, Signature Theater, The Eugene O'Neill Theater Center, Drunk Shakespeare, Strangemen Theater, The Hangar Theater, West End Theater, Hudson Guild Theater, 13th St Rep, 78th St Theater Lab, IATI Theater, Bakerloo Theatre Project, Wolfbane Productions, and That Thing! Adam is also a company member of Stable Cable Lab Co and The Paramount Theater Group. Training: Brooklyn College. adamthomassmith.com
Joseph McGranaghan (Hamlet) is a theatre maker and educator based in Philadelphia. In New York he's worked with Siti Company, Mabou Mines, Hudson Warehouse, Storm Theatre, and The WorkShop Theatre Company, among others. Regional credits include the McCarter Theatre, Center Stage Baltimore, Asolo Repertory Theatre, Clarence Brown Theatre, Lantern Theatre, Pittsburgh City Theatre, Quantum Theatre, and others. Film and television: Hack My Life, Graduation, The Lucky Six, Miss Atkins Army. Joseph is beyond excited to discover where Hamlet lives in him now and what this story has to say about life in 2018. www.josephmcgranaghan.com
Anna Marie Sell (Gertrude/Ghost) is an actor based in New York and Philadelphia. Favorite credits include A Wilder Christmas, Chapter Two, The Prisoner of Zenda, Cyrano de Bergerac, The Hollow, Kingdom of Earth, The Credeaux Canvas, Separate Tables, and Goodnight Soldier, a solo cabaret. On-Screen: Redrum, NY Historical Society, and an Educational Series for Northwell Health. She's looking forward to exploring this "undiscovered country." www.annamariesell.com
Kayla Eisenberg (Ophelia/Laertes) is a NY based actor and writer. She last performed at the Brick in their 2013 production of UTC61's Money Lab. Other selected credits include: Alabama Shakespeare Festival's production of The Comedy of Errors (Emilia), The Wolves at The Wild Project (#8), and Young Jean Lee's LEAR (Cordelia) at 440 Studios. Her work as a playwright/deviser has been performed at Dixon Place, Paradise Factory, ASF, and Manhattan Rep. BFA: NYU Tisch/RADA. Proud AEA member. www.kaylaeisenberg.org.
The Brick is located at 579 Metropolitan Avenue (between Union Avenue and Lorimer Street) in Williamsburg, Brooklyn on the L & G subway lines (L: Lorimer stop; G: Metropolitan stop). For more detailed directions & further information, visit www.bricktheater.com. The Brick and its non-profit company, The Brick Theater, Inc. were founded in September of 2002 by Robert Honeywell and Michael Gardner. Formerly an auto-body shop, a storage space and a yoga center, this brick- walled garage was completely refurbished into a state-of-the-art theater complex, with a large sprung floor and professional lighting and sound package.
Winner of THE 2009 CAFFE CINO FELLOWSHIP AWARD, The Brick is Williamsburg, Brooklyn's destination for subversive theatrical experiences. Home to the critically acclaimed premieres of Bouffon Glass Menajoree (NY IT Award Winner-Outstanding Play), Samuel & Alasdair: A Personal History of the Robot War (NY IT Award Winner-Outstanding Play), Greed: A Musical Love $tory (NY IT Award Nominee-Outstanding Musical), Red Cloud Rising, Theatre of the Arcade and Suspicious Package (NY IT Award Nominee-Outstanding Play), The Brick has hosted some of downtown theater's most innovative artists, including Young Jean Lee, The Debate Society, Little Lord, Nellie Tinder, Target Margin Theater, New Georges, Jason Grote, Annie Baker, The Mad Ones and Thomas Bradshaw.