BWW Review: JAMES AND JAMESY: IN THE DARK is a Charming and Absurdist Existential Jaunt
When the word 'Fringe' comes into play, most experienced theatre-goers are prone to a moment of hesitation. The genre implies unconventional to the point of the ridiculous. James and Jamesy: In the Dark, winner of multiple Fringe awards, is not immune to these elements, however, it is stylishly done and presents a charming picture of two beings finding their place in the world.
In the Dark follows the meeting of two lamp-headed individuals each with one job: place a chair to set the stage. They then announce 'ready!' and are whisked off to their next location. One day, things go awry and instead of a single individual being sent in, two arrive. Confronted with existence outside of their own, the two beings explore the idea of me, you, we, us, here, now, and next.
The dialogue plays off of misunderstandings in an almost 'Who's On First' kind of banter with a fresh twist. With little more to distinguish them than a slight difference in height, actors Aaron Malkin and Alastair Knowles flawlessly make clear characterizations that helps to build the humor of the piece. Both have moments of joyous confidence and touching vulnerability; while at first it's a laugh watching them meet and learn, by the end when it's time to go, it elicits an 'aww' and a wave from the audience.
That being said, the show is not one confined to the fourth wall of the proscenium. The actors move into the audience and incorporate that as part of the experience. The quality of this depends entirely on the mindset of the viewer: those determined to have a typical theatrical experience may not enjoy it, while those looking to interact and join in the beings' exploration of their world have a chance to make a mark on the story.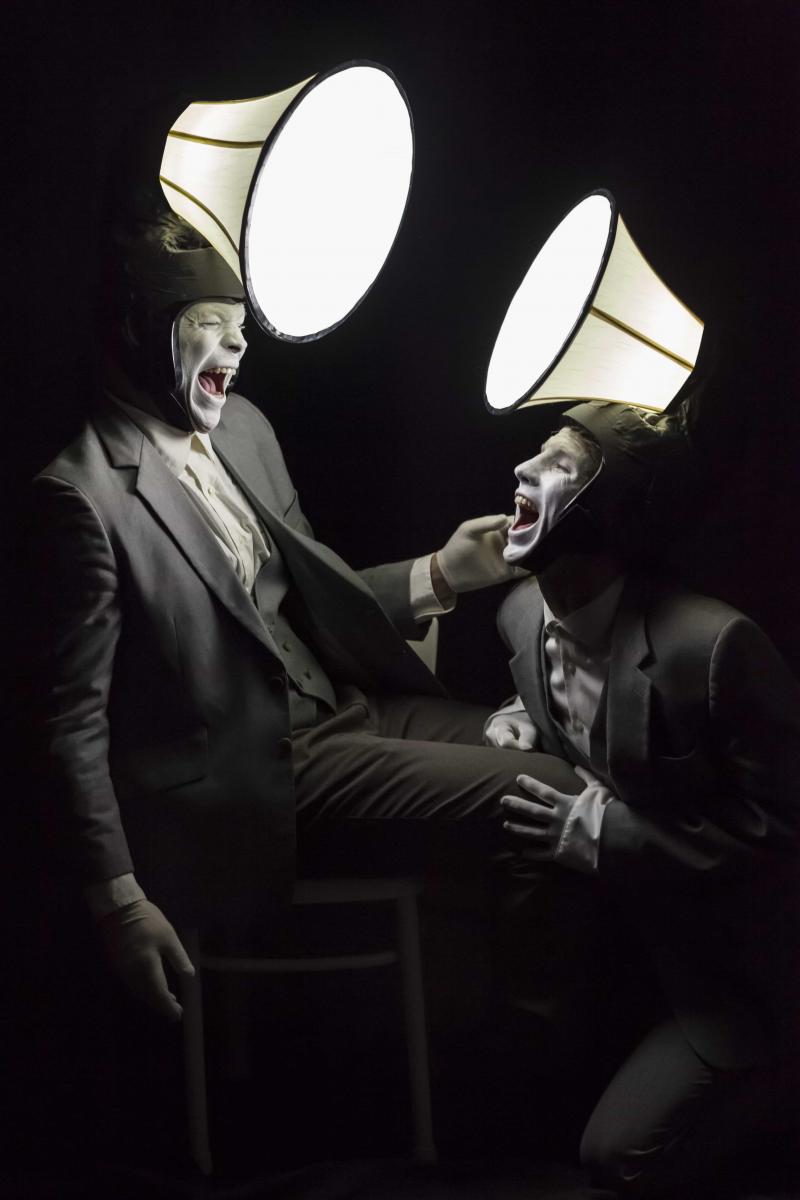 The design of the show is very minimal, giving the LED headlamps the metaphorical spotlight they deserve. At once odd and clever, they bring an otherworldliness to the piece that compliments every aspect. They're 'clicked' on and off and even thrown back and forth at times, proving to be thoroughly imaginative and intriguing.
The very soul of theatre comes from breaking the rules and exploring new ways of storytelling. James and Jamesy: In The Dark does this with verve and charm. Walking out you'll find there really is more to we than meets our eyes.
For tickets, visit Soho Playhouse here.
All Photos Credit: Thaddeus Hink
Featured at the Theatre Shop
T-Shirts, Mugs, Phone Cases & More