BWW Review: COLOR STRUCK at Theater for The New City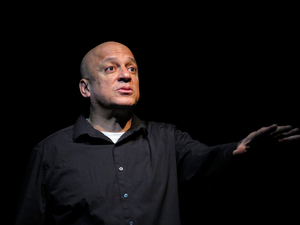 With his wide grin, open arms and humble humor, actor-activist-comedian Donald E. Lacy, Jr. takes the stage and builds a rapport with the audience almost immediately. At its core, Color Struck is an 80-minute genre-transcending show that effectively blends comedy, drama, improvisation, dancing, tone poems, hip-hop and commentary.
Although relatability is Lacy's jam (we see him, hear him, laugh with him and trust him), don't let his vim and visage fool you. Just as we get comfortable with his unique brand of dramedy, he shifts from "what it's like to be Black but pass for white" into fresh-and-fierce takes on colorism and institutional racism.
Along the way, Lacy respects the wisdom of his elders, ranging from real grandmas ("Not the ones grinding in the club") to Black Panthers ("A woman's place is in the struggle!"). He effectively evokes his own upbringing where, as the youngest of eight, he had to learn how to make do with the gizzard until he pulled enough rank to work his way "up the chicken ladder."
Lacy shakes his head in racial resignation as he references game show gaffes and meme-inspiring TV news interviews gone awry. His cultural insider's perspective bolsters more brotherhood than it disses, particularly when he recreates hair styles, re-enacts some childhood discipline, and waxes fondly about family Sundays.
Although Color Struck is ostensibly a one-man show, it begins with a prologue by spoken word artist VinDesh. From that point on, against a video backdrop of alternating historical and contemporary photography, Lacy riffs on topics both nostalgic and new as he examines how cultural assumptions drive American society and permeate American politics.
At times, the power of Lacy's words work against him: his assertion that "knowledge is power" gets undercut by his discussion of the negative connotations of blackmail, blacklist, and blackout.
"We are all branches of the same tree," says Lacy, his optimism overshadowed by the lingering video projections of deadly racial violence.
Director is Sean San Jose; soundscape and music by Tommy Soulati Shepherd.
Color Struck, at The Theater for the New City, February 28-March 17th. Tickets available here.