BWW Review: Brooklyn's Theater2020 Celebrates The Best Of The Boro And Stage With SONDHEIM ON SONDHEIM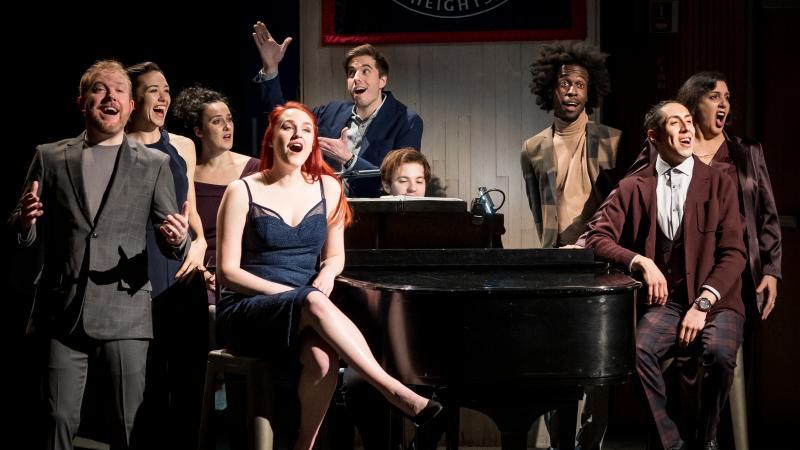 There's something to be said about a person who knows just what he wants - who, with such unwavering confidence and drive, goes out into the world and creates something beautiful. Someone with the purpose in life of not only succeeding, but to express himself in a way that makes the theatrical world receptive to what he has to say.
One such person is Stephen Sondheim, one of the great composers and lyricists of our time whose name isn't unfamiliar to anyone (regardless of your interest in theater). Based on his continuous success from the 1950's onward, it seems that Sondheim has very little trouble creating what it is the world wants to hear: musicals that are recognizable and loved, with a musical style that gives even the most accomplished musician reason to sweat. From Gypsy to Sweeney Todd and West Side Story, Sondheim has given each of us the satisfaction of finding some part of ourselves within a show - a circumstance we can relate to, a character or song to love, and essentially a reason to love the theater with all our hearts.
Theater 2020, Brooklyn Heights' only professional and award-winning theater company, has been my place to go for quality productions in the borough for the last few years. Being a fan of Sondheim, I've had the privilege of seeing the group's past productions of Sweeney Todd, Assassins and Into the Woods...and I can't seem to get my fill of how these dark (yet enticingly human) musicals are beautifully transposed onto a Brooklyn stage.
Now, Theater2020 presents the first NYC revival of the Sondheim/ Lapine musical Sondheim on Sondheim, a revue that brings many of this musical genius' works together to create quite a show in itself. With a magnificent cast that makes harmonizing within a Sondheim score a) possible and b) seem absurdly effortless, director David Fuller brings a very noteworthy production to audiences who, whether or not they were familiar with Sondheim to begin with, will wind up loving him.
Presented by Fuller and Artistic Director Judith Jarosz, this Equity-approved production of Sondheim on Sondheim is now in performances at St. Francis College - the perfect venue to give both Sondheim and his cast the intimacy they deserve as this well-crafted story is told. With music and lyrics by Sondheim himself, this show combines recorded, behind-the-scenes interviews with live music to not only tell a story of success, but of the man behind the name.
From his early life to his later works, cast members interact with Sondheim as he narrates a story that is as inspirational as it is humbling - a look into the life of a man who, despite his talent and fame, does not wish to be seen as someone on a pedestal. Through his witty, down-to-earth remarks about what it means to be in the limelight of his own life, Sondheim sheds some light on his journey and his shows... all the while proving to the audience that if you find your niche in the world, what becomes your passion, you should never let it go.
And that is clearly what the wonderful cast and crew of Theater2020's Sondheim on Sondheim understand so well. Sondheim describes many of his characters as having a certain neurotic quality about them - think of Sweeney Todd's need for revenge, or a woman's relentless search for purpose in Passion. It's one reason why I love Sondheim's work so much, and also why I have nothing but admiration for people who have this neurosis - this need to dig down deep to find what makes them tick. People, such as those involved in this production, who believe so passionately in the work they do that the result of their efforts is near perfect - the story they tell just utterly complete.
Finding a cast and crew that can captivate the audience's attention scene after scene, whether that be actors feeding off the energy of each other, or perhaps an ideal light design that so does well to follow the ebb and flow of the moods they set. Fuller and Jarosz have gathered such a beautifully talented cast - and it's no wonder, as this award-winning duo has consistently brought quality theater to the borough. And I can say with confidence that there is little chance of anyone ever being disappointed by what will come next.
Kudos must go out to this wonderful cast, who is as engaging as their energy is infectious. Gillian Bell, Torian Brackett, Esteban Castillo, Amanda Higgins, Ryan M. Hunt, Zack Krajnyak, Bess Morrison and Katie Weinstein take the stage and make this Off-Off Broadway production shine. Alongside them are Music Director/Pianist Solon Snider (who deserves an award for playing almost three hours of Sondheim unscathed), Lighting Designer Giles Hogya, Costume Designer Susan Yanofsky, Choreographer Judith Jarosz, Production Stage Manager Julia Fisk and Assistant Stage Manager Wesley Schroeder.
You all truly deserve so much praise, and your enthusiasm for what you do is certainly noticed. You make people who may have strayed from the theater once upon a time believe in its power to bring something beautiful into the world, and I'm happy that Theater2020 is once again giving us all the chance to realize that.
Theater2020 presents Sondheim on Sondheim as part of its "Visions for a New Millennium." Performances are held at The Founders Hall Theater, St. Francis College (located at 180 Remsen Street) and began on February 20th, continuing thru March 14th for a limited 14-show run. Tickets are $40 for general admission/$30 for seniors and students, and can be purchased by clicking here or with cash at the door; please reserve by emailing theater2020@gmail.com if you choose this option. The performance schedule is as follows: Thursdays (2/27 and 3/5) at 8pm, Fridays (2/28, 3/6 and 3/13) at 8pm, Saturdays (2/29, 3/7 and 3/14) at 8pm and Sundays (3/1 and 3/8) at 4pm.
Please go and support Theater2020 in its mission of bringing high quality yet affordable theater to the borough of Brooklyn.
Enjoy!
Photo Credit: John Robert Hoffman