BWW REVIEW: SELF-YELP Wittily Probes the Absurdity of the Popular Crowd-Sourced Review Site at the 2017 Midtown International Theater Festival
When the invitation to SELF-YELP appeared in my inbox, I jumped on it. For one thing, I'm a "Gold Elite," which means I've been Elite for five years. With nearly 700 reviews from LA to Arizona to Michigan to New York, I have more content on Yelp than on any social media platform except Facebook.
And like it or hate it, Yelp is an undeniable force in American culture. Like Google, it's become a verb--as in, "I Yelped the restaurant that gave my reservation away!," or "I'm going to Yelp the mechanic who installed brakes instead of a timing belt!"
Yelp reviews can go viral, as with the recent post by a Kyle O. from Texas about Berghain, an exclusive Berlin nightclub that is actually a gay sex mecca. They can even cost a Yale professor a deanship, as with June Y. Chu, whose elitist, mean-spirited reviews of multiple New Haven businesses added yet more fuel to the flame of anti-Yale sentiment nationwide.
SELF-YELP, then, a two-woman short play by
Helene Ellford
and
Emily Thomas
featured both at the Midtown International Theater Festival and the Strawberry One-Act Festival, could not be more timely. The five vignettes are drawn from Yelp reviews in New York City, and while the thread tying these reviews together is tenuous, the writing is consistently funny. The small audience (under ten people) laughed through most of the 30 minute piece. The play begins in a Restoration Hardware with Alicia, a vapid, New Age Millennial (Katie Thomas) camping out in the linen section. Juice Press bottles litter the area she's taken over and she's broken a mirror. Kendra (
Helene Ellford
), a competent, sharp-tongued store manager (and herself a Millennial) has been tasked with booting the delusional squatter who thinks she "lives" on Fifth Avenue. Previously she lived at "Ray Flan" (Raymond Flanagan, a furniture store whose flagship is near Lincoln Center), and she has her eye on a Ikea in Paramus. Alicia peppers her speech with "hashtag" before popular phrases, which are more sung than spoken, in a wickedly funny, good-natured parody of Millennial speech. Armed with a walkie-talkie in case she needs backup from security, Kendra takes pity on Alicia who offers her the "vision board" she's been creating in the hopes of achieving the abundance she currently lacks. The whole premise is clever and fresh. Subsequent vignettes include a visit to City MD for a UTI. The female doctor is wildly inappropriate, worse than a male doctor who "mansplains" or slut shames. (This scene made me laugh because I had a similar experience at an urgent care in Santa Barbara years ago, during which the doctor basically called me a slut for the identical condition. Thick-skinned as I am, I tore into him. He didn't apologize, but he did realize he'd taken on the wrong patient.)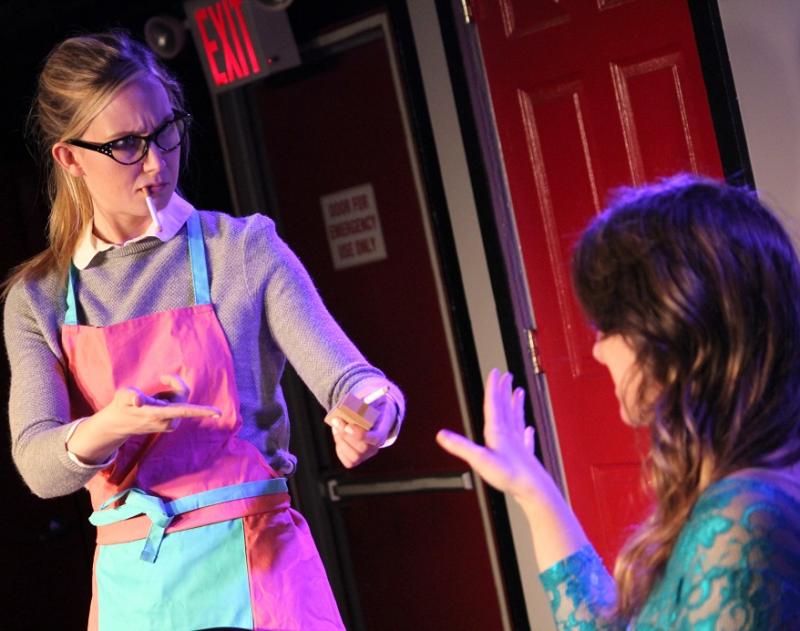 Some vignettes feature unrelated characters: a drama queen mother with her family at "Yolo [You Only Live Once] Go Kart" in Coney Island, and an epically self-absorbed psychic who botches the reading because she's more invested in her own drama than the client's needs. The scene in the retro diner has a Back to the Future feel (the 1950s waitress misunderstands everything the contemporary diner says).
"Can I just get a diet Coke?" Alicia asks. Maryanne, with a cigarette dangling from her mouth, stares blankly. Seeing Alicia's incredulity that smoking is permitted ("[Williams Sonoma] literally kicked me out"]), Maryanne exclaims, "Ah, hooey! This here's a '50's diner, see? If you went to a Civil War reenactment and someone wasn't using a musket, you'd think they were all sloppy hacks! At my Johnny Rockets, you get all of the '50s: the good and the bad!"

Given the play's length (30 minutes), the ticket price seemed a bit high. But overhead even in smaller theaters is expensive, so one should be forgiving in the interests of encouraging original works. The idea is strong, but if the play intends to unify the vignettes, more work needs to be done to connect the dots of the narrative, as well as the anonymous Yelp reviews that broadcast over a speaker after each scene. Too, the self-help theme is opaque. How, in other words, do Yelp reviews further or impede self-knowledge? But in SELF-YELP, Ellford and Thomas have beginnings of a timely, witty full-length comedy.

Related Articles View More Off-Off-Broadway

Stories

Shows
Victoria Ordin is a writer based in West Los Angeles and Manhattan. Raised in L.A. around film and television, she developed an early appreciation for (read more...)