2019 Minty Awards Gala Honorees Edward Morand, Comedian Richie Byrne And Wagner College's Richard And Carin Guarasci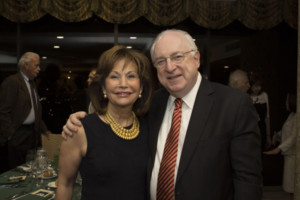 The Minty Organization for the Performing Arts, the non-profit which oversees The Minty Awards, has announced honorees for the 6th Minty Awards Dinner Gala to be held Thursday, January 17 at 7:00pm at Nicotra's Ballroom, The Hilton Garden Inn.
The 2019 Minty Awards Dinner Gala Honorees are Edward Morand, Carl William Lesch Memorial Award for Educator of the Arts; Richie Byrne, Distinguished Alumni Award; Richard and Carin Guarasci, Community Enrichment Award, and St. John Villa Academy's 1989 production of The King and I, Outstanding Show Award. In addition, two students will receive the Msgr. Joseph C. Ansaldi Scholarship, which was founded in 2016 to honor the late chaplain of The Minty Organization.
"The extraordinary rich history of theatre in our schools is ever present with this year's honorees, with some of their work spanning over six decades," said Minty Organization Executive Director Michael J. Pinto. "Their support, dedication and enthusiasm for the performing arts in our schools is so evident, and we look forward to honoring their achievements at our Gala."
2019 Carl William Lesch Memorial Award for Educator of the Arts
EDWARD MORAND
Ed Morand came to Staten Island from Detroit, Michigan in the summer of 1959. During summer school classes at Manhattanville College, in Purchase, NY, he was a student of the Pius X School of Liturgical Music. Here he met Carl William Lesch, a well-known teacher in the Catholic High Schools of Staten Island. Carl observed that he had considerable organ and piano skills, accompanying the Pius X Summer School Chorus in some of its performances that summer. He invited Ed to act as his accompanist at several schools where he served as general music teacher and choral music conductor.
Ed earned a Bachelor of English Degree at St. John's University in 1960, and an MA in Music Education and Organ performance from Teachers College, Columbia University, in 1965. His schools included St. Peter's Boys' and Girls' High Schools, Countess Moore High School, Msgr. Farrell High School, and Holy Child Girls' High School in Rye, NY, and Lacordaire Girls' High School, in Montclair, NJ. Ed was learning his craft, while beginning to develop his own employment at area schools. The first was Most Holy Trinity Church, in Brooklyn, from 1959-1960, then St. Michael's Church, in Jersey City, NJ. From 1961-1969, Ed became Organist and Choirmaster at St. Peter's Church, in Staten Island. He was also teaching music during this period, at St. Paul's, Our Lady of Mt. Carmel-St. Benedicta's, and St. Peter's Elementary Schools.
He became the first music teacher at St. Joseph-By-the Sea, and served there from 1963-1969. He remembers his first high school musical performance as Carl's assistant in the 1964 performance of Oklahoma! He also assisted Carl in productions of The Sound of Music and Mame at Moore. Ed later became Music Director of productions of Brigadoon, South Pacific, Irene, Babes in Arms, Guys and Dolls and George M!, all at Moore.
Ed and Carl were presenting Carousel at St. Peter's Boys' High School in the spring of 1983 when Carl took a fall from a ladder during the preparations for the show. Ed finished the performances for Carl, but the loss of Carl will forever resound in the St. Peter's and entire Staten Island community.
In 1966 Ed met his wife, Elizabeth, and were married in 1967 at St. Peter's Church. Needing a better paying job to support his wife and 3 children, in 1969 Ed got a license to teach music in the NYC public high school system, and served in this capacity until his retirement, in 1996.
His teaching experience spanned all 5 NYC boroughs, his last one being at IS #2, where he served for 6 years. His work as a church organist, beginning in Detroit, in 1952, continues to the present, spanning 66 years. He has served St. Teresa's Church since 1997. Ed has no plans to retire from his ministry of Music Director and Organist as long as God provides him with the strength and energy to do so. But he will always be indebted to Carl Lesch for the solid foundation he gave Ed for his chosen life's work. Any honor Ed receives at this point must always include Carl. God bless him.

2019 Distinguished Alumni Award
A 1981 graduate of Monsignor Farrell, Richie performed there in Guys and Dolls and A Funny Thing Happened on the Way to the Forum under the direction of Robert M. Herbert. Richie also performed in musical revues at Notre Dame Academy, in Lady Be Good and Wish You Were Here at St. Joseph Hill Academy, and in Carousel and No, No, Nanette at St. John Villa Academy.

Richie went to Wagner College Theatre, where he majored in Theatre performing leading roles in The Pirates of Penzance, Macbeth, Scapino and Oklahoma!
One of the most requested comedians working today, Richie Byrne brings a unique mix of talents to the stage. Combining a quick wit and New York sarcasm with the charm of an old-school storyteller, Richie provides a dominating stage presence with one of the highest laugh-per-minute counts in the business. Richie's rants on his family...his job...his weight...his life... as well as his take on pop-culture make him incredibly relatable to any and all audiences.

Richie's comedy credits include such well-known clubs as Dangerfield's, Carolines on Broadway and Gotham Comedy Club in New York City. He has also headlined many clubs around the country including Hilarities in Cleveland, The Ice House in Pasadena, The Borgata in Atlantic City as well as the Tropicana in Atlantic City and Las Vegas.

His comedy television credits include Comedy Central, VH1, "The Rosie O'Donnell Show", "Good Day New York" and "Gotham Live" on AXS-TV.

Richie is proud to be the warm-up act for the hit series, "The Dr. Oz Show" since its debut in 2009. He has also been a guest on the show many times. Besides "The Dr. Oz Show", Richie's other daytime warm-up credits include "The Rachael Ray Show", "The Chew", "The Jane Pauley Show" as well as the sitcom "Murphy Brown". For the past three years he has done warm-up for "The Miss America Pageant" at Boardwalk Hall in Atlantic City for CBS.

Not only a popular comedian, Richie is also an accomplished actor & singer, with a long resume of theatrical credits (music & legit) as well as television & film. He can be seen on legendary shows such as HBO's "Sex and the City" and "The Sopranos" as well as NBC's "Law & Order: Criminal Intent" & "Conviction". He can also be seen in the feature film "Goodbye Baby". Written & directed by Dan Schecter, the film is about a young girl who enters the world of Stand-Up. Besides performing material in the movie & playing a part, Richie was also a consultant on the set & helped to write original material for the lead character.

2019 Community Enrichment Award
RICHARD AND CARIN GUARASCI
Since 2002, Dr. Richard Guarasci has served as the 18th president of Wagner College, where he was previously the provost and senior vice president. At Wagner, Dr. Guarasci founded the Wagner Plan for the Practical Liberal Arts, the four-year curriculum for all undergraduates, that draws together a substantive liberal arts core into a series of learning communities and experiential learning tutorials.

Dr. Guarasci was dean of the college and professor of political science at Hobart College from 1992 to 1997. Previously he served as dean and founding director of the First-Year Program at St. Lawrence University, a nationally celebrated model program of democratic living and learning required for all first-year students, which joined first-year housing with a two-semester schedule. He is a national leader in higher education with many speaking engagements throughout the United States. He is an active educational consultant for more than 20 universities and colleges. Time Magazine selected him as a National Undergraduate Educator and he received awards from the Sears Foundation, the Glitz Family Prize and many other citations including a day of recognition by proclamation of the City Council in Geneva, New York. The Staten Island Civic Association cited him for public service on Staten Island.
Dr. Guarasci is currently chairman of the Association of American Colleges and Universities board of directors, chairman and secretary of the board for Campus Compact, and president emeritus of the Coalition of Urban and Metropolitan Universities. He is a former chairman of the New American Colleges & Universities and the New York State Higher Education Services Corporation. He is a fellow of the Society for Values in Higher Education and a Pew Foundation fellow with the Washington Center for Learning in building natural leadership in learning communities. He is a member of the faculty for the Asheville Institute and an advising board member for SVHE's Models for Democracy Project.
Dr. Carin Guarasci has more than 25 years of experience as a teacher and administrator. Dr. Guarasci, who has been named a Woman of Distinction by the New York State Senate and a Wise Woman by the National Organization of Italian American Women, is founding director of New Educators at Wagner, a mentoring and career development program for new teachers. She dedicates herself to inspiring, educating and supporting children at risk and to mentoring new teachers. Carin has served as a NYS Principal, a Region-wide Special Ed. Administrator in Westchester and Northern NY, a facilitator in Columbia's Teachers College, New Teacher Academy and tenured reading specialist. Carin also assists in Wagner's advancement programming.
Drs. Richard and Carin Guarasci have been two of the strongest supporters of The Minty Awards since its founding in 2010. They have generously ensured the College's co-sponsorship of all educational programs of the Minty Organization, including every Minty Awards ceremony to date. When The Minty Awards was but an idea and in its initial stages of formation, the Guarascis recognized the importance of an arts education and sought to help make the Minty's a reality. As their time at Wagner College begins to wind down, we will forever be grateful for their support and friendship. The Minty Organization, Wagner College, and all of Staten Island, will forever be indebted to them.

2019 Outstanding Show Award:
THE KING AND I
St. John Villa Academy, 1989
Director: Marian Sparago
Choreographer: Loretta O'Hara
Starred Yancy Arias (Broadway's Miss Saigon, The Wild Party), Jacqueline Padavano, Tiffany Blair, Cynthia Fopiano, Billy Matarazzo.

"The exceptional talent is truly what made The King and I so special," said choreographer Loretta O'Hara (2015 CWL Educator of the Arts recipient). "I remember when Marian and I got together to discuss our show choice and we both said The King and I. From our leads right down to the children, it was the professional and mature cast, perfectly suited for this show. It was a beautiful, powerful production and an experience I will always cherish."
All proceeds from The Minty Awards Dinner Gala will go to fund the Minty Organization's educational programs, which include Audition Workshops, Master Classes and The Minty Awards Ceremony. Tickets to the Gala are $85; $65 for those under 21. Ticket price includes four course meal, open bar, live entertainment, and fabulous prizes. Tickets can be purchased online at www.mintys.org or by calling 347-688-9527. RSVP deadline is Monday, January 14.

Founded in 2010, The Minty Awards has saluted the best and brightest of Staten Island's Catholic High School Theatre Departments, donating over $50,000 back to the schools. The 2019 Minty Awards will take place on Sunday, June 2 at 7:00pm at The St. George Theatre.