Photo Flash: Meet the 10th Anniversay Cast of 'Naked Boys'
 NAKED BOYS SINGING!, the fifteen-song celebration of the male form hit yet another milestone: it began its tenth year on Saturday July 26th.  The Naked Boys are appearing on New World Stages Stage 4, graciously shared with the other (clothed) Boyz of New World Stages:
Altar Boyz
!  New World Stages is located at 340 West 50th Street, between 8th & 9th Avenues.  Naked Boys plays Fridays at 10:30pm and Saturday evenings at 6pm.
Naked Boys Singing!
is produced by Jamie Cesa, Carl D. White, Hugh Hayes, and
Tom Smedes
.  It is directed and was conceived by Robert Schrock, and choreographed by
Jeffry Denman
. The show opened Off-Broadway at The Actors' Playhouse in July 1999. The film version was released last year by TLA Releasing. The lighting design has been updated by the original designer, Aaron Copp, and the set design has been reinterpreted by the original designer, Carl D. White. Ticket prices are $69.50, which includes $1.50 facility fee.  Tickets for
Naked Boys Singing!
are available through Telecharge.com at 212-239-6200 or at the New World  Stages Box Office. For Group Sales, call 212-302-4848, ext 18.  The show runs at a lean, hard 70 minutes, without an intermission.

Front Row: * Timothy John Mandala, Chris Layton, Dave August, Craig Lowry Back Row: Eric Dean Davis, Marc Ginsburg, Eric Potter, George Livengood and Trevor Efinger

Dave August, Eric Dean Davis, Chris Layton, Eric Potter, Craig Lowry, Marc Ginsburg, George Livengood, Timothy John Mandala and Trevor Efinger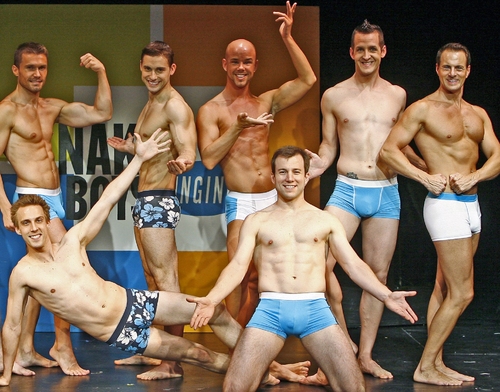 Front Row: Chris Layton and George Livengood Back Row: Dave August, Timothy John Mandala, Eric Potter, Craig Lowry and Eric Dean Davis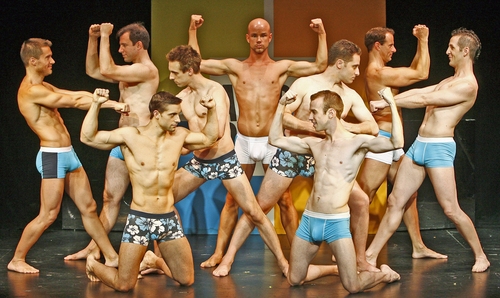 # Front Row: Timothy John Mandala and Trevor Efinger Middle Row: Dave August, Chris Layton, Marc Ginsburg and Craig Lowry Back Row: George Livengood, Eric Potter and Eric Dean Davis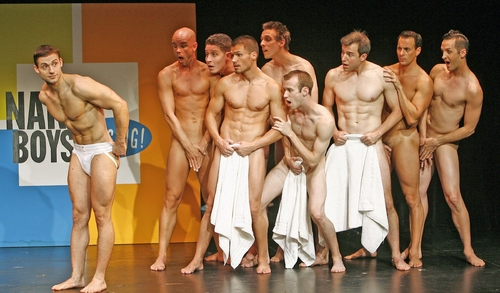 Timothy John Mandala, Eric Potter, Marc Ginsburg, Dave August, Chris Layton, Trevor Efinger, George Livengood, Eric Dean Davis and Craig Lowry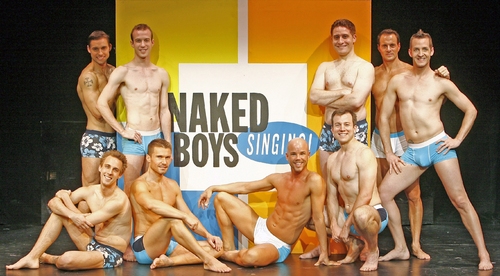 Front Row: Chris Layton, Dave August, Eric Potter and George Livengood Back Row (L-R): Timothy John Mandala, Trevor Efinger, Marc Ginsburg, Eric Dean Davis, Craig Lowry