Photos: Max Maven Celebrates Opening Night Off-Broadway
Named by Orson Welles as "the most original mind in magic", world famous mentalist and master magician Max Maven makes his Off-Broadway debut in the summer's most mind bending supernatural attraction, Max Maven: THINKING IN PERSON. Previews began at The Abingdon Theatre Arts Complex (312 W. 36th Street -1st floor) on June 12th. Presented by Alexander Marshall and Giles Cole, Maven's electrifyingform of on-stage mentalism, officially opened last night, June 14th and continues until Sunday, July 1st. Check out photos from opening night below!
In Max Maven: THINKING IN PERSON, the renowned magician who has innovated many of the magical and mentalist effects that are used by other magicians such as David Copperfield, Penn & Teller, Siegfried & Roy, sets out to take the audience on a journey to explore some of the mysteries of the human mind and aims to challenge our assumptions of what we think we know with the mystery of what we can't know. It's more than a ruse to amaze with trickery; it's a magic act woven into slivers of metaphysics. Using an advanced (and highly unorthodox) set of psychological principles and techniques, Max is able to discern the thoughts of total strangers. Subliminal persuasion and the power of suggestion are pushed to the limit.
Neil Patrick Harris, President of The Magic Castle, says: "Max Maven has clearly proven himself to be one of the world's most prolific experts of mentalism, as well as a magnificent showman. Every time I watch him perform, he amazes me. He specifically designs every show to be different, as there are various outcomes for the multitude of effects that he performs. I consider him a master magic historian, and an inspiration."
Max Maven has astounded audiences with an uncanny ability to reach into their heads and read their thoughts. More than just the world's foremost mind reader, Max has invented and published hundreds of unique tricks and pioneered the art of interactive magic. His television credits include guest-starring on such diverse shows as General Hospital and Top Chef Masters; hosting eight network specials in Japan (performing in Japanese); starring in television series' in Taiwan, Sweden, Norway, Finland, England and Canada; and appearing on shows in Spain, Portugal, Germany, Italy, Holland, Belgium, Scotland, Chile, Singapore, Thailand and South Korea. This fall, Max will star in La Grande Magia for Italian Television and Who Can Fool the Master for Israeli television. Behind the scenes, Max has been a consultant for many of the top names in contemporary magic, and an advisor on over one hundred television shows. Max is a regular contributor to Magic Magazine and sits on the board of the world-famous Magic Castle. He has published approximately two thousand articles, tricks and essays.
Max Maven: THINKING IN PERSON also features Melanie Crispin in the role of The Stagehand. Jules Fisher has designed the lighting and the set has been designed by Alan E. Muraoka.
Alexander Marshall (Director) is the American end of the brand new Anglo-American Production Team of Marshall & Cole. A two-time Emmy winner (7 nominations), Sandy has recently returned from London where he co-produced Giles Cole's new play, The Art of Concealment to sold-out houses. As writer-producer-director, his play, And in the End: The Death and Life of John Lennon, received critical acclaim for productions in Edinburgh and Sydney, and plans are currently underway for its London premiere. Last year, Sandy directed the shows Fooling Buddha and Jadoo, to unanimous raves. He has also produced Carny Trash, Simon Lovell's Strange and Unusual Hobbies, and Short Guys with Glasses. No stranger to magic, Sandy is related to two Deans of the Society of American Magicians: his grandfather Al Baker and his father Jay Marshall. In May of 2011, he received the Benjamin Franklin Award for his epic biography, Beating a Dead Horse: The Life and Times of Jay Marshall.
For tickets, scheduling and more information, go to www.maxmavenoffbroadway.com.
Photo credit: Sheena LaShay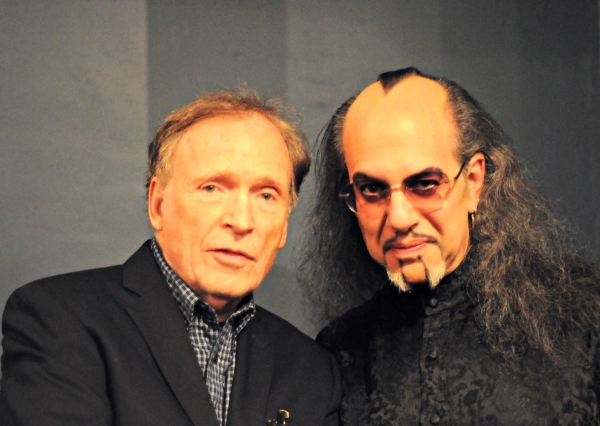 Dick Cavett and Max Maven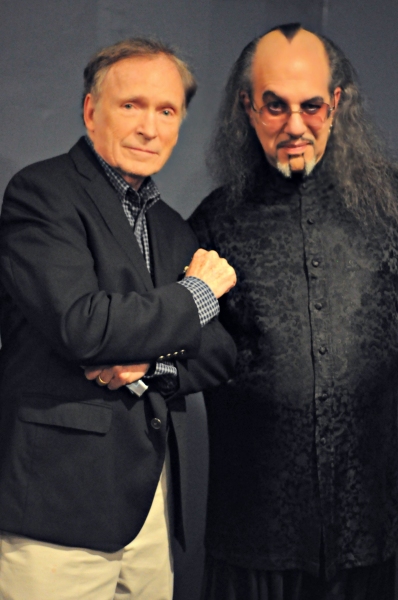 Dick Cavett and Max Maven

Producer/director Alexander Marshall, Dick Cavett, Max Maven and producer Giles Cole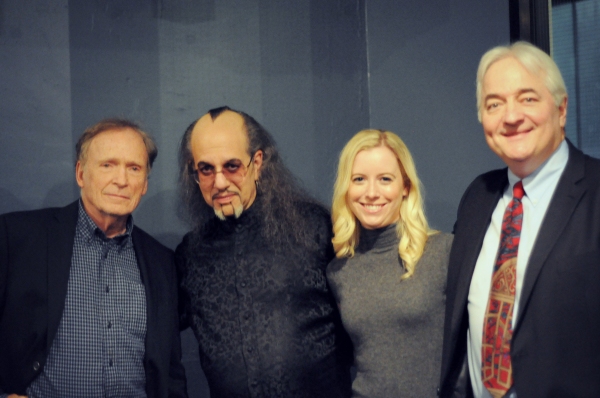 Dick Cavett, Max Maven, Melanie Crispin (also in the show) and producer/director Alexander Marshall

Producers at the opening night party at Sardi's: Michael Chaut, Giles Cole, Alexander Marshall and Susan Palmer Marshall