Photo Flash: First Look at Irish Rep's THE BURIAL AT THEBES, Starting Tonight Off-Broadway
The Irish Repertory Theatre presents its first production of 2016, THE BURIAL AT THEBES written by Irish Nobel Laureate Seamus Heaney, based on Sophocles' Antigone. Directed by Charlotte Moore, THE BURIAL AT THEBESwill be performed tonight, January 14 - Sunday, March 6, 2016. Opening Night is scheduled for Sunday, January 24, 2016.
In THE BURIAL AT THEBES, Seamus Heaney uses his delicate touch to expose the darkness and the humanity in Sophocles' masterpiece, Antigone. After the War of the Seven Against Thebes, Antigone, the daughter of Oedipus, learns that her brothers have killed each other, having been forced onto opposing sides of the battle. When Creon, King of Thebes, grants burial to one but not the other, Antigone defies his order, setting in action a chain of events that can only end in destruction. First written as a response to the invasion of Iraq in 2003, it stands today as a timely reminder of the conflict between the defense of state security and the protection of basic human rights.
The cast of THE BURIAL AT THEBES features Ciaran Bowling as Haemon, Rebekah Brockman (seen as Nettie on the acclaimed Cinemax series "The Knick") as Antigone, Rod Brogan as the Messenger, OBIE Award winner Winsome Brown as Eurydice, Katie Fabel (A Child's Christmas in Wales, It's A Wonderful Life at Irish Rep) as Ismene, Colin Lane (of Lano and Woodley) as the Guard, Robert Langdon Lloyd as Tiresias, and Paul O'Brien (The Weir, Da) as Creon.
THE BURIAL AT THEBES has scenic design by Tony Walton; costume design by Linda Fisher; lighting design by Brian Nason; sound design by Zach Williamson, and properties by Deirdre Brennan.
Due to a theatre renovation taking place at its home base, The Irish Rep's current productions are being presented at the DR2 Theatre (103 East 15th Street in Union Square). Tickets are on sale now through the Irish Rep box office at 212-727-2737 or online at www.irishrep.org.
Photo Credit: Carol Rosegg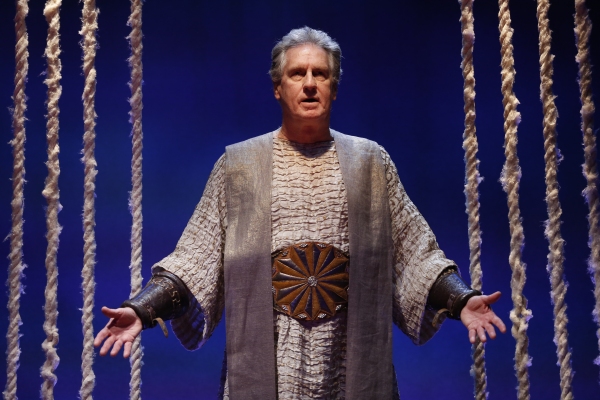 Paul O'Brien as Creon

Rebekah Brockman as Antigone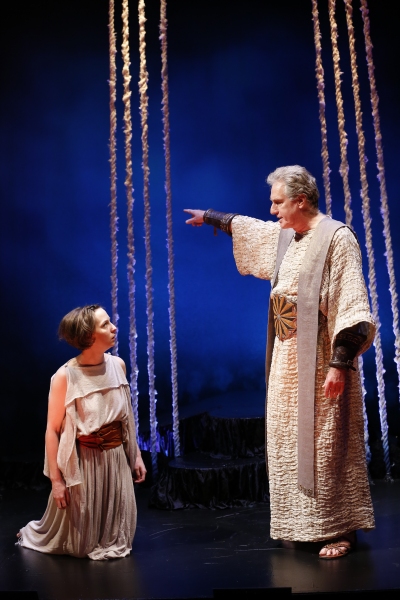 Rebekah Brockman as Antigone and Paul O'Brien as Creon

Katie Fabel as Ismene and Rebekah Brockman as Antigone

Paul O'Brien as Creon and Winsome Brown as Eurydice

Ciaran Bowling as Haemon and Paul O'Brien as Creon

Katie Fabel as Ismene, Paul O'Brien as Creon, and Rod Brogan as the Messenger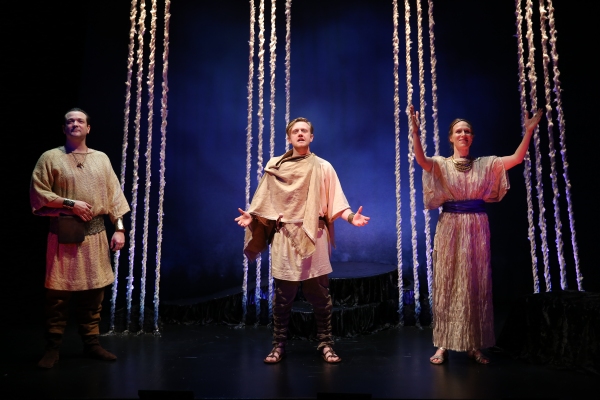 Rod Brogan as the Messenger, Ciaran Bowling as Haemon, and Winsome Brown as Eurydice

Colin Lane as the Guard, Rebekah Brockman as Antigone, Katie Fabel as Ismene, and Paul O'Brien as Creon

Colin Lane as the Guard, Katie Fabel as Ismene, Paul O'Brien as Creon, and Rebekah Brockman as Antigone

Paul O'Brien as Creon, Robert Langdon Lloyd as Tiresias, and Colin Lane as the Guard