New York Musical Festival Announces Initial Lineup For 2019 Festival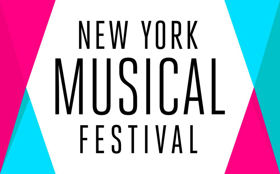 The New York Musical Festival (NYMF) is proud to announce the initial lineup for 2019. Among the shows announced in the lineup are the Next Link Project selections, as well as the Invited Production selections. Now in its sixteenth year, the 2019 Festival will take place July through August at locations around midtown Manhattan in New York City. Scott Pyne serves as Executive Director and West Hyler serves as Producing Artistic Director.
NYMF Passes are now on sale and offer discounted tickets, early ticket booking, and priority seating. Visit nymf.org/tickets for more information.
This year's initial musical selections features shows by writers from across the globe who've created a wide variety of musicals.
"The festival's mission is to nurture the creation, production, and public presentation of new musicals with culturally diverse production teams, ensuring that this uniquely American art form stays strong and healthy," said Hyler. "The New York Musical Festival is a uniquely placed arts organization: having served over 445 writers and thousands of other theatrical artists and backstage administrators since the organization's inception. The New York Musical Festival 2019 season will ensure that NYMF continues to be a crucial part of the theatrical cultural landscape."
2019 NYMF NEXT LINK PROJECT SELECTIONS:
NYMF's flagship program, the Next Link Project, is open to any writer - produced or unproduced, with or without agency representation. The program receives hundreds of submissions from all over the world each fall, and every script and demo recording is evaluated by numerous members of NYMF's Reading Committee, and then by a Grand Jury of leading industry professionals. The selected participants receive entrepreneurial training, career networking opportunities, dramaturgical support, and other services culminating in a subsidized production in the Festival.
2019 NYMF Next Link Productions are:
PERFECTLY VICTORIAN
Music by Bryan Adam; Book & Lyrics by Bryan Adam & Matthew Cole Kelly
Lady Sterling, a freethinking Victorian Era woman, goes behind her husband's back and befriends his newest patient, a transgender woman named Nancy. Defying both her husband's instructions and "proper" Victorian etiquette, Lady secretly helps Nancy embrace life as a woman. What follows is a heartfelt and hilarious challenge to Victorian double standards...many of which linger to this day.
BLACK HOLE WEDDING
Words by Katherine Brann Fredricks; Music by Paul E. Nelson
Lying, stealing, forging, kidnapping, government-manipulating oil baron Dean captures and warehouses renewable energy discoveries. Shy uber-geek Raymond fights back with a black hole trash compactor. Will Dean feed Raymond's fiancé to the black hole, in his campaign to promote capitalism by crushing competition? Will true love prevail in the face of ultimate greed, a chicken-bone fuel generator, and booth babes doing a strip tease where the black hole sucks their clothes off? Find out in this zany satire of energy politics, Black Hole Wedding: a love story with a pure heart, wrapped in a warped universe where truth doesn't matter, integrity doesn't matter, but golf is essential.
UGLY CHRISTMAS SWEATER, THE MUSICAL
Book, music and lyrics by Mark William Butler
Ugly Christmas Sweater, the Musical is a high-flying storybook sleigh ride with a wacky cast of North Pole characters, including a crooked elf, a trashy reindeer, a Santa who hates toys, and an evil Christmas fairy who tries to corrupt an angry young woman named Holly, who despises the holiday, is thrown into the story against her will, and must decide whether to save Christmas... and herself. Holly navigates her wild and woolly journey with Cazz, an ugly Christmas sweater who has come to life - a warm and fuzzy fashion freak who helps to stitch it all together in this hilarious holiday yarn that will leave you in stitches!
BURIED
Book by Tom Williams; Music by Cordelia O'Driscoll; Lyrics by Tom Williams and Cordelia O'Driscoll
When Rose and Harry meet on a date, they uncover something unexpected: they're both serial killers. This unconventional love story is a darkly comedic tale of friendship, road trips and life on the edge. Oh... and a whole lot of murder. Accompanied by a score of catchy, soulful folk music, Buried demonstrates how love is unique to everyone and illuminates the darkness in us all.
OVERTURE THE MUSICAL
Book by Krista Eyler & Barbara Nichols; Music and lyrics by Krista Eyler
This is a story about saving something beautiful. In the lush, romantic, and comedic style of the old-book musical, Overture the Musical celebrates the extraordinary grass-roots effort to help the Kansas City Philharmonic survive during its 1953-1954 season. In 1953, the Kansas City Philharmonic debuted its first opera festival and was striving to become a world-renowned orchestra. At the same time, it was fighting for financial survival. Hundreds of tenacious, music-loving Kansas Citians came to its rescue through numerous curious, comical and creative ways. Against this backdrop of true Kansas City Philharmonic events and individuals nearly forgotten by time, we discover two fictional characters, Lily and Christopher, who share the same passion for music, and are fighting for survival in ways of their own.
LADYSHIP
Book, Music and Lyrics by Linda Good and Laura Good
Based on true events, Irish teenage sisters Alice and Mary become caught in the web of London's "Bloody Code" in 1789, joining thousands of women who were unjustly criminalized and forced to emigrate to Australia to become unwilling convict wives and unpaid laborers. Written by twin sisters Laura and Linda Good of the alt/pop band the Twigs, this is an inspiring story of resilience and finding your voice while surviving impossible odds during one of the toughest sea journeys to date.
FLYING LESSONS
Book by Donald Rupe; Music by Donald Rupe and Cesar de la Rosa; Orchestrations by Cesar de la Rosa, Josh Ceballos and Jason Bailey
In this charming musical, Isabella is a young woman whose teacher has just assigned the final project of her eighth-grade year: research a historical figure and write a paper about what made them great. Joined by her quirky friends, Isabella has to decide who to study when she is visited in a dream by two unlikely companions: Amelia Earhart and Frederick Douglass. Over time, Isabella writes her own 'recipe for greatness' as she learns as much about herself as she does about history.
TILL
Book by Leo Schwartz and DC Cathro; Music and Lyrics by Leo Schwartz
TILL is the emotional and moving true story of Emmett and Mamie Till. In 1955, a black teenager visiting relatives in Mississippi was murdered. His body was thrown in the Tallahatchie River where it was discovered three days later, mutilated and unrecognizable. His mother bravely insisted that he have an open casket funeral so that "the world would see" what they had done to her child. This crime and her impassioned response were catalysts for the subsequent civil rights protests of the era.
LEAVING EDEN
Book & Lyrics by Jenny Waxman; Music by Ben Page; Additional music by Ada Westfall
Woman and Man will never be the same. In the beginning God created man and woman; Adam and Lilith. Lilith has some questions, Adam has some rules, and in a modern metropolis, Eve must deal with a mess of her own creation. Leaving Eden is a punk-rock creation myth that asks: Is there wisdom in the Garden? And will we have to leave Eden to really know?
ILLUMINATI LIZARDS FROM OUTER SPACE
Music and Lyrics by Yuri Worontschak; Book and Lyrics by Paul Western-Pittard
Krystal Lyons, failed beauty-pageant contestant, checks into rehab, run by Illuminati-lizard Overlords using the hospital as a cover. They're on a mission to colonize the planet. The problem is - they're running out of time before the mission is cancelled and planet Earth is annihilated. Believing the aliens to be a symptom of her stressed-out psyche, Krystal decides to help her new friends 'conquer the earth' by putting on their very own Beauty Pageant. With musical numbers that are surprising and memorable, Illuminati Lizards from Outer Space explores how we would react if we had the chance to get everything we ever wanted, no matter the cost.
2019 NYMF INVITED PRODUCTION SELECTIONS:
Invited Productions are selected for the Festival on a rolling basis. They receive 5 performances in the Festival each summer. There is no fee to apply, and they are open to any writer - produced or unproduced, with or without agency representation.
The 2019 Invited Productions are:
ALIVE! THE ZOMBIE MUSICAL
Book, Music, and Lyrics by Josh Canfield
With the cover of the night, zombies terrorize a small town, but when morning comes they leave no trace of their feasting, just missing people. One feisty news reporter, Shelly Sheets, is on the case when she witnesses her co-worker, Eve, being kidnapped and almost eaten by the creatures. Eve is then miraculously saved by one thoughtful zombie, whose new desire is to find his lost humanity. Shelly, her love-sick camera-man Kevin, Eve, and the zombie, embark on a mystical journey with singing fairies, dancing Oracles, hidden portals, and one magical lake - all the while chased by the gruesome leader of the "eaters", Big Z, and his comedic, brainless band of zombies.
CHANCE: A MUSICAL PLAY ABOUT LOVE, RISH, & GETTING IT RIGHT
Book, music & lyrics by Richard Isen
A gay psychologist and a handsome young rent boy stumble down a unique path to healing when guided by a mysterious Hollywood glamor queen. 50 something year old Gregory has spent his adult life denying the loss he experienced as a young man during AIDS crisis. After a near-death experience, The Lady appears. Is she an inner guide from the Jungian collective unconscious? Or a musical hallucination resulting from a small stroke? Gregory is pushed out of his solitary reality by this unlikely muse, and down a mid-life crisis rabbit hole that finally leads him to a deeper understanding of what it means to love.
FOR MORE INFORMATION, VISIT WWW.NYMF.ORG