New Group Now Series to Continue with 'Confronting Racial Bias' Panel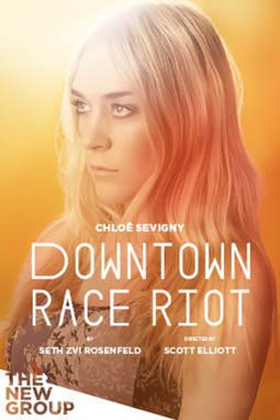 The New Group presents New Group Now: Where Art Meets Our Present Culture, an ongoing series of public discussions locating New Group productions within the larger context of American and/or global society, continuing on Monday, December 11 with a conversation on "Confronting Racial Bias in Our Communities."
Bringing together artists and prominent thought leaders across disciplines and backgrounds, each panel discussion asks vital questions at the center of New Group productions and our present culture.
In conjunction with the world premiere of Seth Zvi Rosenfeld's Downtown Race Riot, The New Group's season opener currently in previews in advance of a December 3 Opening Night, The NewGroup hosts "Confronting Racial Bias in Our Communities," moderated by Nancy Giles, featuring guest panelists Anurag Gupta, Rev. Dr. Jacqui Lewis, Moise Morancy and James Braxton Peterson.
This one-night-only event takes place Monday, December 11 at 7:00pm at the National Black Theatre (2031-33 National Black Theatre Way, New York, NY 10035; Fifth Avenue at Dr. Martin Luther King Jr. Boulevard).
New Group Now offers audiences a forum to consider social issues through the prism of theater, while bringing individuals from diverse backgrounds into a discussion around important societal issues. Access to New Group Now is FREE and open to the public. To reserve a seat, visit TheNewGroup.org/New-Group-Now. The Monday, December 11 event will be live-streamed by BeTerrific. The live stream will be available at www.thenewgroup.org and facebook.com/TheNewGroupNYC.
New Group Now launched in spring 2017 with an event tied to Hamish Linklater's play The Whirligig, part of the company's 2016-2017 Season. In June 2017, this inaugural New Group Now event focused on issues of addiction and substance abuse, topics also addressed in Linklater's world premiere play. Moderated by radio/podcast host Kai Wright, participants included director Scott Elliott; cast member Alex Hurt; journalist Maia Szalavitz; Liz Evans, Executive Director of the Washington Heights Corner Project and Dr. Leslie Daly, Clinical Psychologist at The Center for Motivation and Change. The thoughtful and thought-provoking conversation was live-streamed by BeTerrific, an online film company.
New Group Now is one of several strategic initiatives that The New Group has undertaken through the multi-year support of the Doris Duke Charitable Foundation's Building Demand for the Arts program. In collaboration with playwright Thomas Bradshaw as its hosted artist, The New Group is implementing and evaluating programs and activities to increase equity, diversity, and inclusion within the organization as well as the local and national theatre landscape.
Seth Zvi Rosenfeld's Downtown Race Riot launches The New Group's 2017-2018 Season. On a hot late summer day in 1976, a mob of young men - Al. White except one - descended on Washington Square Park with pipes and bats, and attacked any people of color they could find. Seth Zvi Rosenfeld takes us back to that day, to the cramped Village apartment of Mary Shannon, a strung-out, free-wheeling single mom, as her son Pnut and his Haitian best friend Massive wrestle with their obligation to join the riot. The boys, torn between loyalty to each other and to theneighborhood, grasp for ways to keep the violence from destroying their friendship forever. A snapshot of a time not so different than today, when a new social freedom ran smack into the forces of reaction, and when the stakes were truly life and death. Scott Elliott directs this world premiere of Downtown Race Riot for The New Group.
Downtown Race Riot features Cristian DeMeo (Tommy-Sick), David Levi (Jimmy "Pnut" Shannon), Moise Morancy (Marcel "Massive" Baptiste), Josh Pais (Bob Gilman), Sadie Scott (Joyce Shannon), Chloë Sevigny (Mary Shannon) and Daniel Sovich (Jay 114).
The New Group 2017-2018 season continues with the Off-Broadway premiere of Jerry Springer - The Opera, with music by Richard Thomas, book & lyrics by Stewart Lee and Richard Thomas and choreography by Joshua Bergasse, directed by John Rando (begins January 2018); and the New York premiere of David Rabe's Good for Otto, directed by Scott Elliott, with F. Murray Abraham, E. Harris, Amy Madigan, Rileigh McDonald, Rosie O'Donnell and Michael Rabe (begins February 2018). In Spring 2018, the company presents the world premiere of Lily Thorne's Peace for Mary Frances, directed by Lila Neugebauer, featuring Lois Smith (begins May 2018).
The New Group (Scott Elliott, Artistic Director; Adam Bernstein, Executive Director) is an award-winning, artist-driven company with a commitment to developing and producing powerful, contemporary theater. While constantly evolving, the company strives to maintain an ensemble approach to all its work and an articulated style of emotional immediacy in its productions. In this way, The New Group seeks a theater that is adventurous, stimulating and most importantly "now," a true forum for the present culture.
The New Group's 2016-2017 season launched with Sweet Charity, choreographed by Joshua Bergasse, directed by Leigh Silverman and starring Sutton Foster, which enjoyed three extensions and received Drama Desk, Drama League and Lucille Lortel Award nominations for Outstanding Revival; and continued with the recent U.S. premiere of Wallace Shawn's Evening at the Talk House, directed by Scott Elliott, featuring Matthew Broderick, Jill Eikenberry, John Epperson, Larry Pine, Wallace Shawn, Claudia Shear, Annapurna Sriram and Michael Tucker; the world premiere of All theFine Boys, written and directed by Erica Schmidt, with Abigail Breslin, Isabelle Fuhrman, Joe Tippett and Alex Wolff; and the world premiere of Hamish Linklater's The Whirligig, directed by Scott Elliott, with Noah Bean, Norbert Leo Butz, Jon DeVries, Alex Hurt, Zosia Mamet, Jonny Orsini, Grace Van Patten and Dolly Wells.
In summer 2016, The New Group was represented in the West End by the acclaimed production of Jesse Eisenberg's The Spoils, and more recently, by the company's hit production of Sam Shepard's Buried Child, starring E. Harris and Amy Madigan (November 14, 2016 - March 4, 2017). For his performance, E. Harris received a 2017 Olivier Award nomination in the Best Actor category. Director Scott Elliott helmed both productions at London's Trafalgar Studios, presented by Lisa Matlin and Adam Speers for Ambassador Theatre Group.
Notable productions include David Rabe's Sticks and Bones, with Holly Hunter and Bill Pullman; Joel Drake Johnson's Rasheeda Speaking, with Tonya Pinkins and Dianne Wiest, helmed by Cynthia Nixon; Jesse Eisenberg's The Spoils, with Jesse Eisenberg and Kunal Nayyar; Ecstasy, This is Our Youth, Aunt Dan and Lemon, Hurlyburly, Abigail's Party, Rafta, Rafta..., The Starry Messenger, A Lie of the Mind, Blood From a Stone, Marie and Bruce, The Jacksonian, Intimacy and many more. The company has received more than 100 awards and nominations for excellence. The NewGroup is a recipient of the 2004 Tony® Award for Best Musical (Avenue Q). In 2011, The Kid received five Drama Desk nominations and the Outer Critics Award for Outstanding New Off-Broadway Musical. That year, The New Group and Scott Elliott were honored with a Drama Desk Special Award "for presenting contemporary new voices, and for uncompromisingly raw and powerful productions."
ABOUT THE ARTISTS:
Nancy Giles: Over the last 15 years, Nancy Giles' work as a contributor to the Peabody Award winning "CBS News Sunday Morning" earned her 3 Emmy Awards for a unique blend of common sense wisdom, laugh-out-loud humor, and social and political commentary. A graduate of Chicago's esteemed Second City improv troupe and a Theatre World Award winner, Giles appeared for three seasons on the acclaimed TV drama "China Beach." Her one-woman shows include The Further Adventures of the Accidental Pundette, Notes of a Negro Neurotic, and Black Comedy: TheWacky Side of Racism, which the Village Voice called "smart and unforgiving." She's offered her perspectives as a frequent guest on MSNBC's "The Last Word with Lawrence O'Donnell," "The Beat with Ari Melber," and "AM Joy." An accomplished voiceover and radio artist, Giles won back-to-back Gracies from the Alliance for Women in Media for Giles & Moriarty (with CBS News correspondent Erin Moriarty) on WPHT-AM in Philadelphia. Her podcast, The Giles Files, takes a lively spin on trending topics with interviews, commentaries, song parodies and more. For more than 25 years she's been a proud volunteer with The 52nd Street Project, helping at-risk kids take part in acting, playwriting, and arts workshops, classes, and performances.
Anurag Gupta is the Founder & CEO of BE MORE, a social enterprise that employs proven in-person and online training programs to eradicate bias in key industries to save lives, improve top line performance and reduce billions of dollars of wasted costs. He is also a licensed attorney, an academic researcher, and a mindfulness expert. Prior to founding BE MORE, Anu worked with various social enterprises and research institutes globally on improving health and social outcomes for neglected populations. He was awarded the Echoing Green Fellowship and the Nathan Cummings Foundation Fellowships to grow BE MORE. He recently gave a TED Talk on breaking bias and his work has been profiled on the Huffington Post, NPR and New York Post. He has trained over 4,000 professionals in hacking bias. You can follow him on social media @anuragnyc
Rev. Dr. Jacqui Lewis: When she was eight years old, Jacqui Lewis hid under her bed as bullets flew in her Chicago neighborhood following the assassination of The Rev. Dr. Martin Luther King, Jr. In that moment, she felt called to work for racial equality in the United States. Her 1,000-member congregation, Middle Collegiate Church in New York City, has diversity that looks like the subway, but its legendary love feels like home. Jews, Buddhists, atheists, and Christians pack its sanctuary. Millennials and boomers, trans and gay, singles and families all call Middle their own. Middle Church is celebrated in Robert P. Jones' book, The End of White Christian America, as an example of what revolutionary love can do to combat racism and xenophobia. Believing faith communities can lead the way to racial reconciliation, Dr. Lewis co-founded The Middle Project with her spouse, The Rev. John Janka, which trains leaders to create a more just society. More than 300 faith leaders attended its 11th annual conference, "Revolutionary Love - Disruptive Ethics to Dismantle Racism" in 2017, featuring speakers such as Van Jones, Valarie Kaur, William J. Barber II, Zainab Salbi and Bill Moyers. "Revolutionary Love-Complete the Dream" is April 6-8, 2018. Dr. Lewis is the first African American and first woman to serve as senior minister in the Collegiate Church of New York, founded in 1628. She hosted "Just Faith," an on-demand program on MSNBC.com and is a frequent media commentator. Her books include The Power of Stories: A Guide for Leaders in Multi-racial, Multi-cultural Congregations, The Pentecost Paradigm: Ten Strategies for Becoming a Multiracial Congregation (April 2018) and the children's book, You Are So Wonderful! She is currently at work on a book about a path to revolutionary love.
Moise Morancy is a 22-year-old American actor, director, hip-hop recording artist, poet, writer and activist from Brooklyn, New York. Moise is best known for his acting roles and his hard core, thought provoking, uncensored rap music. Though Morancy has a tough exterior, he often times expresses that it derives from pain and hardship. "Without change, one cannot grow," and the ability to do both are some of Moise's greatest attributes. Moise is currently appearing Off-Broadway in The New Group's Downtown Race Riot.
James Braxton Peterson is the Director of Africana Studies and Professor of English at Lehigh University. He is the author of several books, The Hip Hop Underground and African American Culture, Prison Industrial Complex for Beginners and Hip Hop Headphones: A Scholar's Critical Playlist. Peterson hosts "The Remix" on Philadelphia's NPR affiliate, WHYY. "The Remix" is a podcast that engages issues at the intersection of race, politics and popular culture. He is a Senior Fellow in the Governance Studies Program at the Brookings Institute. Peterson has written for Newsweek.com, The Guardian, The LA Times, Reuters, The Daily Beast and The Grio. He is a media commentator and has appeared on MSNBC, Al-Jazeera, CNN, HLN, Fox News, and other networks as an expert on race, politics and popular culture.
National Black Theatre [NBT] was founded in 1968 in the heart of Harlem by the late Dr. Barbara Ann Teer, an award winning, visionary artist and entrepreneur. With a distinguished history of innovative work in its community, NBT is among the oldest Black Theaters in the country, and amongst the longest owned and operated by a woman of color. NBT is also a pioneer as the first to establish revenue generating Black art complex located at 2031 5th Avenue in Harlem, NY. NBT's achievements reflect Dr. Teer's lifelong commitment to community service through the arts. She believed whole-heartedly in the power of Black Theatre to uplift, strengthen, and heal Black communities on a local and on a national level. NBT's core mission remains the same today as it was at the time of its founding, to produce transformational theatrical experiences that enhance African American cultural identity by telling authentic stories of the Black experience. Dr. Teer envisioned NBT as a means to educate, enrich, entertain, empower and inform the national conscience around current social justice issues that impact our communities. We continue to provide a safe unhindered space for artist of color to articulate the complexity, and beauty of their experience through theater.
BeTerrific produces positive original content and programming. The company looks to tell great stories and elevate, engage and entertain the audience, specializing in live and non-live multi camera content. Its focus is in sports, technology, entertainment and business, taking viewers behind the scenes and into the world of the icons and people it cover. BeTerrific is teamed up with Cumulus Media and is an Official Media Partner if CES and NY Auto Show.