Matt de Rogatis Talks LONE STAR at The Triad in October
Editor's Note: This article was written by guest contributor, Matt de Rogatis who chronicles his experiences in the revival of James McLure's Lone Star that will have its final performance at The Triad in New York City on October 27th.
Lone Star, by James McLure, is a one-act play about a Vietnam Vet suffering from the effects of PTSD upon his return home to rural Texas. Our revival of this lesser known work has been running on and off since the spring of 2017 and we've enjoyed much success. But it hasn't come easy. In fact, the early stages of our production looked pretty bleak. So bleak that the show almost closed on our first weekend of performances.
In the production, I play "Roy," the Vietnam Vet.
What follows is the story of Lone Star and how a group of artists rallied to save the show from extinction.
It was April 15th 2017.
We were set to open in 5 days at Wild Project, a beautiful 88-seat theatre in the East Village, as part of The Spotlight-On Festival. Lone Star was the featured production, playing twice as long as any of the other shows. As we inched closer to opening night, excitement was building amongst the cast as well as our director Pete McElligott who had done a superb job getting us to tell the story. We had just begun to hit our stride in rehearsals and knew that we had something really special for audiences, which we expected to be abound. Not only that but Lone Star had only been produced one other time in New York City since it's original Broadway run in 1979. So we were excited to give New Yorkers something that they probably hadn't seen before.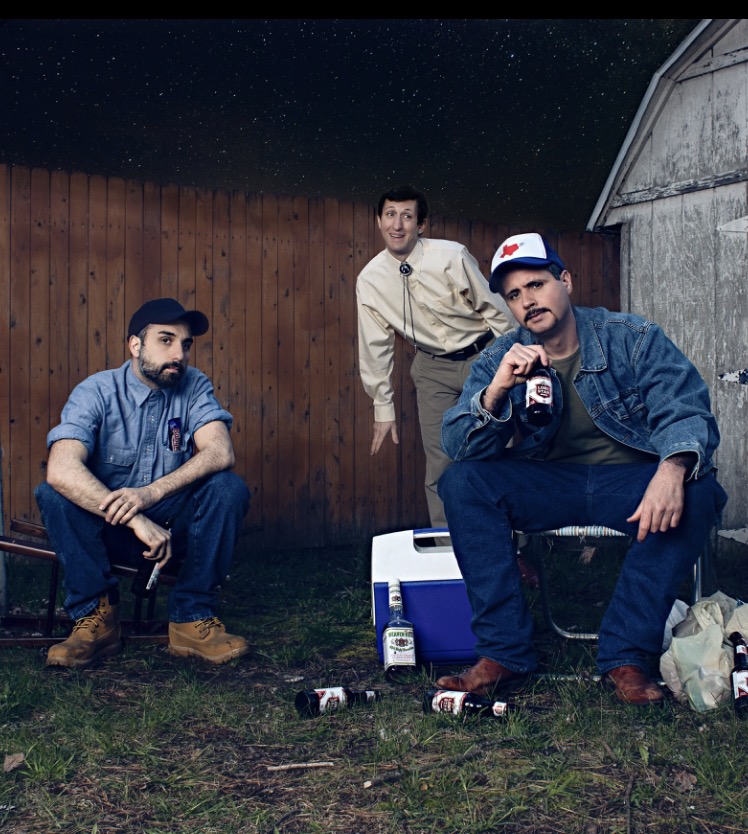 I was on my way to one of our final rehearsals in a room at the Stella Adler Studio of Acting when I looked at my phone and saw a disturbing message from the shows publicist. It read, "The producers of the festival have contacted me basically saying that they may cancel some of Lone Star's performances as you have virtually NO ticket sales."
"This can't be." I thought to myself and in a panic contacted one of the producers for information on how to log in and access ticket sales. Sure enough, for the nearly 1,000 seats that were available for our run of Lone Star, we had only sold...3 tickets.
Three. Tickets.
A sickness came over me and I debated even telling anyone at rehearsal, as morale would surely be CRUSHED. But as I walked in the room, disappointment was clearly written all over my face and questions of "What's the matter?" and "Is everything ok?" were immediately being asked. When I finally broke the news to everyone there was a lot of disbelief and some uncomfortable laughter.
Then the blame game started. Why wasn't our PR man, who was being paid thousands of dollars, doing a better job getting the word out there? Didn't the festival have a built in audience? Why weren't the producers doing more?
"Well we do the best we can." Said a dejected Greg Pragel, who plays "Cletis" in the production. "I know some people coming. They just haven't bought tickets yet."
"I'll do another post on social media." Added Pete.
Chris Loupos, who plays "Ray", then chimed in...
"New Yorkers tend to buy last minute anyway. I'm sure we'll get some walk-ins."
But in the back of our minds each one of us knew that for all of our hard work, there was a real chance that no one was even going to see this. That was the harsh reality we were now staring in the face just days before opening night.
BAD NEWS/GOOD NEWS
The following day I had a phone conversation with the RJ Lamb. His New Jersey based company, NINE Theatricals, was producing Lone Star and he informed me that he and the shows PR man had decided to part ways just days before we took the stage; citing irreconcilable differences. At first this seemed like another major blow to the production, as we no longer had a PR man helping to get the word out there.
But then it dawned on me. He hadn't been getting the word out there. He had been hired two months ago and for all his efforts he had basically produced no results. No sales. No exposure. Even the three reviewers he had gotten us were cherry picked from bloggers that he knew. When I asked him about the lack of reviewers his defensive response was "I have contacted them all. No one has gotten back to me. It is an Off Off Broadway show in the village. I can't force them to come."
I continued my conversation with RJ when a calmness came over me. Silly as it sounds, I was reminded of the Super Bowl just a couple of months earlier. With only three minutes to go in the third quarter, the Patriots were losing 28-3 and Las Vegas odds makers gave them a .07 chance of coming back to win the game. Well, they came back and won pulling off the greatest comeback in Super Bowl history, defying all logic.
It felt to me like Lone Star was in a similar, critical state. Three days from opening night and we had no sales, no PR man and essentially, no hope.
Ironically I tend to find comfort most when the ship is sinking.
And so, with nothing to lose, I decided I was going to try and rally the troops and attempt to lead our own impossible comeback. On top of being "Roy" in Lone Star, I was now going to be the new PR man.
Fueled by anxiety and well, desperation to save the show I went to work and barely slept over the next few days devoting all of my energy to PR duties.
First I contacted one of my best friends of nearly 20 years, Lou Gutowski Jr, a graphic designer based out of the Jersey Shore. Within hours he built Lone Star a state of the art website. He then created lots of great promotional material to be used on social media. That's when everyone involved went to work, blitzing Facebook, Twitter and Instagram with all the pertinent details. Physical promo materials were created almost instantly. Greg Pragel then papered New York City with all things Lone Star, showing up at theatres, book stores and acting schools to help spread the word.
I reached out to theatre publications and journalists and asked them to do whatever they could to help spread the word on the show. Within hours, stories and information on Lone Star were being tweeted out to hundreds of thousands of people.
From there I created my own press release. I contacted anyone who had ever reviewed a show I was in, introduced myself and invited them to attend Lone Star.
The response was tremendous and within 48 hours nearly a dozen reviewers confirmed with me that they would attend at some point during the run. So much for being a show in the "village" that no one wanted to see, right?
It was an all out assault and suddenly Lone Star had a pulse...
THE FIRST FEW SHOWS
The high I experienced getting results from my impromptu PR work was met with crushing despair on the opening weekend of Lone Star.
There was an awful, empty feeling in my stomach backstage on that first show.
Opening night is the night when the cast is totally amped. A month of hard work culminates in front of a live audience. It's typically a big celebration. But there was nothing to celebrate when our stage manager John Constantine informed us that there were only two people in the audience.
The news hit us hard and our mood prior to curtain was that of a funeral. Questions ripped through me as I prepared to take the stage.
"Would any of my PR work pay off?" "Would any of these reviewers even come?" "Was Lone Star destined to fail?"
Return to Sender by Elvis Presley hit and that was my cue. I hit the stage for the most awkward performance of my life.
The next day was worse. No sales. As a courtesy, three people who worked the festival sat in the audience so we at least had SOMEONE to play to.
My backstage thoughts intensified.
I was coming off of two really strong productions that were met with lots of praise. First, in the summer of 2016 I played "Hamlet" at the 13th Street Repertory Theatre. Immediately after, I originated the role of "Frederick Clegg" in the United States, Off Broadway premiere of The Collector at 59e59 Theatres.
Lone Star was supposed to be another step forward in my career. But this, right now, felt like a colossal step backwards. After the second performance I called friends who were thinking of coming to see the show and told them not to come.
I couldn't face the embarrassment.
The entire experience was starting to make me feel like an amateur and for the first time ever, legitimate thoughts of "should I continue doing this with my life?" creeped into my head.
Yet it all didn't seem fair. For MONTHS we had put our blood and guts into this production and our characters and we had a really great show that we all believed in. But this was getting depressing and after the third performance (1 audience member) there was real talk amongst everyone that maybe we should just cancel Lone Star.
Then came Sunday April 23rd.
A reviewer that I had invited to attend was scheduled to be there that matinee and he was from Theater Scene, a pretty major theatre site. If the show had ANY chance, this was it. A good review could give us life. A bad one and Lone Star would surely flat line into the abyss.
THE REVIEWS
On Tuesday, April the 25th I received an email that the review had been posted. I clicked the link and took a deep breath. As I waited to be re-directed to the website, I felt like one might feel at a doctor's office awaiting the results of a test that was going to tell him if he was going to make it or not.
The page loaded and up popped the shows' promo picture with a caption that read:
"Earthy, thoughtful and very funny this is a roaring revival!"
Other words like "marvelous" "magnetic" "charming" "impressive" were scattered throughout the review. The show was graded an A.
If we are sticking with the Super Bowl analogy, Lone Star had just scored a touchdown. This was huge.
By the time we took the stage just two days later, we had noticed that the audience was considerably bigger.
"It has to be the review." I said backstage. "We need more good reviews."
And they came...
The Huffington Post told its readers to "invest the time in this wonderful and worthwhile play." Theater Life called Lone Star "a rollicking exploration of male identity." "Lone Star is STELLAR" "For real funny!" and "immensely likable" were praises sung by Local Theater New York, Stage Buddy and Theater Is Easy.
Thousands upon thousands of New York City theatergoers were exposed to these reviews and with each one, the show's audiences continued to grow which only fed our performances.
And then came the review from Marina Kennedy of Broadway World which changed the course of Lone Star.
She scored our show a 100 and said, "A show like Lone Star is the reason we go to the theatre."
OFF BROADWAY
With Lone Star on fire as we concluded our run at Wild Project, there was a demand for more shows. That's when producers moved us Off Broadway to The Triad Theatre, a beautiful 134-seat space on the Upper West Side where we performed in front of near capacity crowds.
"This show is amazing." Said Greg Pragel one night after a Triad show. And he was right. Just a few weeks prior we were ready to cancel the production and now we were Off Broadway in front of wild, boozed up crowds at The Triad. Crowds that were literally howling back at me during various parts of the play where my character, "Roy", howls for a coyote.
Prior to our final performance on May 13th, we all new that Lone Star was not ready to close. I had a meeting with Triad booking agent Michael Doane and he offered us a chance to extend the show on various dates throughout the remainder of the year.
We went up again this past summer, played to more wild audiences and reaped the benefits of more positive stories and reviews.
ONE MORE TIME
Now, here we are. 6 months after Lone Star first took the stage.
And the show continues...
Our final performance will be Friday night October the 27th and it is surely going to be an emotional one.
Perhaps what will be so special about that show in particular is that the family of the late playwright, James McLure, who live all the way down in Niceville, Florida, will be in attendance. They too have heard about the story and success of Lone Star from over 1,000 miles away and are traveling to see us.
I think the lesson here is if you believe in something, never give up. Lone Star has been a case study for me in perseverance. I believed in my heart that we had a great show and that, despite my emotional lows, it was worth fighting for.
I am indebted to everyone outside of the production who helped make this show a success. I'm talking about the people who took their time to come and review. Thank you to all the people who wrote stories on Lone Star and gave us coverage. Thank you to Patrick Hickey Jr, Pete Hempstead and Ron Mwangaguhunga. I'd like to extend a very special thank you to Marina Kennedy and Broadway World. Last and certainly not least, thank you to the audiences.
Ironically, this production has ended up being the most rewarding of my career. Somehow we all found a way to make this show a triumph.
Just like the Patriots, I think we pulled off our own improbable comeback.
(On a much smaller level of course.)
I hope to see you at the finale on October 27th.
Lone Star has one final performance on Friday night October 27th at 9pm at The Triad Theatre located on 158 West 72nd street. Tickets are $25. To purchase, visit www.DRINKBEERRAISEHELL.COM. At checkout, enter promo code MAYNARD for a "Texas Sized Discount."
Photo Credit: Courtesy of Matt de Rogatis