Keen Company Announces 2018 KEEN TEENS FESTIVAL OF NEW WORK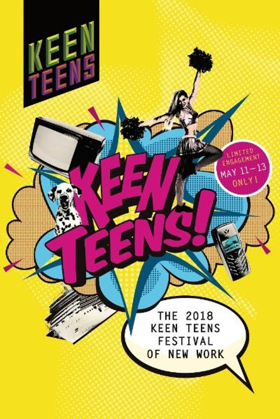 Today Artistic Director Jonathan Silverstein of the Drama Desk and Obie Award-winning Keen Company announced the Twelfth Season of Keen Teens. This season's offerings will be Winifred & Myrtle Go to High School by Leah Nanako Wrinkler, directed by Michael Goldfried; Around 2 by James Anthony Tyler, directed by Estefania Fadul; and The Caribbean Queen with book & lyrics by Jamie Cowperthwait, music & lyrics by Salomon Lerner, directed and choreographed by Ilana Ransom Toeplitz with musical direction by Salomon Lerner. An-Lin Dauber will provide scenic design, with costume design by Karen Boyer, lighting design by Kate August and sound design by Kärl Berntson.
Robert
Ross Parker
serves as Keen Teens Artistic Producer along with Hope Chavez, Keen Teens Managing Producer. Keen Teens is presented by
Keen Company
and Samuel French, Inc. and made possible by the generosity of The Axe-Houghton Foundation and the Keen Teen Angels "All of us at Keen couldn't be more excited to showcase these wonderful new pieces in Keen Teens' 12th Anniversary Season. This year's writers are all exciting voices in the American Theatre that speak uniquely to the challenges facing teens today. As we do each year, we've brought together a talented and diverse group of over 30 high school students from throughout the five boroughs and NJ to work with our professional team of directors and designers to premiere these thrilling new works," said Keen Artistic Director
Jonathan Silverstein
. Winifred & Myrtle Go to High School features Eden
Ann Anderson
, Amberrain E. Andrews, Jacob Bergman, Rayna Brown, Angel Encarnacion, Lanika Lee,
Josi Oz
, Ashley Rivas, Holliday Senquiz, Emerson Thomas-Gregory, Julio Velazquez, Brea White, and A'dreana Williams. Around 2 features Noor Alnashash, Jacob Bergman, Petra Brusiloff, Reign Casillas, Safiya Christian, Irene Lauren Colon-Nava, Ella Rosalind Couchman, Alex Espinal-Martinez, Natalya Gammon, and Samuel Taveras. The Caribbean Queen will feature Marina Davey, Marc Andrew De Jesus, Gabriella Derke, Max M. Grinnell, Jael Margarita Hoyos, Kiara Jorge, Nijewel Hall, Abigail Meyer, Valencia Heaven Motta, Fatou Tall, and Leanora Octavia Tapper. Performances will be May 11th - 13th at The Lion Theatre in Theatre Row (410 West 42nd Street, between 9th and 10th Avenues). Tickets, on sale now, are only $18 (including a $2.25 Restoration Fee) and may be purchased by calling Telecharge at 212-239-6200 or online at www.telecharge.com. Keen Teens is a unique educational theatre program which seeks to improve the quality of plays written for high school students by commissioning scripts from highly regarded professional writers. Playwrights write plays 30 minutes in length that involve a large cast and also reflect
Keen Company
's mission of producing plays that provoke identification, reflection and emotional connection. The plays are performed by high school students from across the metropolitan area, as part of a free program which allows students an immersive experience in new play production. The productions are all designed and directed by theatre professionals, allowing the students a unique opportunity to work alongside some of the most talented emerging artists working in New York today. Keen's program partner, Samuel French, Inc., then publishes the plays and make them available for future productions around the globe. In over a decade, Keen Teens has presented new work by:
Courtney Baron
,
Barton Bishop
,
Eleanor Burgess
,
Bekah Brunstetter
,
Jonathan Caren
,
Kristoffer Diaz
,
Bathsheba Doran
,
Anton Dudley
,
Halley Feiffer
, Kenny Finkle,
Liz Flahive
,
Marcus Gardley
,
Madeleine George
,
Jason Grote
,
Naomi Iizuka
and Ryan Pavelchik,
Boo Killebrew
,
Greg Kotis
,
Mike Lew
, Cheri Magid,
Winter Miller
,
Michael Mitnick
, Anna Moench,
Janine Nabers
,
Qui Nguyen
,
A.
Rey Pamatmat
,
Max Posner
,
Jenny Schwartz
,
Jen Silverman
,
Kathryn Walat
,
Lauren Yee
. For more information, go to
www.keencompany.org
.
THE 2018 PLAYWRIGHTS
Jamie Cowperthwait (The Caribbean Queen) is an award-winning songwriter, lyricist, and composer for theater, television, and the internet. His songs have been performed in numerous venues around New York City and the country. He is the winner, with Ok Kyun Kang, of the 2015 BMI Harrington Award for Outstanding Creative Achievement in Musical Theater Writing. He has written music and lyrics for commercial clients including Netflix, Wix.com, Buick, Coca Cola, and many more. His songs for the popular blog Awkward Family Photos have collectively garnered over a million hits on YouTube. He is the Music Director of the Saturday cast of The Possibility Project where he writes full-length musicals with New York City teenagers to help them create change in their communities. He holds an MFA from Tisch's Graduate Musical Theatre Writing Program.
Salomon Lerner
(The Caribbean Queen) has an M.F.A. from NYU's Tisch Graduate Musical Theatre Writing Program. He studied Film Scoring at the Berklee College of Music and Composing at the
Ars Nova
School of Music (Caracas). In New York, he has worked as composer, orchestrator and music director for off-Broadway shows. His original compositions have been performed at various renowned venues including La Mama's
Ellen Stewart
Theater (New York) and
Barrington Stage Company
(Pitttsfield, MA) and the
Colony Theatre
(Miami Beach, FL). He also founded the VirtualStudio.NYC which connects musicians and engineers around the world to produce top-quality recordings. Before moving to New York, he worked professionally as a music director/conductor, a composer for film, TV, and theatre, and a record producer and arranger in his native Venezuela.
James Anthony Tyler
's (Around 2) plays include Some Old Black Man (Berkshire Playwrights Lab at
59E59 Theaters
), Dolphins and Sharks (
LAByrinth Theater Company
and the Finborough Theatre in London), hop tha A (Texas State University's Black and Latino Playwrights Conference,
Ars Nova
, The Drama League and Asolo Rep), Talkin' to This Chick Sippin' Magic Potion (Rattlestick Playwrights Theater, SPACE on Ryder Farm), The Drop Off (Classical Theatre of Harlem, The Playwrights Center, The Juilliard School), and the upcoming Artney Jackson (
Williamstown Theatre Festival
, July 2018). He was a member of Harlem's Emerging Black Playwrights Group, a 2014-2015
Dramatists Guild
Fellow, a 2015-2016 The Playwrights Center's Many Voices Fellow, a 2016-2017
Ars Nova
Play Group Resident, a 2016 Working Farm Playwrights Group Resident at SPACE on Ryder Farm, a 2016 Theatre Masters Visionary Playwrights Award recipient, and most recently the 3rd recipient of The
Dramatists Guild
of America's
Horton Foote
Playwriting Prize. He holds a MFA in Film from Howard University and a MFA in Dramatic Writing from New York University, where his concentration was Playwriting, and is a graduate of The Juilliard School's Lila Acheson Wallace
American Playwrights
Program. Leah Nanako Winkler (Winifred & Myrtle Go To High School) is a Japanese-American playwright from Kamakura, Japan and Lexington Kentucky. Her play God Said This premiered at the Humana Festival and won the Yale Drama Series Prize this year. Other plays: Kentucky (2015 Kilroys List, World Premiere:
Ensemble
Studio Theatre
co-production with Page 73 and the Radio Drama Network), Two Mile Hollow (2017 Kilroys List, 2017-2018 Simultaneous World Premiere at First Floor Theater, Mixed Blood/Theater Mu, Artists At Play, and Ferocious Lotus), Linus and Murray (EST/Marathon 2017) and more. She is the 2018-2019 Jerome Fellow at the Lark, an alumna of Youngblood, a 2016-2018 Time Warner Fellow at WP Theater, a member of the Ma-Yi Lab, and a member of the Dorothy Streslin New American Writer's Group at
Primary Stages
. She was awarded the first-ever
Mark O'Donnell
Prize from The Actors Fund and
Playwrights Horizons
in 2017. Leah is one of the inaugural playwrights to receive a commission from Audible's emerging playwrights fund.