Hit Family Musical ENDANGERED! To Welcome New Star Kid To The Zoo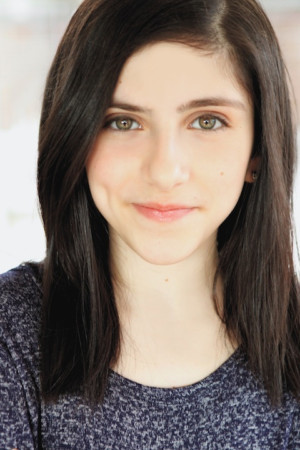 ENDANGERED!, the hit family musical which recently extended its run at the Davenport Theatre (354 West 45th Street), is now welcoming a new star with a surprise gender swap of the show's leading character. Lana Schwartz will be the new kid at the zoo, taking on the role of Livvy Lovewell- previously named Levi Lovewell and played by original cast member, Theo Errig.
Schwartz is a 7th grader at the Professional Performing Arts School. Other favorite credits include: Annie in Annie, Little Red in Into the Woods, Gretyl in Sound of Music, Ali in the reading of the upcoming new political musical One House Two House Red House Blue House, and starring opposite Keith Stanfield in the award-winning short film Tracks. You can visit www.Lana-Schwartz.com and follow her on Instagram: Lana_N.Y
ENDANGERED! author Keni Fine is delighted to be adding Schwartz to the cast, remarking, "It is vital in today's climate that women and girls are fully empowered and brought to the forefront of every discussion of importance, and given roles of prominence and leadership in the theater. When our Levi had to leave the show for another commitment, we seized the opportunity to bring in a young girl for the lead. I'm thrilled to welcome Lana Schwartz to the role of Livvy, as she has so many qualities that I intended for Livvy - great intelligence and confidence, compassion, empathy, deep curiosity, and a fearlessly inquisitive nature. Oh, and did I mention, she can sing?"
In addition to Schwartz, the Endangered! cast currently includes Maggie Ronck as Janie Goodall, Dana Scurlock as Bam-Boo the Superstar Panda, Nate Rocke as Einstein the Bird Brain Whooping Crane, Ani Djirdjirian as Sita the Noble Cheetah, Nicolette Shin as G-Low the Golden Tamarin, Connor Delves as Crankee the Rockin Crocodile, Darius Delk as Snoop the Spotted Skunk, and Josh Vidal as the Male Swing.
Now twice extended in its hit run at the Davenport Theatre, Endangered! was originally commissioned by the Friends of the National Zoo, created in conjunction with the Boys & Girls Clubs of Greater Washington's TAP Arts Camp. In the summer of 2013, Endangered! had a staged reading at the National Zoo, then premiered live-streamed on the Kennedy Center Millennium Stage.
The creative team includes Keni Fine (Book, Lyrics, Additional Music), Tony Small (Music), Michael Chase Gosselin (Director/ Choreographer), Lena Gabrielle (Music Director, Arrangements and Additional Music), Doug Katsaros (Orchestrations), Ann Beyersdorfer (Set Design), Catherine Clark (Lighting Designer), Collin Ranney (Costume Designer), Patrick A. Lachance (Sound Designer), Ido Levran (Projection Designer), Greg Uliasz, CSA (Casting Director), NJ Agwuna (Associate Director), Gabby Cogan (Associate Choreographer), Oliver Benjoseph (Stage Manager), Visceral Entertainment (General Manager), Peri Shaw and Heidi Hutner (Associate Producers).
ENDANGERED! THE MUSICAL
Book and Lyrics by Keni Fine; Music by Tony Small
Additional Music by Keni Fine and Lena Gabrielle
Directed and Choreographed by Michael Chase Gosselin
The Davenport Theatre is located at 354 West 45th Street
Tickets are $25, $49.75, and $69.75 (premium) and can be purchased by visiting Telecharge.com
Performance Schedule: Saturdays at 11:00am and 3:00pm
Check website for updates: EndangeredTheMusical.com Endangered! runs 75 minutes no intermission.
BIOS
Keni Fine (Book and Lyrics, Additional Music) is a Lyricist, Librettist, Composer, Playwright based in NYC, proud member of the Dramatists Guild. Keni's other musicals include TRUTH, IMAGINARY LOVERS, UNFRIENDLY FIRE, HE THINKS IT'S HIS SHOW, and "SWAMI PAJAMANANDA & The LIGHT-HEARTED PATH", an interactive spiritually comedic show series. Keni is a graduate of NYU/Tisch's Experimental Theater Wing and Film School, the BMI Lehman Engel Musical Theater Writing Workshop, and the Commercial Theater Institute's (CTI) 14-Week Workshop in Commercial Producing. Keni studied acting with Stella Adler; directing and theater composition with Anne Bogart; musical theater with Elizabeth Swados; musical book writing with Marsha Norman; sketch comedy writing with Upright Citizen's Brigade; and is a graduate of NYU School of Law. @swamipj www.kenifine.com
Tony Small (Music, Original Lyrics*) From being selected as one of the White House Millennium Committee's top Artists to serving as Composer and Librettist for the Smithsonian's first-ever commissioned Opera for the Sultanate of Oman, Tony Small has won national composer, playwright and lyricist awards in Jazz, Classical, Musical Theatre and Gospel genres, including a Stellar, the Grammy's of Gospel music. He has created nationally recognized interdisciplinary arts and STEM programs in four major cities including Chicago, Indianapolis, Washington DC and Baltimore. The TAP -Teen Arts Program- he founded in 2007 was selected as one of the top 2016 Presidential Arts & Humanities Youth Programs. Tony currently serves as Founding Director for SPEARS (Strategic Partnerships in Education, Arts, Research & STEM) and the 1st Regional Artistic Director for the Boys & Girls Clubs of Greater Washington. He is a partner at Artistré Entertainment & Publishing.
Michael Chase Gosselin (Director/Choreographer) recently directed Money Talks Off-Broadway, Kit Goldstein Grant's The Nose: A New Family Musical at the famous Master Theater in Brighton Beach, and the world premiere of Tim Sulka & Debra Barsha's The Most Miserable Christmas Tree. He produced Midnight At The Never Get and Ludo's Broken Bride at NYMF in 2016, and Pope! An Epic Musical in 2015. In 2013, he directed a reading of Moby Dick: A Whale Of A Tale for Cameron Mackintosh. He was the Producing Artistic Director of Act Three Theatricals in Vermont 2006-2012. As a Director/Choreographer, additional recent credits include Disney's Tarzan (VT Premiere), The Wedding Singer and South Pacific (NCT), Rock Nativity (Regional Premiere), a Vermont tour of The Complete History Of America (Abridged), and Legally Blonde for Clark University. He is a proud member of SDC. www.michaelchasegosselin.com
Lena Gabrielle (Music Director, Arrangements, Additional Music) Lena Gabrielle is a NYC based Music Director, Arranger, Orchestrator, and Composer/Lyricist, specializing in new works development. As Music Director: 30 Million (Theatre Row), A Taste of Things To Come (Bucks County Playhouse), New York Animals (Assistant MD, New Ohio Theatre), Next to Normal (Pittsburgh), Jesus Christ Superstar (Pittsburgh). As Composer/Lyricist: Tink! (NYMF 2016), Sleeping Beauty: A New Musical (Pittsburgh). Orchestrations/Arrangements: The Most Miserable Christmas Tree (World Premiere, NYC), A Taste of Things to Come (BCP/ York Theatre Company). Much love to MCG, Keni, and Planet Earth. @lenagabrielle
FINEHEART PRODUCTIONS (Producer). FineHeart Productions is...Musical. Comical. Theatrical. Historical. Topical. Compassionate. Transformational. On Broadway: LOMBARDI On Broadway; GODSPELL. Off-Broadway: Endangered! The Super Stormy Musical; Money Talks. Other projects include: TRUTH The Musical and Swami Pajamananda & The Light-Hearted Path. Productions that Awaken the Spirit, Illuminate the Mind, Revitalize the Heart, Elevate the Senses. Love, Life, Laughter and DeLight... is the fine art of FineHeart.
Visceral Entertainment (Producer/General Manager). This theatre, film and television Production Company brings together the talents of its two principals, Michael Chase Gosselin and Tim Sulka. In addition to Endangered!, Visceral Entertainment is producing the original musical, Midnight at The Never Get, and Money Talks, also at the Davenport. Other projects in development include new musicals The Most Miserable Christmas Tree, and Pope! An Epic Musical, an audience immersive musical stage adaptation of the Jonathan Lethem novel, You Don't Love Me Yet and a stage adaptation of the novel The Black Ledger, by D.G. Allen. Film and television projects include Urbn FaeryTales, a musical television series of fairy tales set and filmed in modern day Brooklyn, and Prime Cuts, a film of the darkly comic graphic novel, a teen version of the Sweeney Todd legend.