Go Behind the Making Of A Cast Recording with DESPERATE MEASURES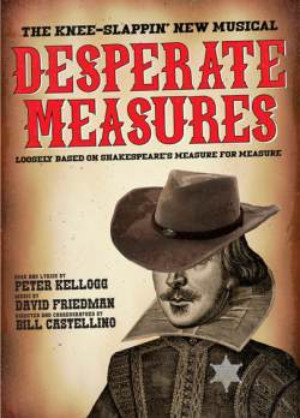 Tony Award-winning producer Margot Astrachan (A Gentleman's Guide to Love and Murder) will be joined by composer David Friedman and Grammy-nominated album producer Rob Sher on the Guild Hall stage on Wednesday, April 16 at 7pm for an insightful discussion answering the question, "How do all those original cast recordings of our favorite musicals get made?" This evening of music and conversation between industry veterans will focus on the creation of the brilliant new musical, Desperate Measures, based on Shakespeare's Measure for Measure. Learn about the collaboration between composer and album producer and the details of how a cast album is produced.
As a special treat, composer David Friedman and a surprise member of the Desperate Measures cast will perform several songs from the hit musical!
Desperate Measures: The Making of a Cast Recording will be followed by a wine and cheese reception. All proceeds from the evening's performance will go to support EAG's charitable work.
David Friedman From We Can Be Kind to Listen to My Heart, Help is on the Way, We Live on Borrowed Time, Trust The Wind, and I'll Be Here With You, David has written songs of inspiration, love and hope that take on new emotional meaning in these challenging times. With multi-platinum recordings (Your Love - Diana Ross - Quadruple Platinum), Broadway shows (composer: Scandalous, written with Kathie Lee Gifford and David Pomerantz; conductor: Grease, Joseph And....and Song And Dance on Broadway, among others; musical supervisor: Disney's Beauty and the Beast on Broadway), Disney Animated Films (Beauty & The Beast, Aladdin, Pocahontas, The Hunchback of Notre Dame), television scores (three children's TV series), books (The Thought Exchange and We Can Be Kind - Healing Our World One Kindness at a Time), and a teaching and lecturing career that spans the nation, David Friedman is truly someone who has made a major mark in all areas of show business and the Human Potential movement. David's hit show, Desperate Measures, written with Peter Kellogg, recently ran at the York Theatre in New York where it received unanimous rave reviews, was extended three times, and will be returning to New York (opens June 13th at New World Stages) and touring the country and abroad. David has three other shows (Aucassin & Nicolette, Nellie Bly and Money Talks, all written with Peter Kellogg) on their way to Broadway and Off-Broadway, and his family Christmas piece for soloists, choir and orchestra, King Island Christmas, written with Deborah Brevoort. He has had over fifty productions around the world, he has five books in print on Metaphysics, Kindness and Relationships, and has been writing a song a month with Kathie Lee Gifford for The Today Show for the past nine years. His review, Listen To My Heart - The Songs of David Friedman has played all over the world. David is currently at work coproducing the Desperate Measures Original Cast CD with Robert Sher.
Robert Sher Record producer Rob Sher has been nominated for seven Grammys for his work on the Broadway cast recordings for Nice Work If You Can Get It (Matthew Broderick, Kelli O'Hara), How to Succeed in Business Without Really Trying (Daniel Radcliffe & Nick Jonas), Fela!, Gypsy (Patti LuPone 2008 revival), Sugar Babies (Mickey Rooney & Ann Miller), The Wizard of Oz (Madison Square Garden-Mickey Rooney & Eartha Kitt), Ain't Misbehavin' (30th Anniversary Tour-Ruben Studdard & Frenchie Davis). In addition to collaborating with an extensive list of composers, lyricists, music directors, and orchestrators on dozens of cast recordings, he has been a consultant to authors and producers of numerous Broadway and Off-Broadway musicals.
Margot Astrachan Broadway Producer credits include Clear Day, Nice Work, Busker Alley, Ghost the Musical (national tour), A Gentleman's Guide to Love and Murder (Tony Award), The Realistic Joneses. Concert: Evening Primrose - James Goldman, Stephen Sondheim. London: American Artistic Director; The Kings Head Theatre, Jermyn Street Theatre. Member: The Broadway League, APAP, BAFTA. Board Member: The New York Musical Theatre Festival, Kaufman Cultural Center Theater Advisory Board, The Episcopal Actors' Guild. Chair: Advisory Board: The American Friends of the London Philharmonic Orchestra; TRU Advisory Board.
The Episcopal Actors' Guild, established in 1923, is a charitable organization offering emergency assistance and career support to professional performers "of all faiths, and none." We also host a full calendar of events and fundraisers including concerts, variety shows, play readings, and professional workshops. Learn more at www.actorsguild.org.
Tickets: $15/EAG Member, $20/Non-Members (Suggested Donation)
RSVP: (212) 685-2927 or reservations@actorsguild.org