COMMITTED Begins Performances Tonight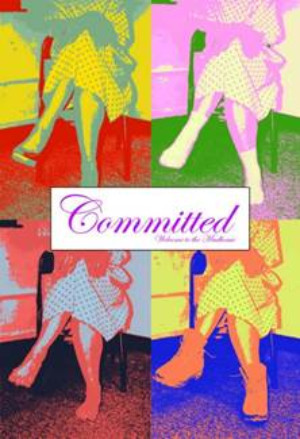 Committed, presented by New York Theater's Winterfest, begins performances tonight at 6.15pm at The Hudson Guild Theater (441 West 26th Street), with additional performances on Saturday, February 10th at 8.30pm and Sunday, February 11th at 1.00pm. Written by award winning director, Tricia Brouk (Romance and Cigarettes, "Sublets," This Dinner is Full), Committed features 10 original songs by lyricist/composer Andrew David Sotomayor (50 Shades of F***d Up).
Committed is a dark and intensely beautiful book musical that hopes to not only entertain, but also create compassion and awareness around, and ultimately destigmatize, mental illness. Committed stars Sarah Bierstock* (Jacques Brel Returns), Alexis Fishman* (Dusty), Heather Hamilton* (Come Fly Away), Antuan Magic Raimone* (Hamilton), Josephine Rose Roberts* (Rock of Ages), Hiroyuki Matsuura (Shakespeare in the Park's As You Like It), Kathryn Mowat Murphy* (Fosse), and Sotomayor, as eight people who are working through the pain of their mental illnesses at an Upper East Side psychiatric clinic during the late 80's. Their poignant personal stories, told through song and dance, touch on several mental illnesses and the rollercoaster of emotions they evoke.
"Committed explores the emotional complexities of eight people struggling with mental illness. Through song and dance, we get to know and love each character. It is my hope that not only will Committed entertain, it will also start a dialogue that ultimately destigmatizes mental illness."- Tricia Brouk, Director
For tickets, visit https://www.brownpapertickets.com/event/3191088.
NewYorkTheaterFestival.com/Committed/
Tricia Brouk (Writer/Director/Choreographer). "Sublets," the web series Tricia directed, won Best Comedy at the Vancouver Web Fest. The documentary she directed This Dinner is Full, was an Official Selection at The New York Women in Film and Television Short Festival. She wrote, directed and choreographed 50 Shades of F****D Up, A Musical Parody, for the stage and adapted it for the screen. Tricia choreographed "Black Box" for ABC, starring Kelly Reilly, directed by Simon Curtis (The Golden Woman) "Rescue Me" on Fox with Steve Pasquale, and "The Affair" on Showtime. She directed and choreographed Broadway Varietease; I Love You, You're Perfect Now Change!; Bingo, The Winning Musical; Frankie and Debbie Live at the Martini Lounge; and the Off Broadway Tokio Confidential at Atlantic Stage 2. Tricia choreographed John Turturro's feature film Romance and Cigarettes with James Gandolfini, Kate Winslet, Eddie Izzard, Steve Buscemi, Bobby Canavale, and Christopher Walken. She received a Golden Thumb award from Roger Ebert for her work on the film. She also wrote and directed Rolling in The Ring of Fire, a short film, and Just Enough, a new documentary about the waves of women coming forward in 2017. Her choreography can also be seen in Lasse Hallstrom's The Hoax, starring Richard Gere. www.TriciaBrouk.com
Andrew David Sotomayor (Lyricist/Composer/MD/David). Music directing credits include the Off-Broadway premiere of Curvy Widow; Newsies (Maltz Jupiter Theatre); The Will Rogers Follies (Merry-Go-Round Playhouse); Cutman: A Boxing Musical (Goodspeed); Little Shop of Horrors; The Drowsy Chaperone; Lucky Stiff; I Love You, You're Perfect, Now Change; and Bingo: The Winning Musical. Soto served as music supervisor and arranger for the new musical South Street at Pasadena Playhouse and has had the pleasure of providing arrangements for Rockers On Broadway. Additionally, he has been music director for the Paper Mill Playhouse August Intensive.
As a composer, he has provided music and lyrics for the original musicals 50 Shades of F***d Up, Committed, Sarah Crewe, The Circus Animals, Guardians, and Third Party Ruling, as well as scores for the short films Cuba 1961: A Love Story and Timeless, and the independent feature film, BX3M.
Cast
Sarah Bierstock (Mary) is so pleased to join the cast of Committed. Her most recent credits include Jacques Brel Returns (Off-Broadway), EVE (Neopolitical Cowgirls, East Hampton), Chess (Lincoln Center), The Painting Plays (Guild Hall), and the world premiere of Leonard Bernstein's, Peter Pan (Santa Barbara, CA). Film/TV: Dead of Night, The Walking Dead, Boardwalk Empire and The Good Wife. www.sarahbierstock.com
Alexis Fishman (Demarco). A native of Sydney, Australia, Alexis is a graduate of the West Australian Academy of Performing Arts (WAAPA). Alexis debuted as Mary O'Brien in the smash-hit Australian musical Dusty about the life of Dusty Springfield, earning herself a Helpmann Nomination (Australia's Tony). She went on to perform the roles of Lil in Troupers for the Sydney Theatre Company, Marianne in the Australian national tour of Shout! and the Spiderwoman in the Sydney Theatre Award-nominated Australian premiere of Kiss of the Spiderwoman. Alexis entertained coalition troops in Iraq and Afghanistan after being invited by the Australian Defense Force. Alexis's one-woman show set in Weimar Berlin, Der Gelbe Stern, premiered at the Adelaide Cabaret Festival in 2011, followed by sold-out runs at the Melbourne Cabaret Festival and at the Seymour Center's The Reginald and will make its New York debut at NYMF 2014. In 2008 Alexis relocated to New York City. Her New York Theater debut was at NYMF, in the lead role of Amber Murray in The Hatpin. In October 2012, Alexis was named by NYMF as the "Next Broadway Sensation" after competing in three heats and beating out phenomenal talent. As prize for the win, she made her debut at New York's 54 Below in March 2013 to a sold out house, followed by a return performance at the club in August. Though based permanently in New York, Alexis was recently home in Australia working with Monkey Baa Theatre and performing her 54 Below show at the Seymour Center. She hopes to continue a fruitful bi-continental career!
Heather Hamilton (Penny) graduated from New World School of the Arts. A former member of Dance Theatre of Harlem, Complexions Contemporary Ballet and Cedar Lake Contemporary Ballet, Heather has performed works by Ohad Naharin, George Balanchine, William Forsythe, Alonzo King, Dwight Rhoden, Jacopo Godoni, Doug Varone, Geoffrey Holder, Billy Wilson, Tricia Brouk and many more. She has appeared on the covers of all 3 major dance magazines: POINTE, DANCE, DANCER; and can be seen in the movies Center Stage, One Last Dance, Musical Chairs, Winter's Tale and was on Broadway in Twyla Tharp's Come Fly Away.
Antuan Magic Raimone (Antonio). Affectionately known as Magic, Antuan, his first career love being in musical theatre as a singer/dancer/actor/choreographer spans two decades and has him currently as one of two male universal swings for the Pulitzer/Tony Award winning musical Hamilton. He was also in the Tony and Grammy Award winning In the Heights and has performed at Radio City Music Hall and The Grand Ole Opry with The Rockettes.
Josephine Rose Roberts (Belle) was born and raised in Cambridge, Ohio, by the best parents in the world (at least she thinks so). Best known for playing Regina in Rock of Ages on Broadway, she loves amateur meteorology, politics, "Battlestar Galactica," and anything having to do with Stephen King. She bought her own home in South Orange, NJ (she's proud of this fact) which she's always afraid is burning down while she's not at home. She lives there with her boyfriend Matt Yeager and her Shiba Inu, Wicket. Known for her muscular calves and creative use of swear words, Josey just likes making people happy through singing, dancing and acting.
Hiroyuki Matsuura, A.K.A Matsu (Tadashi). Originally from Tokyo, Matsu started playing music in his infancy and then focused on drums and percussion in high school. While majoring in accounting in college, he began working as a musician. After performing with the best musicians in Japan, he relocated in New York City. He enrolled in the jazz performance study at the City College of New York and started working professionally. Matsu has worked with the finest musicians in NYC and beyond including, Grammy, Tony, Obie winners/nominees, such as Hector "Maximo" Rodriguez (Spanish Harlem Orchestra) and Liz Swados. He has shared the stage with The Roots, and Corey Glover (Living Colour). He has played for musicals including award winning Natasha, Pierre and the Great Comet of 1812. His recorded performances were featured in a major film, The Oranges and Sony's R&B Christmas Hits in 2013, which also featured R&B legends such as Destiny's Child and Aretha Franklin. Performing more than 260 shows a year, he has played Madison Square Garden, Radio City Music Hall, Blue Note New York, the Beacon Theater, the U.S. Open Tennis Tournament and the Philadelphia Museum of Art. As a freelance musician, he plays various styles of music and keeps pushing musical and cultural boundaries.
Kathryn Mowat Murphy (Kitten). Broadway and Equity national tours include Fosse, revivals of Chicago, Sweet Charity and Pal Joey. Regional: Cassie and Sheila in 8 productions of A Chorus line, Nicky in Sweet Charity. TV: I Carly, SNL. Recently selected as a performer and choreographer for Dancers over 40's production of The Time of Our Lives.
Creative Team
Anjuli Flamer-Caldera (Costume Design) graduated with honors from Law School in 2006 and thereafter decided to surrender to her passion and pursue a career within the creative and fashion realm. Determined to establish herself as a citizen in this dynamic and fast paced world, she set out to build a solid experiential-based portfolio by working in the South Asian, fashion/lifestyle sector. For over seven years, she focused on cultivating a diverse skill set and a well-balanced body of experience which encompasses PR, marketing, styling, event management, product development and creative direction. Her exceptional interpersonal and organizational skills, efficient problem-solving capabilities, dedication, undeterred positive perspective and strong creative conviction are key attributes that define her personality and portfolio. Her forte is introducing and promoting inspirational lifestyle brands, innovative event concepts and productions to emerging, niche markets. She recently moved to New York City to expand her career horizons, draw in new experiences, tackle challenges and develop herself both personally and professionally.
Santho Goonewardene (Costume Design). Originally from Sri Lanka, Santho has a Bachelor of Science majoring in Fashion Merchandising with a minor in Business Administration. At the time of her graduation, while living in New Orleans, she got a job as a personal assistant in the film industry and has been working in it ever since. She mainly works as an assistant to the executive producer or director but also has experience in working in other departments such as costumes, locations and post production. She is currently working on a project in New York City and is ambitiously working towards becoming a writer and creative producer. Whenever she manages to have some down time she loves to travel, paint or get lost in a good foreign or Indie film.
Hannah Beal (Production Stage Manager) is an editor, filmmaker and script supervisor. Hannah is a Jill of all trades and has been working alongside creator Tricia Brouk for several years on many projects.
Joe Ricci (Projection Designer) has starred on Broadway in A View from the Bridge with Liev Schreiber and Scarlett Johansson. He played Monty on the national tour of Saturday Night Fever and played Man 1 and Man 2 in I Love You, You're Perfect, Now Change in New York for 9 years. He's a director and writer, who's written two musicals and a sitcom pilot.
Kane Chiang (Lighting Designer) is the resident lighting designer at Molloy College. He's worked with Tricia on many of her shows for over ten years.
More Hot Stories For You