COME FROM AWAY's Caesar Samayoa to Host NAMT's SONGWRITERS SHOWCASE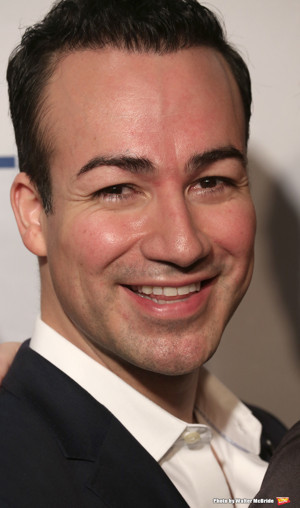 National Alliance for Musical Theatre (Betsy King Militello, Executive Director) is thrilled to announce this year's line-up for the MIDDAY CABARETS and SONGWRITERS SHOWCASE hosted byCome From Away's Caesar Samayoa, which are part of the 29th annual FESTIVAL OF NEW MUSICALS. The Festival will take place on Thursday, October 19 and Friday, October 20, 2017 at New World Stages (340 West 50th Street, between 8th and 9th Avenues).

Registration is open at www.namt.org/festival for industry members through today only. Starting October 17 online registration will be closed, but in-person industry registration will be available on Thursday, October 19 at 9:30am at New World Stages (340 West 50 Street). There is also a day-of standby line for the general public for free admission (based on availability). Please note the admission process for each event in the individual descriptions.

NAMT's SONGWRITERS SHOWCASE is an informal introduction to new musicals currently in development. Broadway's Caesar Samayoa will lead a Q&A with the creative team, who then presents two numbers from the show. The SONGWRITERS SHOWCASE is open to registered attendees with a Premiere, Select or Access Pass. There are standby lines for unregistered Premiere, Select and Access Passes, and for General Passes and the general public for free admission.

This year's SONGWRITERS SHOWCASE will be held on Thursday, October 19 at 2:00pm and will be hosted by Caesar Samayoa (Come From Away, NAMT Fest '13) and will feature:

The Moon and the Sea by Creighton Irons (Factory Girls, NAMT Fest '09)
Performers: Creighton Irons, Dawn Landes (Recording artist), Alison Cusano (Broadway: A Night with Janis Joplin)

One Good Day by Rona Siddiqui and Liz Suggs
Performers: Bligh Voth (Regional: Million Dollar Quartet) and Jamen Nanthakumar (Regional: The Fantasticks)

Hero by Aaron Thielen (The Bowery Boys, NAMT Fest '10) and Michael Mahler (How Can You Run With a Shell On Your Back?, NAMT Fest '09 )
Performers: Brian Sears (Broadway: Book of Mormon) and Danni Smith (Regional: City Of Angels,Jesus Christ Superstar)

The River Is Me by Sukari Jones and Troy Anthony
Performers: Christiana Cole (Regional: Fun Home),Latoya Edwards (NYC: Nikola Tesla Drops the Beat), Eric William Morris(Broadway: Mamma Mia), Larry Owens (NY: Spamilton), Tanisha Gary (NY:Hereafter Musical) and Troy Anthony (Public's As You Like It).

There are many great songwriters out there, and MIDDAY CABARETS give Festival attendees the chance to listen to their music in the relaxed setting of the Green Room Lounge. During the lunch break on both days there will be two 20-minute Midday Cabarets each featuring a different songwriting team.The MIDDAY CABARETS are open to attendees with a Premiere or Select Pass. There will be a standby line for Access Pass holders. Due to space limitations, there is no standby line for the general public or General Pass holders.

This year's MIDDAY CABARETS feature:

Thursday, October 19 at 12:40pm
Benjamin Velez & Kathryn Hathaway
Performers include: Benjamin Velez & Kathryn Hathaway, Emily Skeggs (Broadway: Fun Home) andBen Moss (Broadway: Spring Awakening)

Thursday, October 19 at 1:20pm
Timothy Huang
Performers include: Timothy Huang, MarRick Smith (Broadway: Fun Home), EJ Zimmerman(Broadway: Les Misérables), Marc dela Cruz (Broadway: If/Then) and Eric Badique (Regional: Mary Poppins)

Friday, October 20 at 12:10pm
Sam Chanse & Bob Kelly
Performers include: Cindy Cheung (NY: Middletown), Vishal Vaidya (Broadway: Groundhog Day) Aubie Merrylees (Regional: Hand to God), and Q. Smith (Broadway: Come From Away, Mary Poppins)

Friday, October 20 at 12:50pm
Anna K. Jacobs
Performers include: Jill Abramovitz (Broadway: Fiddler on the Roof, It Should Have Been You), Julia Mattison (Broadway: Godspell), Alyse Alan Louis (Broadway: Amélie, A New Musical, Disaster!), Matt Doyle (Broadway: War Horse, The Book of Mormon), Melody Madarasz (NY: Mad Libs Live, Acadamia Nuts), Kerri George (Regional: Heathers) and Kay Trinidad (Broadway: The Little Mermaid).

Now in its 29th year, the National Alliance for Musical Theatre's FESTIVAL OF NEW MUSICALSattracts theatre producers from around the world for this industry-only event to discover eight new musicals presented in 45-minute concert presentations over two days. All production costs are underwritten by NAMT, at no cost to the writing teams. As a non-profit organization, NAMT funds the Festival entirely through donations, sponsorships and contributions.

This year, a committee of 16 theatre professionals selected eight new musicals out of 240 blind submissions.
The musicals they chose for the 29th Annual Festival are: Darling Grenadine (book, music & lyrics by Daniel Zaitchik), Fall Springs (music & lyrics by Niko Tsakalakos, book & lyrics by Peter Sinn Nachtrieb),GIRL Shakes Loose (music & lyrics by Imani Uzuri, book & lyrics by Zakiyyah Alexander, poetry by Sonia Sanchez), Klook's Last Stand (book by Ché Walker, music by Omar Lyefook & Anoushka Lucas, lyrics by Ché Walker & Anoushka Lucas), Persephone (book & lyrics by Marcus Stevens, music by Oran Eldor),The Passage (book, music & lyrics by David Darrow), Prom Queen (book by Kent Staines, lyrics by Akiva Romer-Segal, music by Colleen Dauncey), and Sam's Room (book by Dale Sampson with Trey Coates-Mitchell, music & lyrics by Caitlin Marie Bell, Marc Campbell & Dale Sampson).

The Festival has introduced musical theatre producers to 244 musicals and 460 writers from around the world. As a direct result of the FESTIVAL OF NEW MUSICALS, more than 85% of the musicals presented have gone on to subsequent readings, workshops, productions and tours, been licensed, and/or recorded on cast albums. Some past Festival shows include this year's Best Musical Tony Award-nominee Come From Away, The Drowsy Chaperone, It Shoulda Been You, Striking 12, Ordinary Days, Thoroughly Modern Millie, as well as regional productions of recent Festival alums Benny & Joon, The Mad Ones, When We're Gone and The Loneliest Girl in the World among many others.

NAMI thanks Presenting Sponsor Broadway Licensing and Platinum Sponsor The Musical Company for their support of the Festival.

NAMT thanks the following foundations, government agencies and organizations for their ongoing support of our programs: The Alhadeff Charitable Foundation, The Alliance of Resident Theatres/New York Creative Spaces Grant, ASCAP Foundation Irving Caesar Fund, BMI Foundation, The Dramatists Guild Fund, The Dubose and Dorothy Heyward Memorial Fund, Friars Foundation, The Hollywood Pantages, a Nederlander Organization; National Endowment for the Arts, The Noël Coward Foundation, The Rodgers and Hammerstein Foundation, The Shubert Foundation, The Ted Snowdon Foundation and an anonymous donor.
Photo Credit: Walter McBride / WM Photos
More Hot Stories For You