Best Of Edinburgh Presents The New York Premiere Of Henry Naylor's BORDERS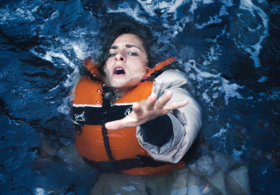 Henry Naylor is proud to announce the New York premiere of his play, Borders, will take place as part of Next Door at NYTW this summer. The winner of the Carol Tambor Best of Edinburgh Fringe Award and a Fringe First award, the original cast members Avital Lvova and Graham O'Mara will reprise their performances for the New York production. Directed by Michael Cabot with Louise Skaaning, Borders will run from Wednesday, June 27 - Sunday, July 22, 2018. Tickets are on sale now at nytw.org.
By turns amusing and moving, Borders is an urgent, satirical attack on both celebrity culture, and the West's inertia towards the Syrian crisis. Inspired by many interviews with refugees, it's a commentary on one of the great tragedies of our time. Through two alternating monologues, Borders tells the stories of a British press photographer and a Syrian graffiti artist, whose paths cross in tragic circumstances.
Written by the multi-award winning Englishman Henry Naylor, (whom The London Times described as 'one of our best new playwrights') the show was one of the biggest hits of the Edinburgh Festival selling out its entire run and accumulating an astonishing 19 five- and four-star reviews and the Carol Tambor Best of Edinburgh Fringe Award. Boldly directly by Michael Cabot with Louise Skaaning, it's fast-paced, stripped-back theatre which conveys a huge and epic story using just two superlative actors, simple lighting and a couple of stools. When Borders won the Scotsman's Fringe First, Naylor became one of just a handful of writers to have won the leading award three times.
General admission tickets for BORDERS are $35. Reserved seating is available for $50. The performance schedule for BORDERS is as follows: Mondays at 7:30pm, Wednesdays at 7:30pm, Thursdays at 7:30pm, Fridays at 7:30pm, Saturdays at 7:30pm and Sundays at 3pm. Exceptions: there will be a 7:30pm performance on Tuesday, July 3. There will be no performance on Wednesday, July 4. The performance on Thursday, June 28 will be at 7:00pm.
Tickets for Next Door at NYTW will be available for each production online at NYTW.org, by phone at 212-460-5475, or in-person at the NYTW Box Office. Standard ticketing fees apply. New York Theatre Workshop members and donors receive discounted tickets for the Next Door at NYTW series.
New York Theatre Workshop, now in its fourth decade of incubating important new works of theatre, continues to honor its mission to explore perspectives on our collective history and respond to the events and institutions that shape all our lives. Each season, from its home in New York's East Village, NYTW presents four new productions, over 80 readings and numerous workshop productions for over 45,000 audience members. NYTW supports artists in all stages of their careers by maintaining a series of workshop programs, including work-in-progress readings, summer residencies and artist fellowships. Since its founding, NYTW has produced over 100 new, fully staged works, including Jonathan Larson's Rent; Tony Kushner's Slavs! and Homebody/Kabul; Doug Wright's Quills; Claudia Shear's Blown Sideways Through Life and Dirty Blonde; Paul Rudnick's The Most Fabulous Story Ever Told and Valhalla; Martha Clarke's Vienna: Lusthaus; Caryl Churchill's Mad Forest, Far Away, A Number and Love and Information; Jessica Blank and Erik Jensen's Aftermath; Glen Hansard, Markéta Irglová and Enda Walsh's Once; Rick Elice's Peter and the Starcatcher; David Bowie and Enda Walsh's Lazarus; Anaïs Mitchell's Hadestown; and eight acclaimed productions directed by Ivo van Hove. NYTW's productions have received a Pulitzer Prize, seventeen Tony Awards and assorted Obie, Drama Desk and Lucille Lortel Awards.
FOR MORE INFORMATION ABOUT NYTW: www.nytw.org