BWW Review: THE SECRET LIFE OF HUMANS at 59E59 Theaters is Totally Intriguing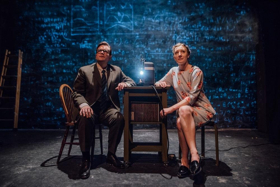 "When we close our eyes and our ears, we stop being human."
By Jacob Bronowski in The Secret Life of Humans
Secret Life of Humans, written by David Byrne, directed by David Byrne & Kate Stanley is now being performed at 59E59 Theaters through July 1. This enthralling production is part of the theater's annual Brits Off-Broadway festival. There's no other show quite like this. It has an intriguing plot, a talented cast, and clever staging that makes the production totally unique. The story is inspired by Yuval Harari's New York Times Bestseller, Sapiens: A Brief History of Humankind.
Jacob Bronowski, also known as Bruno was once famous for his television series "The Ascent of Man" in the 1970's. Just after an interview with the BBC about the series, he suddenly passes away. Fifty years later, Bruno's grandson, Jamie is charged with taking care of Bruno's home after the death of his mother and grandmother, Rita. When he brings his date, Ava home for the night, she proves to be more than a Tinder match. Ava, an anthropology academic, convinces Jamie to unlock Bruno's secret room and together they examine the research that Bruno performed long ago with a gifted mathematician, George. It is research that Ava believes will jump-start her career while Jamie's concern is for the legacy of his grandfather. This is a mysterious and gripping story that sheds light on how people's attributes and failings are connected to the history of man.
The cast of five is in complete command of their roles. The troupe features Richard Delaney as Jacob Bronowski; Olivia Hirst as Rita Bronowski; Andy Mcleod as George; Andrew Strafford-Baker as Jamie; and Stella Taylor as Ava.
Voice Overs include Michael Parkinson as Himself; Oscara Varona Liu as Child Laugh; Bertrand Russel as Himself; with other voiceovers by Zakk Hein, Helen Matravers and Kate Bassett.
The Creative Team has done a great job of bringing Secret Life of Humans to the Upper East Side Stage with remarkable special effects. The Team includes set design by Jen McGinley; projection design by Zakk Hein; aerial design by John Maddox; costume design by Ronnie Dorsey; and lighting design by Catherine Webb. The Composer and Sound Designer is Vaiza Varonal; Dramaturg is Kate Bassett; Producing Stage Manager is Helen Matravers; and the AEA Stage Manager is Raynelle Wright.
There's so much to consider and discuss after you see Secret Life of Humans. Gather your group and get your tickets. It is a rare theatrical experience that shouldn't be missed.
Secret Life of Humans runs for 90 minutes without and intermission. The show is produced by New Diorama Theatre, in co-production with Greenwich Theatre. Performances are being presented for limited engagement through Sunday, July 1 at 59E59 Theaters located at 59 East 59th Street (between Park and Madison Avenue). The performance schedule is Tuesday - Friday at 7:00 PM; Saturday & Sunday at 2:00 PM & 7:00 PM. The single ticket price is $25 - $70 ($25 - $49 for 59E59 Members). Tickets are available by calling Ticket Central at 212-279-4200 or online at http://www.59e59.org/.
Photo Credit: David Monteith Hodge