Review: SUMMER SHORTS at 59E59 Theaters is an Engaging Seasonal Theatrical Event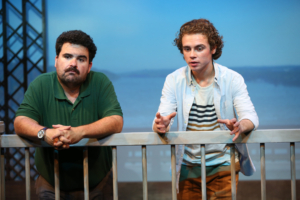 Gather your group and enjoy a seasonal entertainment treat. Summer Shorts, the festival of new American plays, is now onstage at 59E59 Theaters. It's an event that New York City theatergoers look forward to every year with original plays by noted artists presented in short form. There are three plays in Series A, and three in Series B. It's a wonderful opportunity to engage in six captivating productions with differing themes.
We attended Series A and all three of the plays were thought-provoking, well acted, and finely presented. The program opened with Interior by Nick Payne, based on the Maurice Maeterlinck play of the same name, directed by Rory McGregor. In the story, two men view a happy and peaceful domestic scene through the windows of a home as they consider how to deliver to the family some very bad, life-changing news. The cast includes Bill Buell as Old Man; Jordan Bellow as Stranger; Joanna Whicker as Martha; and Mariah Lee as Marie.
The program continued with The Bridge Play by Danielle Trzcinski, directed by Sarah Cronk. John, a middle-aged depressed man plans to jump off the George Washington Bridge when he is confronted by a Alex, a presumtuous youth in his late teens. Their conversation exposes a great deal about both characters, their life-styles, and personal struggles. The play deftly handles serious subjects with unexpected moments of humor and grace. The play features James P. Rees as John and Christopher Dyan White as Alex.
The final presentation in Series A is Here I Lie by Courtney Baron, directed by Maria Mileaf. In the show, Maris, a publishing professional and Joseph, a neo-natal nurse discuss their work, health, stresses, and vulnerabilities. Each of them possesses a distinct passion for life as they attempt to handle their own troubling situations. The two-hander features Libe Barer as Maris and Robbie Tann as Joseph.
The Creative Team has done a top job of bringing Summer Shorts to the stage. They include scenic design by Rebecca Lord-Surratt; lighting design by Greg MacPherson; sound design/Composer, Nick Moore; costume design by Amy Sutton; properties design by Jenna Snyder and Alexander Wylie; and projection design by Joshua Langman. The Technical Director is Dan Teachout; Casting is by Rebecca Gushin; Production Stage Manager for Series A is Dee Dee Katchen; and Production Stage Manager for Series B is Jenna R. Lazar.
Summer Shorts Series B features Providence by Nancy Bleemer, directed by Ivey Lowe; Appomattox by Neil LaBute, directed by Duane Boutté; and Lucky by Sharr White, directed by J.J. Kandel.
Don't miss Summer Shorts. See one program or we suggest you see them both. We are sure that with the wide variety of plays, you will find have an unforgettable experience.
Produced by Throughline Artists, Summer Shorts is at 59E59 Theaters ((59 East 59th Street, between Park and Madison). The two series of plays run through Saturday, August 31. Each one features three one-act plays in a rotating repertory Tuesday - Friday at 7:15 PM; Saturday & Sunday at 2:15 PM and 7:15 PM. Individual calendar schedule of performance dates for Series A and Series B is available for viewing/download. Single tickets are $25 - $35 ($26 for 59E59 Members). A Pair of Shorts (one ticket to Series A & B, available through July 21) is $60. To purchase tickets, call the 59E59 Theater's Box Office at (646) 892-7999 or visit https://www.59e59.org/.
Photo Credit: Carol Rosegg