BWW Review: Playwright Michelle Kholos Brooks and HITLERS TASTERS at IRT Theatre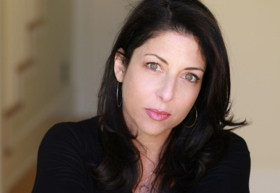 Hitler's Tasters by playwright, Michelle Kholos Brooks will be performed at IRT Theatre in New York City through 10/27. Directed by Sarah Norris with choreography by Ashlee Wasmund, the cast includes MaryKathryn Kopp, Hallie Griffin, Kaitlin Paige Longoria, and Hannah Mae Sturges.
Three times a day, every day, a group of young women have the opportunity to die for their country. They are Adolph Hitler's food tasters. And what do girls discuss as they wait to see if they will live through another meal? Like all girls, throughout time, they gossip and dream, they question and dance. Deliberately anachronistic, stretching across time to autocracy today, these young women want to love, laugh, and above all, they want to survive.
The show was recently produced at Centenary Stage in Hackettstown, New Jersey to great critical acclaim. Jay Lustig, of NJArts.net commented, "Hitler's Tasters is an entertaining and provocative play."
Broadwayworld.com had the opportunity to interview Michelle Kholos Brooks about her career and "Hitler's Tasters."
Michelle Kholos Brooks is an award-winning playwright with productions staged across the U.S. and Canada. Hostage was selected as a finalist for the 2016/17 Woodward/Newman Drama Award, the Fratti Newman Political Play Contest, and was a 2017 Showcase finalist for the National New Play Network. Hitler's Tasters, won the 2017 Susan Glaspell Award. Kalamazoo, co-written with Kelly Younger, was the winner of the 2014 Riva Shiner Comedy Award, Bloomington Playwright's Project. It has been published by Dramatists Play Service and has been produced across the country. Family Planning made its world premier at the Colony Theatre, Los Angeles and was a finalist for the Riva Shiner Comedy Award. Chair won second place in the 2015 Firehouse Theatre Festival of New American Plays. Other select works for the stage include: Hostage (Skylight Theatre Co. Los Angeles); Hitler's Tasters(Centenary Stage Co., New Jersey; New Light Theatre Project, NY); Two Parents, Two Weddings, Two Years, (Wings Theatre, New York; Laurel Grove Theatre Company, Los Angeles); See How We Are (Laurel Grove Theatre Company, Los Angeles); Love and Other Allergies (Vox Humana Theatre Ensemble, Los Angeles), Peg and Irv (Snapshots, a benefit to raise funds for the Susan G. Komen Foundation). Additional staged readings and developmental support of various works by Pacific Resident Theatre, Los Angeles; The Road Theatre Company; Los Angeles; The Boston Court Theatre, Pasadena; Venue 9 Theatre, San Francisco; The Barrow Group, New York; Drama West, Los Angeles; Centenary Stage, New Jersey; Florida Repertory Theatre, Florida; Wordsmyth Theatre, Houston; and the Bay Street Theatre, New York. Publications include Dramatists Play Service, Room literary magazine, and The Daily Beast.
Michelle is a former journalist and producer for public radio programs such as Marketplace and The Savvy Traveler. She earned a B.A. from Emerson College and an M.F.A. in Fiction from Otis College of Art and Design. Memberships include The Dramatists Guild of America, The Playwright's Center and Pacific Resident Theatre. Michelle is also a non-resident Senior Fellow at the Atlantic Council within the Scowcroft Center on Strategy and Security.
When did you first realize your penchant for writing?
I think it was pretty early. I recently found a short story I wrote when I was seven about a town that was terrorized by a man-eating rabbit. I'm not sure it was my best work but it was kind of funny and dark and I can definitely see a logical progression over the years.
Have you had any particular mentors?
I came to playwriting pretty late so I think my mentors were really fiction writers who moved and inspired me. Also, I was a public radio journalist for a number of years and I learned a tremendous amount from the more seasoned journalists who modeled clear, clean, low-fat writing that packs a punch. Writing for radio forced me to write in a way that was conversational. I think that has served me well in my ability to write dialogue.
Do you have any advice for aspiring playwrights?
Read all the plays you can, see all the plays you can and make determinations for yourself about what works and what doesn't. I had one, six-week playwriting extension class at a UCLA and that was my only formal training. Anything that I learned was from reading, writing and watching. Oh, and also, you should be a spy. Listen to every conversation around you and note the way people speak, listen, and mainly how they don't listen to each other. Just don't let anyone see that you are spying on them. I leaned that the hard way.
Tell us a little about your inspiration for Hitler's Tasters.
The very idea of this story was my inspiration. I heard, in a throwaway conversation, about the story of the young German women who were charged with the job of tasting Hitler's possibly poisoned food. The complications of being a young women in the world aren't enough? We're adding possible death at every meal? So I began thinking what young women would talk about, dream about-how would they distract themselves between meals. How do they justify this "honor" of being the Furhrer's food taster?
We know that the play received a great reception when it was produced at Centenary Stage in New Jersey. Tell us a little about bringing it to NY.
I can't express how gorgeous and moving the production at Centenary Stage was. Directory Sarah Norris and I learned so much about the play during that time and I think we were able to further refine it to make it ready for New York. When Sarah asked if I was interested in moving it here, it took me about half a second to say yes. I knew the play would be in the right hands. I could not be more proud about this play opening in this place at this time with these women.
We'd love to know about the show's cast and creative team.
I can only take credit for being smart enough to put my play in the hands of Sarah Norris and the New Light Theatre Project. Sarah always had this dream of putting together an all-female cast and crew and Hitler's Tasters presented the right opportunity. So, not only is there a female director and a female assistant director, but there's a woman hanging the lights, a woman building the sets, a woman painting the sets, a woman making the costumes, a woman doing the sound...these are some badass women and they are passionate about this project. And the girls...the young women who inhabit these roles-I am not exaggerating when I say they took my breath away the first time I saw them. They ARE these girls.They started their own Facebook group to share research, to share forties fashion and songs that help them get into character. They share whatever they can to inspire each other. I have been so moved by their investment and determination to show all the colors of these characters. They are fierce and beautiful in every way.
What would you like audiences to know about the show?
The Hitler's quotes may sound contemporary but, I assure you, they are taken authentically from Hitler. The play takes place in the past but it feels very, very present. I'm afraid it is hauntingly relevant right now. No one took Hitler seriously in the beginning. And remember, he was voted in.
On another note, Hitler's Tasters is a dark play but I think it's fair to say it's a dark comedy. Don't be afraid to laugh. How else are we supposed to survive?
Can you share with us any plans for the future?
I have other plays being produced and other projects in the works, but I do hope Hitler's Tasters keeps going and going. It hits so many buttons about the way, throughout history, that we have allowed our girls to be expendable. I look forward to the day that Hitler's Tasters is less relevant, but, given the events of the last couple of weeks, I fear that day is far from what we can imagine.
Anything, absolutely anything you want BWW readers to know.
I know people might think that World War II has been done to death, but this is a point of view that completely escaped me. These women were believers! Hitler was willing to sacrifice the very girls he wanted to birth the future leaders of the Reich. This story is stark evidence that despotic leaders will first turn on the "other" and then they will turn on their own.
For more information on Michelle Kholos Brooks visit https://www.michellekholosbrooks.com.
Produced by New Light Theater Project, Hitler's Tasters is now being performed at the IRT Theater (154 Christopher Street, between Greenwich & Washington Streets) for a limited engagement through Saturday, October 27. The performance schedule is Wednesday - Friday at 7:30 PM, Saturday at 3 PM & 7:30 PM, and Sunday at 3 PM. There is an added performance on October 22 at 7:30 PM. Tickets are $25. To purchase tickets, please visit: http://www.newlighttheaterproject.com.
Photo Credit: Courtesy of Michelle Kholos Brooks and Hunter Canning @huntercanning