BWW Interview: Life Jacket Theatre's Travis Russ Discusses Bringing True Stories to the Stage in AMERICA IS HARD TO SEE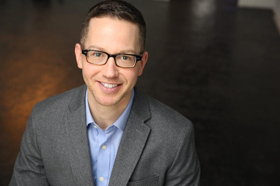 Before a performance of the play America is Hard to See, in its world premiere at HERE, audience members have the opportunity to wander across a canvas map of Miracle Village. What appears as a gridded crisscrossing of rural living quarters is home to a community of men - sex offenders - who are finding a way to move forward. Travis Russ, artistic director at Life Jacket Theatre Company, calls this Southern Florida community one of many "little dots" on a map, where real people have stories to tell. In his case, Russ decided that the stories within Miracle Village should be told onstage. In a phone interview with BroadwayWorld, Russ discussed bringing the residents' true stories to the theatre.
"I was reading a short story at the time called "Hands" by Sherwood Anderson," Russ says about what sparked his interest in Miracle Village. "It's very much about the gray areas of this man who's attracted to younger men." After reading the short story, Russ began doing research on communities designated for sex offenders in small town America, a venture that brought him to Miracle Village. "My first initial reaction [was] probably common to most people's initial reactions - revulsion, really."
With a Life Jacket Theatre Company research group that included Anthony Dvarskas and Amelia Parenteau, Russ began thorough research, traveling to Florida in 2015 for a multiyear development process. After harrowing interviews with Miracle Village residents, and members of the communities outside of the village, Russ saw the project grow into something bigger than what could at first be taken as a look into life after sexual offense. "It became much more than that," Russ says. "It became a play about humanity, and the flaws of humanity, and it became about faith and forgiveness and the limits of compassion. And so there was no way I could not make a play about this community." It's one of Life Jacket's goals to tell stories about people "on the margins of society, the outsiders, the outcasts," according to Russ.
Combining transcripts from these field interviews with the research from court documents, and infusing Methodist hymns, America is Hard to See presents the stories of several Miracle Village residents. Russ and composer/music director Priscilla Holbrook did no alterations to the text in an effort to remain as truthful as possible to the interviewees' lives. Every line, every song is pulled verbatim from real life.
A cast of six actors - Ken Barnett, Joyce Cohen, John Carlin, Amy Gaither Hayes, David Spadora, and Gareth Tidball - portray several characters each, singing and speaking directly to the audience at times. The resulting performance feels incredibly intimate, and features characters who expose, in some cases, the most painful moments in their lives. Russ wants the audience to take a journey with these characters, one that feels authentic and emotional. "Thornton Wilder definitely said it best that theatre lives in the present," he says "Throughout the development process I'm always looking for how can the audience be in my shoes? How can the audience learn about these people as if they were me doing the interviews?"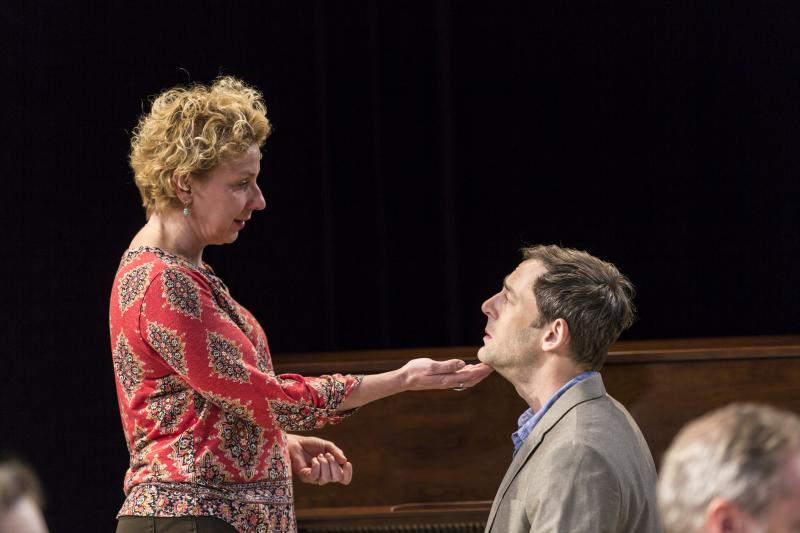 Following a Friday evening performance of America is Hard to See, nearly the entire audience remained in their seats for a post-show talkback - with the real people behind two main characters, Pastor Patti (Amy Gaither Hayes) and Chad (Ken Barnett). Russ was surprised to see the wide interest in meeting the real people behind this challenging story. He suggested that perhaps it was a mere curiosity that we all have with those around us, no matter how difficult it may be to hear about their experiences: "I think because we're fascinated with our neighbors, with other human beings."
Tickets for America is Hard to See range from $35 to $45 and are available by visiting www.lifejackettheatre.org or calling (212) 352-3101. Tickets are also available at the HERE box office (145 6th Avenue). The performance schedule for America is Hard to See is Wednesday through Saturday at 8:30pm, playing through February 24th. Please note: there is no performance on Wednesday, February 14.
Using a blend of interviews, archival research, Methodist hymns, and original songs, America is Hard to See investigates the lives in and around Miracle Village, a rural community for sex offenders buried deep in Florida's sugarcane fields. The Life Jacket research team has transformed their academic field research into a moving and unflinching play about darkness, uncertainty, and the painful process of healing in small-town America.
Research and development for America is Hard to See is by Travis Russ, Anthony Dvarskas and Amelia Parenteau. Lighting design is by Solomon Weisbard, costume design is by Andrea Hood, and scenic design is by Travis Russ.
Established in 2014 by Artistic Director, Travis Russ, Life Jacket Theatre Company is an award-winning theatre company based in New York City. Utilizing field interviews and archival research, they share real stories about diverse human experiences, particularly those of people living on the margins - the outsiders and outcasts. They produce investigative works based on real-life stories, often engaging with the people whose stories they tell. Life Jacket Theatre Company experiments with new theatrical languages and forms in pursuit of visually inventive and lyrically rich work. Their inaugural production, Gorey: The Secret Lives Of Edward Gorey, quickly transferred Off-Broadway, was a two-time Critic's Pick by the New York Times and Time Out New York, and was nominated for a 2017 Drama Desk Award, seven 2016 New York Innovative Theatre Awards, and two Henry Hewes Design Awards (granted by the American Theatre Wing). They are the recipients of a 2017 Drama League Artist Residency and have completed artistic residencies at the Sheen Center, the Tank, IRT Theater, One Company, Fordham University, and Stony Brook University.
Photo Credit (headshot): Matthew Murray