AGAINST THE HILLSIDE, DIDO OF IDAHO and BUMP to Premiere at EST in 2018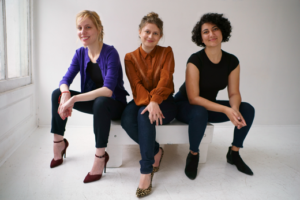 Ensemble Studio Theatre (EST) has announced three World Premiere productions for the EST 2018 season.
EST and The Radio Drama Network (Melina Brown, President) will present AGAINST THE HILLSIDE, written by Sylvia Khoury and directed by William Carden. AGAINST THE HILLSIDE will begin performances on January 31, 2018 and officially opens February 8, for a limited run through February 25, 2018.
EST's YOUNGBLOOD (Graeme Gillis and RJ Tolan, Co-Artistic Directors), whose past plays include the Tony Award-nominated Hand to God, and The Radio Drama Network will present DIDO OF IDAHO, written by Abby Rosebrock and directed by Mikhaela Mahony. DIDO OF IDAHO begins previews on March 14, 2018, with an opening night set for March 22, for a limited run through April 8, 2018.
EST and The Alfred P. Sloan Foundation (Doron Weber, Vice-President, Programs) will present BUMP, written by Chiara Atik and directed by Claudia Weill. Part of the EST/Sloan Science & Technology Project (Graeme Gillis, Program Director; Linsay Firman, Associate Director), BUMP will begin performances on May 9, 2018 and officially opens May 17, for a limited run through June 4, 2018.
All productions will take place at EST's Curt Dempster Theatre (549 W. 52nd Street, New York, NY 10019).
What happens to a drone pilot who is spending full days watching a young Pakistani woman and her family? What happens to the woman when she knows she is being watched? In her play AGAINST THE HILLSIDE, Sylvia Khoury imagines and examines what may be the hidden human costs of this strange new warfare.
Sylvia Khoury arrived in EST's Youngblood program with an early draft of AGAINST THE HILLSIDE. Since then, EST has been working with her as the script has evolved. In the course of this journey the play has had readings and workshops at Eugene O'Neill Playwrights' Conference, the Roundabout Theater's Underground Reading Series and the NNPN National Showcase of New Plays. Last October, EST worked with the Lark Playwright Development Center on an in-depth workshop as part of their Playwrights Week.
The cast of AGAINST THE HILLSIDE will include Rajesh Bose (Indian Ink), Mohit Gautam ("Elementary"), Caroline Hewitt (Junk), Mahira Kakkar (The Trial of An American President), Jack Mikesell (How to Get Away with Murder), Sammy Pignalosa (The Great Gilly Hopkins), Babak Tafti (The Profane), John Wernke (Bronx Bombers), and Avery Whitted (Sidney Hall).
AGAINST THE HILLSIDE will feature scenic design by Jason Simms, costume design by Sydney Maresca, lighting design by Barbara Samuels, and sound design by Shane Rettig. Claire Rufiange will serve as props master.
Tickets for AGAINST THE HILLSIDE are now on sale and can be purchased at www.ensemblestudiotheatre.org or by calling (866) 811-4111 at the highly limited $20 pre-sale rate. Beginning January 31, 2018, tickets will be available for $30, with tickets for students and seniors available for $25. The performance schedule is as follows: Monday at 7pm, Wednesday - Saturday at 7pm, Saturday at 2pm, and Sunday at 5pm.
Nora is a hard-drinking musicologist whose colleague/lover is dragging his feet about leaving his beauty-queen wife. When Nora's hijinks land her at rock bottom, she goes on a quest to get counsel from the only source she has left: her estranged, evangelical mom. Abby Rosebrock's DIDO OF IDAHO is a horrifying comedy about love, despair and maybe, eventually, hope.
EST/Youngblood has been developing DIDO OF IDAHO with playwright Abby Rosebrock for almost three years, beginning with a reading of a partial draft during the group's summer retreat at SPACE on Ryder Farm, continuing with a public reading of the first full draft in the summer of 2015 and a workshop production that fall. Bringing this smart, scathing, insightful new play to the mainstage is the latest strong outcome in a long line of new voices developed by EST for the American theater.
Chiara Atik's BUMP follows three different stories of three separate quests for knowledge, all about one thing. A girl in colonial New England, expectant mothers on a pregnancy message board, and a mechanic about to become a grandfather all attempt to discover more about the miracle of childbirth. BUMP will be directed by Claudia Weill and is presented in partnership with The Alfred P. Sloan Foundation.
BUMP was originally commissioned by the EST/Sloan Project in 2014. Since then EST has worked with playwright Chiara Atik on multiple drafts, including a two-week workshop as part of the 2016 First Light Festival and two stints at the program's summer script development intensive at SPACE on Ryder Farm. Atik is a graduate of the EST/Youngblood program, and a portion of BUMP had its origins as a short play written for Youngblood's monthly Sunday Brunch series, specifically its annual crossover with the Sloan Project, the Youngblood Science Brunch. The production of BUMP demonstrates the potential of these longstanding play development programs at EST.
Ensemble Studio Theatre - commonly known as EST- was founded in 1968 by Curt Dempster on the belief that extraordinary support yields extraordinary work. We are a dynamic and expanding family of member artists committed to the discovery and nurturing of new voices and the continued support and growth of artists throughout their creative lives. Through our unique collaborative process we develop and produce original, provocative, and authentic new plays that engage and challenge our audience and audiences across the country.
Now with over 600 ensemble artists, EST has been under the artistic direction of William Carden since 2007. The company received two 2013 Drama Desk Award nominations for Finks by Joe Gilford and one 2014 Drama Desk nomination for Bobby Moreno in Year Of The Rooster by Olivia Dufault, who won the 2014 NY Outer Critics Circle John Gassner Award for a new playwright debut. Hand To God, originated at EST, was nominated for five Tony Awards for its Broadway run. EST received a special Drama Desk Award for its "unwavering commitment to producing new works" in May of 2015.
Youngblood (Graeme Gillis and RJ Tolan, Artistic Directors) is EST's Obie Award winning, Drama Desk cited collective of emerging professional playwrights under the age of 30. Now in its 24th year, Youngblood nurtures new playwriting talent through regular meetings, readings, retreats, workshops and mainstage productions. Youngblood graduates include acclaimed writers Annie Baker, Amy Herzog, Clare Barron, Lucy Alibar, Robert Askins, Michael Lew, Martyna Majok, Elizabeth Meriwether, Qui Nguyen, Jen Silverman and Leah Nanako Winkler. Alumni including Christopher Shinn, Lucy Thurber, and Lloyd Suh continue to be produced nationwide and beyond.
The EST/Sloan Project (Graeme Gillis, Program Director; Linsay Firman, Associate Director) is designed to stimulate artists to create credible and compelling new theatrical works that explore the worlds of science, technology, and economics in order to challenge existing stereotypes of scientists and engineers in popular culture. Since its inception in 1998, the EST/Sloan Project has commissioned, developed, and produced the work of more than 300 playwrights, choreographers, composers, and theatre companies. Recent notable plays include Isaac's Eye by Lucas Hnath, Please Continue by Frank Basloe, and Photograph 51 by Anna Ziegler.
The Radio Drama Network (Melina Brown, President) was founded by legendary audio drama director and producer, Himan Brown, to support art forms that use the spoken word to enrich our culture. Himan was a champion of all storytellers, from the tradition of the earliest stranger who wandered from town to town with tales of the latest news, to Academy Award winning writers that contributed to his thousands of radio dramas, to the writers silenced by the Red Scare who were just trying to feed their families; Himan strove to keep writers writing and actors acting, telling tales that spun out in the grandest oral traditions of history, often addressing important social issues. Himan was the son of immigrants who became an actor, a director/producer and a gifted orator early in his life. His medium was the new frontier of radio. He began his career reading Yiddish stories over the airwaves from hotel bathrooms fashioned into audio studios, and quickly moved from packaging and starring in shows such as Rise of the Goldbergs to creating his own shows. During the height of radio, he created hundreds of radio series such as Inner Sanctum, Little Italy, Grand Central Station, Dick Tracy, The Shadow, Bulldog Drummond, and The Thin Man. Following television's rise, he resurrected audio drama on the airwaves with CBS Radio Mystery Theater and Adventure Theater. Himan Brown lamented the dearth of dramatic and interesting programming on today's airwaves, and he continued to create shows and series well into his 90s. Himan created the Radio Drama Network as a family foundation to continue his philanthropic work. He was a husband, father, grandfather and great-grandfather who doted on his great-grandchildren. Himan Brown died three weeks' shy of 100 years old in 2010.
The New York based Alfred P. Sloan Foundation, founded in 1934, makes grants in science, technology, and economic performance. Sloan's program in Public Understanding of Science and Technology, directed by Doron Weber, supports books, radio, film, television, theater and new media to reach a wide, non-specialized audience.
Over nearly two decades, the Foundation's pioneering theater program, begun with a 1997 grant to Ensemble Studio Theatre for Arthur Giron's play about the Wright Brothers, Flight, has helped usher in the science play as a regular part of the theater canon. Commissioning close to 20 new plays each year through its two flagship partners, EST and Manhattan Theatre Club-and working with the National Theater in London and Playwrights Horizons in New York, among others-the Foundation has made "a Sloan" a coveted commission for any playwright embarking on a new play with a science and technology theme or character. Beginning with such renowned science plays as Proof, Copenhagen and Alan Alda's QED, more recent grants have supported Lucy Kirkwood's Mosquitoes, which recently sold out at the National Theatre in London, Leigh Fondakowski's Spill, Nick Payne's Constellations, a Broadway hit staring Jake Gyllenhaal and Ruth Wilson, Nell Benjamin's The Explorer's Club, Lucas Hnath's Isaac's Eye, and Anna Ziegler's Photograph 51, a 2015 prize-winner in London's West End starring Nicole Kidman.
Sloan also has a nationwide film program that includes support of six film schools, screenplay development programs with The Sundance Institute, Tribeca Film Institute, the San Francisco Film Society, Film Independent and the Black List, and has helped develop and distribute 20 feature films including Ben Lewin's The Catcher Was a Spy, premiering at Sundance this year, Morten Tyldum's The Imitation Game, Michael Almereyda's Experimenter, Andrew Bujalski's Computer Chess, Jake Schreier's Robot & Frank, and Rob Meyer's A Birder's Guide to Everything. The Foundation's book program includes early support for Hidden Figures: The American Dream and the Untold Story of the Black Women Mathematicians Who Helped Win the Space Race, now the highest grossing Oscar nominated film of 2017 and winner of the San Francisco Film Society Sloan Science in Cinema Prize in December 2016.
For more information, visit www.ensemblestudiotheatre.org.
ABOUT THE ARTISTS:
Sylvia Khoury (Playwright) is a New York-born writer of French and Lebanese descent living in Manhattan. She is currently a member of the 2016-2018 Womens' Project Lab, EST/Youngblood, and a 2015-2016 Dramatists' Guild Fellow. Her play Against the Hillside was featured on the 2016 Kilroys List and was workshopped at the Lark's Playwrights' Week, the Eugene O'Neill Playwrights' Conference, the Roundabout Theater's Underground Reading Series, NNPN's National Showcase of New Plays and NNPN's MFA Playwrights' Workshop at the Kennedy Center. Her play Selling Kabul was featured on the 2017 Kilroys List and was presented as part of Noor Theater's Highlight Reading Series, La Jolla Playhouse's DNA Reading Series and EST/Youngblood's Bloodworks Series. Sylvia completed her MFA in Playwriting in May 2015 at the New School for Drama, where she received the Ted Snowdon Foundation Playwriting Award. She also has a BA from Columbia University in Middle Eastern, South Asian and African Studies. She is currently a student at the Icahn School of Medicine at Mount Sinai.
William Carden (Director) has been the Artistic Director of the Ensemble Studio Theatre (EST) since 20007. In 2015 EST was given a Special Drama Desk award for its unwavering commitment to developing new American plays. At EST he has directed productions of The Good Muslim by Zakiyyah Alexander, Please Continue by Frank Basloe, Headstrong by Patrick Link, Lenin's Embalmers by Vern Thiessen, Pidgeon, PTSD and Zero by Tommy Smith and Lucy by Damien Atkins. He was artistic director of the HB Playwrights Foundation for eleven years where he directed the Off-Broadway productions of Mrs. Klein and Collected Stories starring Uta Hagen. His many other productions there include Horton Foote's The Habitation of Dragons and Voir Dire by Joe Sutton. He directed The Dew Point at Summer Play Festival, The Young Girl and the Monsoon at Playwrights Horizons, Who's Afraid of Virginia Woolf at the Stratford Festival in Canada. As an actor, he played leading roles Off-Broadway at the Manhattan Theatre Club, Circle Rep, WPA, and EST and also worked at numerous regional theatres. On Broadway, he created the title role in the original, award-winning production of Short Eyes. He teaches in the acting and playwriting programs at the Mason Gross School of the Arts at Rutgers University.
Abby Rosebrock (Playwright) plays have been produced or developed at Williamstown, Cherry Lane, New York Stage and Film, LAByrinth Theater Company, Drama League, Ensemble Studio Theatre, Dixon Place, The Brick and more, as well as regionally in South Carolina, Georgia, Montana and Idaho. Abby has been a member of Playground at The Lark Play Development Center, The Tank NYC's TV- and new media-writers' collective and the Obie Award-winning playwrights' group EST/Youngblood. She is currently a member of the emerging writers' group at Clubbed Thumb and was recently selected for a Launch Commission with The Atlantic.
MIKHAELA MAHONY (Director) is a Brooklyn-based director of new plays and opera. Recent productions include 2:00, conceived by Emma McFarland, The Noise of the Future, by Anna Jazstremski, Hoshi, a new opera composed by Sato Matsui, Verdi's Rigoletto, and Chekhov's The Seagull. Mikhaela is honored to be a frequent collaborator with the playwrights of EST/Youngblood, directing short plays by Brittany Allen, Christina Quintana, and Abby Rosebrock in the past season, and helming the workshop production of Dido of Idaho in 2015. She is also deeply proud to work with the much younger playwrights at the 52nd Street Project. In her work in opera, Mikhaela has directed and assistant directed at The Juilliard School and the Chautauqua Institution. She is a co-founder of Full Moon Films and a member of the Columbia University School of the Arts Directing Class of 2019.
CHIARA ATIK (Playwright) is a former member of Youngblood. Her plays include I Gained Five Pounds, Women (a mashup of Louisa May Alcott's Little Women and HBO's "Girls") and Five Times in One Night, which was first produced at EST. She is the author of numerous articles for Cosmopolitan Magazine, Glamour Magazine, Refinery29, and New Yok Magazine, as well as the book, Modern Dating: A Field Guide. Her screenplay, Fairy Godmother, was on the 2016 Blacklist, and will be produced by MGM. Television: NBC's "Superstore".
Claudia Weill (Director) is a film, television and theatre director. Her feature films include Girlfriends (made independently and released worldwide by Warner Bros), It's My Turn with Jill Clayburgh and Michael Douglas for Columbia Pictures and The Other Half of the Sky: A China Memoir about the first women's delegation to the People's Republic of China in 1973 with Shirley MacLaine (Academy Award Nomination). She has directed theatre at Williamstown, the O'Neill, Sundance, ACT, Manhattan Theatre Club, The Public Theater (Margulies' Found A Peanut, Drama Desk Nom), Pasadena Playhouse, EST (NY and LA) and The Belle of Belfast for Irish Repertory Theatre, among others. Her TV work includes "Sesame Street," "thirty something" (Emmy Award), "My So-Called Life," "Face of A Stranger" (Emmy Award for Gena Rowlands) and "Girls" (HBO). She teaches TV and Film Directing at the New School and Columbia University, previously at CAL ARTS and USC. Claudia serves on the Executive Committee for the Academy of Motion Picture Arts and Sciences (to which she was the 3rd woman admitted as a director in 1981) and is preparing a documentary about the art and craft of Directing.