AFTERGLOW Featured On SNL's Weekend Update For Nudist Performance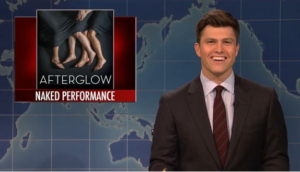 Afterglow began performances this past June's and has become a sleeper hit that has performed for over 6 months. The play has been touted by critics and audience members as a raw, entertaining piece of theater that features about 15 -20 minutes of male nudity and a working shower. This past weekend the show made headlines on "SNL's Weekend Update" for its partnership with GoNaked became public. The show offered a nudist theatrical experience for the group of 70 theatre- goers.
This past Sunday, December 3, Afterglow partnered with Naked NY for a private members-only event. Naked NY provided everything's needed for the event from towels to sit on to the bin for their member's clothes.
"I am proud that we are working to empower people who feel marginalized; that we are the only show in this city who would be inclusive enough to even entertain the idea of allowing these people to come, quite literally, exactly as they are - unadorned, raw, and exposed - just like our show." said Afterglow playwright/director S. Asher Gelman
AFTERGLOW is a raw, one-act play exploring the emotional, intellectual, and physical connections between three men and the broader implications within their relationships. Josh and Alex, a married couple in an open relationship, invite Darius to share their bed one night. When a new intimate connection begins to form, all three men must come to terms with their individual definitions of love, loyalty, and trust as futures are questioned, relationships are shaken, and commitments are challenged.
AFTERGLOW opened on June 23 to strong audience and critical reviews who called the play "Frank, explicit, insightful, unflinching, vivid and honest. Gelman's characters grapple articulately with issues many gay men regularly face. Vivid and honest depictions like these that foster a greater understanding of the way we live now." Towleroad; "Afterglow is inherently watchable, well-paced and a compelling introduction to Gelman's theatrical voice." Huffington Post; "Compelling. The trio is exceptionally easy on the eyes. It effectively adds to the authenticity of the story. Afterglow succeeds as it titillates." Gay City News; "Raw and beautifully complicated, but above all, relatable. No gay New Yorker should miss this play." Unicorn Booty; "Fresh and riveting. S. Asher Gelman has set the bar high with his first play, Afterglow. Gelman is nuanced as both a director and a writer. The nudity-and it is extensive-is presented with a charged eroticism rather than gratuitous titillation. There is no long-term afterglow for the characters in Gelman's play. But for the audience there surely is. It comes from experiencing an impressive calling card from a gifted new playwright and director." OffOffOnline; "Afterglow is a raw and real. Playwright S. Asher Gelman brings to the stage the very personal story of open relationships with heart, grit and a non-gratuitous exploration of the complex theme. This is not just another gay play or limited exclusively for the LGBT community but a play for everyone." BeautyNewsNYC; "Compelling. Highly charged and extremely sexual. They certainly know how to grab our attention." Times Square Chronicle; "There is amazing acting happening on stage. Afterglow is a bittersweet love story that will touch you." ReviewsOffBroadway.com.
S. Asher Gelman(Playwright/Director) is a director, choreographer, actor, dancer, and playwright. Originally from Chevy Chase, MD, Asher received his Bachelors Degree in Dance and Theater from Bard College in New York in 2006 and his Masters in Fine Arts in Dance from The George Washington University in Washington DC in 2012. From 2006 to 2016, Asher lived in Tel Aviv, Israel, where he became one of the founders of The Stage, Tel Aviv's premier English language performing arts organization, serving as its first Artistic Director from 2013 to 2016. He serves on the Advisory Board of the Richard B. Fisher Center for the Performing Arts at Bard College. Asher lives in New York City with his husband, Mati. "Afterglow" is his first play.
The cast includes: Joe Chisholm (Regional: The Little Mermaid, M. Fair Lady), Brandon Haagenson (National Tour: Beauty and the Beast. NY: My Big Gay Italian Wedding) and Patrick Reilly (Film: Dating my Mother. Web: "Danny The Manny"). Creative team includes Ann Beyersdorfer (Scenic Designer), Fabian Aguilar (Costume Designer), Jamie Roderick (Lighting Designer), Alex Dietz-Kest (Sound Designer), Kate Lumpkin (Casting), Mike Ross (Dramaturg), Nina Kauffman (Assistant Director), Laura Malseed (Production Stage Manager), Will Chaloner (Assistant Stage Manager), Kate Lumpkin Casting (Casting Director), Evan Bernardin (General Manager), and Gwynne Richmond (Company Manager) AFTERGLOW is presented by Midnight Theatricals.