BWW Review: FLASHDANCE at Chateau Neuf, Oslo - What A Feeling!
It's been more than 30 years since the world fell in love with Jennifer Beals' bad-ass welder turned dancer, Alex Owens, in the iconic dance movie "Flashdance". In the musical adaptation it is just as easy to fall in love with Heidi Ruud Ellingsens's portrayel of the character.
Flashdance the Musical is (obviously) based on the iconic 1983 movie, with a book by Tom Hedley & Robert Cary, music by Robbie Roth and lyrics by Roth and Cary. The show premiered in 2008 at the Theatre Royal in Plymouth in Devon, Great Britain, followed by a 16-week London West End run. The musical has toured the United States but a Broadway-production has not (yet) materialized. It is evident that the production companies TARAN and Starworks have pulled out all the stops to present this show to Norwegian audiences in the best way possible, celebrating the decade and the story, but with a modern approach.
Director Mattias Carlsson has crafted a 'must-see-show' out of source material that still needs some rounds of revisions to become truly a great piece musical theatre. As a dance show it is fabulous thanks to a first rate ensemble and choreographer Kirsty McDonald's innovative use of a range of dance styles.
Set in the blue-collar industrial town of Pittsburgh no-nonsense, tough-talking Alex Owens (Heidi Ruud Ellingsen) works as a welder in a steel mill and spends her nights twirling and shaking her booty as an exotic dancer in Harry's, a down-at-heel bar. She dreams of winning a place at the prestigious Shipley Academy and becoming a professional dancer but she's daunted and intimidated by its reputation. She also finds herself attracted to the mill-owner's son, Nick (Sindre Postholm), who is getting work experience by managing the beleaguered family business. Set against a backdrop of economic deprivation we see Alex, and her friends attempt to find a better life.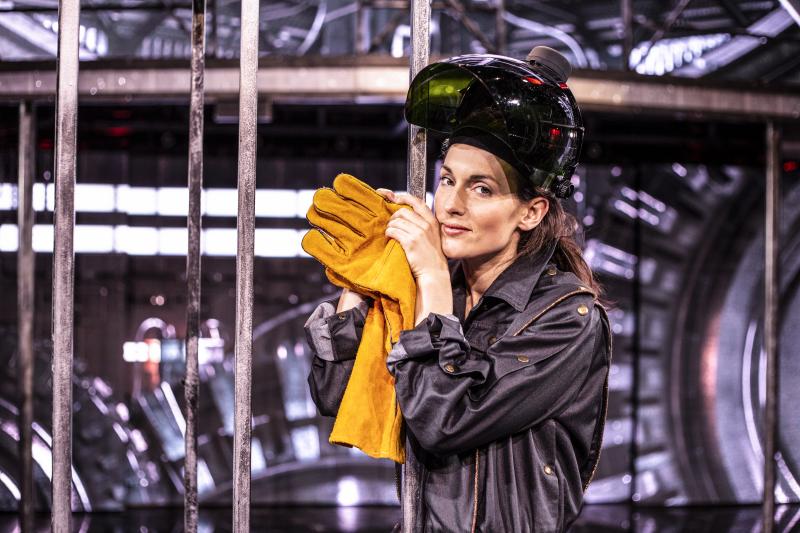 Heidi Ruud Ellingsen carries the show on her shoulders like seasoned performer she is. This time has thrown away her Mary Poppins umbrella, nanny outfit and her sweet demeanor. Instead she has replaced them with leg warmers, loose fitted tank tops and plenty of attitude. She belts out the songs with a thunderous voice and dances with such ferociousness you can't help but be captivated by her portrayal of Alex. But she shines even brighter in the company of her love interest, Nick, played brilliantly by Sindre Postholm. He encompasses a warmth and empathy in this role that could very easily have become cliché in lesser hands. His voice is superb. Nick and Alex's relationship creates the core of the show. They make each scene they together a joy to witness. Such as their duets "Here and Now" and "My Turn."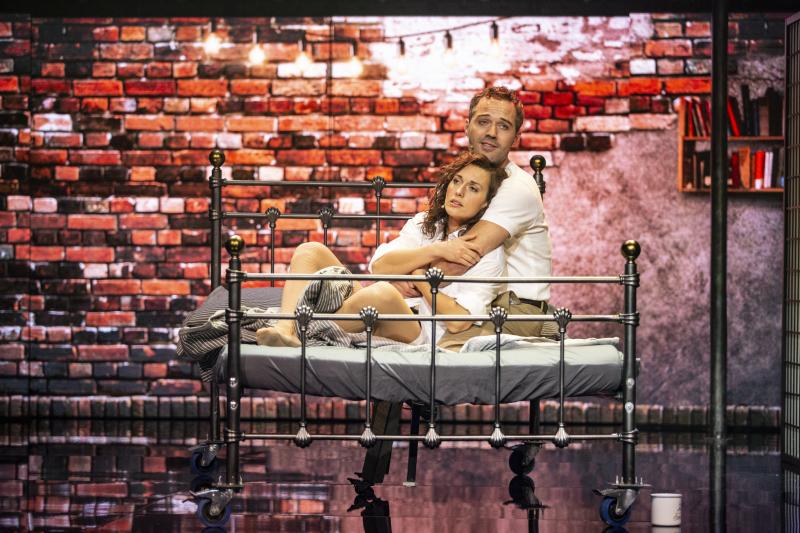 The biggest subplot in the musical involves the character of Gloria (created for the stage version), and her yearning to become a star. It is obvious early on that she will make all the wrong choices along the way to achieve them. Lene Kokai Flage embraces the characters sweetness and naiveté in a beautiful way and it is tragic to witness her downward spiral into a life of drugs and close to prostitution. Her rendition of "Gloria" in act two is heart wrenching.
Jacob Schøyen Andersen plays her boyfriend, the not so talented stand up comedian Jimmy. He may deliver some really horrendous jokes but, as a character, he is a welcomed comic relief. He sings the hell out of his act two song "Where I belong" and proves himself to be a musical performer to be reckoned with in future productions.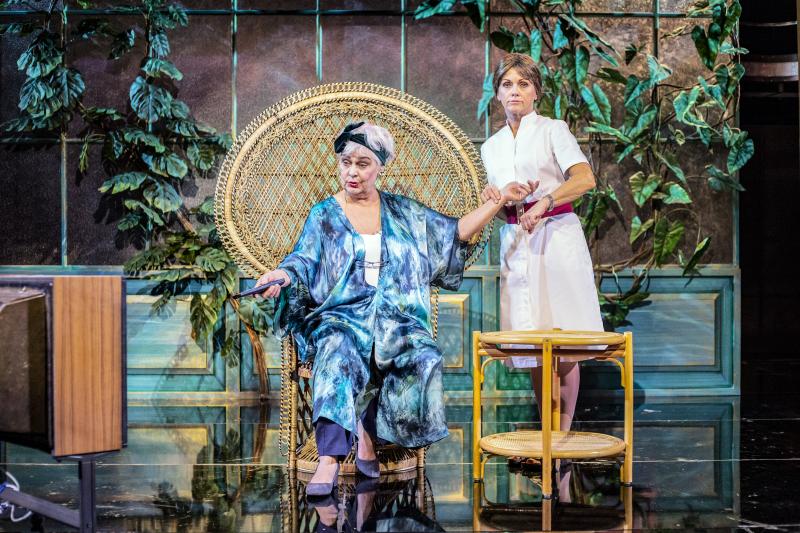 Another duo that must be mentioned is Ellen Horn as Alex's motherly figure Hanna, and her nurse Louise, played hilariously by Hilde Lyrån. Their characters give the musical more substance and are also a fine counter point to the frequently extravagant dance sequences.

The entire ensemble is top-notch, but special mention must go to Alex's dancing friends (Anna-Lisa Kumoji and Celeste Cappelen) who also do double-duty as a kind of "Greek chorus" doing most of the movie's powerful songs from above the stage while the plot happens below.
The scenic design by Takis, and especially the LED 3D animation done by Mikkel Gythfeldt bring the Chateau Neuf stage to life in a way I have never witnessed before. It is not a thankful task to design for this stage, but they have done it in a fashion that makes the show flow beautifully. All though sometimes less is more, and some of the close ups of characters singing while performing live on stage became rather distracting, and the whole "stars and galaxies" motif during Nicks act two song "Enough" was not a good choice. It became a distraction for Sindre Postholm's rendition of the song. His vocal performance was more than enough (pun intended).
Musical director Mathew Reeve's five piece orchestra sounded like 15 and captured the eighties sound wonderfully. The sound balance between the performers and musicians was sometimes off in the louder sequences, and a lot of the lyrics got lost. Which is a real shame in a musical.
Flashdance may not be a profound piece of musical theatre, but in its core it tells a really captivating story about the struggle to achieve ones dream, love and friendship and that it is sometimes it is good to accept some help along the way to get there. All the while surrounded by magnificent dance and some of the most memorable songs from the eighties. In conclusion - I am rolling a five out of six on the dice.
Reviewed by Christian Ranke
All photos by Tovita Razzi
Cover photo br Fredrik Arff