Review: ONE ACT PLAY FESTIVAL 2018 at Dolphin Theatre Onehunga Auckland

An absolute superb evening of theatrical treats is on offer at Dolphin Theatre's One-Act Play Festival.
If the line up of plays and performers was a menu then Dolphin has served up a delectable gustation for a more than generous price.
All performers honoured the words of the award-winning writers.
First up is 12hr Life. Dylan should be going to a conference but a chance encounter with Samantha has them both playing truant from their 'real lives'. Skilled actors should be able to deliver with minimal set and Raymond Vinten and Charlotte Robinson were both testament to this, delivering excellent performances with minimal props. I loved it. Their timing, pitch, pausing and pace showcased their combination of skill and talent. My significant other was on the edge of his seat mesmerised and I could tell by his clap that he was impressed.
Next up is Hidden in this Picture. What can possibly go wrong when two good friends embark on their first movie? They're behind schedule and over budget when an unforeseen problem occurs. Mike Daley and John Edwards deliver memorable and comedic performances in their roles as good mates. Using the 'husband gauge' once again his belly aching laughter said it all. Special mention to Rachel Barnhill as the Stereo-typical 'over-enthusiastic blonde' Meg and long-suffering Production Manager Ruth played by Carleen Craig,
Ok, so the bar was now set high, could the final offering be matched by the previous two plays?
The final treat was certainly that and was truly the quintessential irresistible dessert. Lin Manuel Miranda's 21 Chump Street, is a one-act musical based on a true story. It is a cautionary tale of a high school senior who falls for a new student. But things are not as they seem...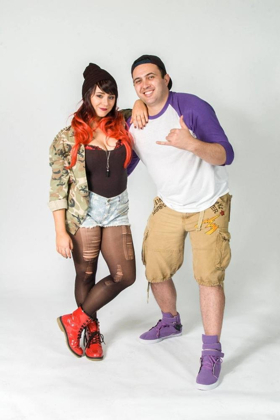 The cast line up is dazzling with well-known super talents Keith Marr, Bridie Dixon, Kristin Candice Paulse and Sam Iosefo. Additionally, Brandon Rhodes, Reuben Su'a, Louise Wilkie, Jordan Henare and Jahaan Nordien completed the sensational cast. If this wasn't enough the band was superb, starting off as part of the cast and moving back behind a gauze to play.
Director Zane Fleming's vision was energetic and edgy. Choreographer Rebekkah Schoonbeeke-Berridge created dynamic 'slaying power' with her moves that were brilliantly delivered by the performers. The vocals were sensational and kudos to Musical Director Erin Fagan who was also on the keyboards and vocal coach Simon Chapman. Special mention to whoever put the wardrobe, makeup and hair styling together, it was exceptionally good.
One Act Play Festival
Dolphin Theatre
17th-20th May
Bookings: https://securepayments.dolphintheatre.org.nz/product_info.php?cPath=263&products_id=3097