Two River Theater Presents THE BELLE OF AMHERST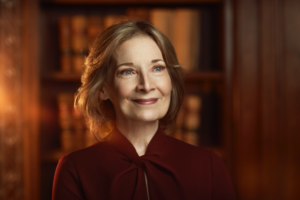 Two River Theater continues its 25th Anniversary Season with the celebrated American classic The Belle of Amherst, a biographical drama starring Maureen Silliman as poet Emily Dickinson. The biographical drama is written by William Luce, and directed by the theater's founder and Executive Producer Robert Rechnitz. Performances will begin in Two River's Rechnitz Theater, 21 Bridge Avenue, on Saturday, April 13 and continue through Sunday, May 5. The opening night performance is Thursday, April 18 at 7pm. Tickets are available from 732.345.1400 or tworivertheater.org. The Lead Sponsor is Monmouth University and the Production Sponsor is Springpoint Senior Living Foundation at The Atrium at Navesink Harbor. Two River's 2018/19 Season Sponsor is Hackensack Meridian Health Riverview Medical Center.
"I am thrilled to be part of Two River Theater's 25th Anniversary season," says Silliman, "and I'm especially happy to be working once again with director Robert Rechnitz, the founder of the theater. Our Emily is very much a human being, who falls in love, who experiences loss, who dreams of the future. Audiences will see a girl, a woman, who is not so far from themselves, but with a gift of putting her feelings-indeed all our feelings-into such beautiful words."
Emily Dickinson tells her own story in William Luce's evocative portrait of the writer, which is drawn from her poems, diaries and letters. The play embodies Two River's mission to produce "new works and world masterpieces that most richly direct our gaze to the life of the human spirit."
William Luce wrote The Belle of Amherst for Julie Harris, who premiered it on Broadway in April 1976; Julie Harris also starred in his plays Lucifer's Child, about Isak Dinesen, and Brontë, about Charlotte Brontë. Luce's other Broadway plays include Barrymore, which starred Christopher Plummer as John Barrymore; and Lillian, about Lillian Hellman, which starred Zoe Caldwell.
Robert Rechnitz was a Professor of American Literature at Monmouth University for 35 years before founding Two River Theater, with his wife Joan, in 1994. An educator, director and writer, he is one of New Jersey's most esteemed theater leaders. The notable productions he has directed at Two River include Curse of the Starving Class, A View from the Bridge, The Glass Menagerie, Thieves' Carnival, Uncle Vanya, American Buffalo, You Can't Take It With You, True West and Barefoot in the Park. In 2015/16, Two River premiered his play Lives of Reason, which he co-wrote with Kenneth Stunkel.
Maureen Silliman first performed at the Two River Theater in 1998 when she was cast in The Real Thing and went on to appear in The Beauty Queen of Leenane, The Umbrellas of Cherbourg, and Our Town. Also at Two River, she appeared as Sonya in Uncle Vanya and Amanda in The Glass Menagerie under the direction of Robert Rechnitz, as well as in the world premiere of his play (written with Kenneth Stunkel), Lives of Reason. On Broadway, her credits include Jenny in Shenandoah and Liv Ullman's daughter, Katrin, in I Remember Mama. Off-Broadway, her credits include Reckless, Marathon Dancing (Anne Bogart, director), The Umbrellas of Cherbourg (Andrei Serban, director), Three Postcards and Blue Window (also in Los Angeles-L.A. Drama Critics and Dramalogue Awards). Her New Jersey credits include plays and musicals at Paper Mill Playhouse (Rags), Shakespeare Theatre of New Jersey (I Capture the Castle and To Kill a Mockingbird) and New Jersey Rep (Angels and Ministers of Grace).
The creative team for The Belle of Amherst includes scenic designer Harry Feiner, costume designer Andrea Hood, lighting designer Andrew F. Griffin, sound designers Charles Coes & Nathan Roberts, and wig designer Cookie Jordan. The production stage manager is Larry Copeland.
Ticket prices range from $40 to $70, with discounts available for groups, seniors, and U.S. military personnel, their families, and veterans. A limited number of $20 tickets are available for every performance; $20 tickets may be partial view. Tickets for patrons under 30 are $20 and include the best available seats at every performance. Tickets are available from tworivertheater.org or 732.345.1400.
Inside Two River is a series of events specially curated for each Two River Theater production. For more information or to reserve seats, patrons should visit tworivertheater.org or call 732.345.1400.