Photo Flash: Pirates of Penzance at MCCC's Kelsey Theatre
Rejoice in a pirate's life when PinnWorth Productions presents Gilbert and Sullivan's classic musical "The Pirates of Penzance" at Mercer County Community College's Kelsey Theatre. Dates and times for this renowned show are: Fridays, Jan. 13 and 20 at 8 p.m.; Saturdays, Jan. 14 and 21 at 8 p.m.; and Sundays, Jan. 15 and 22 at 2 p.m. Kelsey Theatre is located on the college's West Windsor campus, 1200 Old Trenton Road.
Audiences will enjoy the singing, the dancing, the plot twists and some of the wittiest lyrics ever written for the stage in this entertaining and enduring musical. This comic tale of mix-ups begins with a British fellow named Frederic, who has unintentionally spent his youth as an apprentice pirate – instead of a pilot – thanks to his hapless nursery maid, Ruth. On his 21st birthday, Frederic decides he will leave the band of pirates and expose them as thieves. But before he has his chance, the pirates come upon the lovely daughters of a major-general. Romance is in the air, but the general is having none of it. Frederic must choose a side, and that's when the true adventure begins!
According to the show's enthusiastic director, Lou J. Stalsworth of Allentown, "The show is bright, breezy, and a bit rowdy. The voices are just marvelous, some of the best we've seen on the Kelsey stage."
Starring in "Pirates" are: Alycia Bauch of Bordentown as Ruth; Rob Gougher of Newtown, Pa., as Lieutenant Samuel; Jim Petro of Hamilton as Frederic; Liz Rzasa of Lawrenceville as Mabel; Michael Schiumo of Horsham, Pa., as the police sergeant; John Shanken-Kaye of Doylestown, Pa., as Major General; and John Zimmerman of Hamilton as the Pirate King. The three principal wards are played by Jen Davis of Bordentown, Jenny Horowitz of East Windsor, and Jennifer Winn of Ewing.
Ensemble members are: Collin Cenci of Hamilton, Jim Cordingly of Lawrenceville, Katie Downey of New Brunswick, Brian Maguire of Lakehurst, Lauren Makrancy of Florence, KerryAnn McKenna of Branchburg, Ben Menaham of Plainsboro, Salley Page of Princeton, John Russell of Mercerville, Victoria Scialfa of Robbinsville, Dan Slothower of Plainsboro, Dave Walter of Allentown, and James Zimmerman of Hamilton.
Also part of the production team are Laurie Gougher of Newtown, Pa., is music director; Robert Terrano of East Windsor is light and sound designer, Janell Byrne of Princeton is choreographer; Rachel Piscopo of Morrisville, Pa., is stage manager; and Dottie Farina of Hamilton is props mistress.
Tickets are $18 for adults, $16 for senior citizens and $14 for children and students. Tickets may be purchased by calling the Kelsey Box Office at 609-570-3333 or www.kelseytheatre.net. Kelsey Theatre is wheelchair accessible. Free parking is available next to the theater.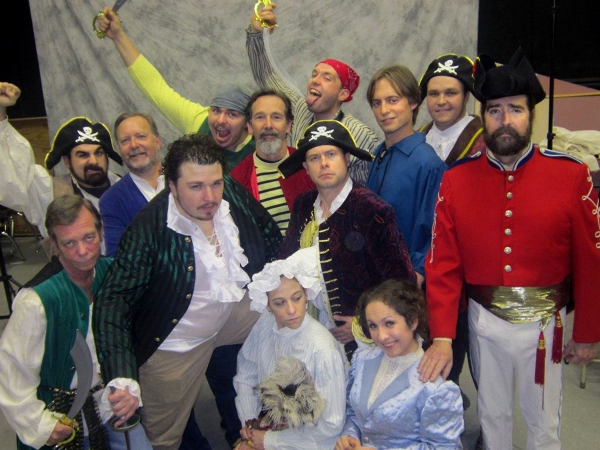 Mike Schiumo, Dan Slothower, James Zimmerman, Jim Cordingly, Dave Walter, Jim Petro and Brian Maguire; middle row from left, John Russell, John Zimmerman, and Rob Gougher; front row from left, Alycia Bauch, Liz Rzasa and John Shanken-Kaye

Jenny Horowitz, Katie Downey, John Skanken-Kaye, Liz Rzasa, Jenn Winn and Jenn Davis

Dan Clothier, Jim Zimmerman, Dave Walter, Mike Schism, and John Russell

More Hot Stories For You