Photo Flash: First Look at Shakespeare Theatre of New Jersey's MUCH ADO ABOUT NOTHING
The Shakespeare Theatre of New Jersey's 2014 Season will conclude with the Bard's beloved battle of wits, Much Ado About Nothing. Renowned Stratford Festival artist Scott Wentworth will perform "double duty," directing the production and playing the staunch bachelor Benedick, opposite his real-life wife Marion Adler as the feisty Beatrice. This production will celebrate the winter holiday season, filled with music and dance that evokes the end of World War II, White Christmas era. Performances begin December 3rd at the F.M. Kirby Shakespeare Theatre, 36 Madison Ave. (at Lancaster Road) in Madison.
Ticket prices start at $25 for preview performances and $32 for regular performances. Student rush tickets for all performances are $15, available a half-hour before curtain for with a valid student ID. Performances are Tuesdays, Wednesdays and Sundays at 7:30 p.m. Thursdays, Fridays and Saturdays at 8 p.m.; and Saturdays and Sundays at 2 p.m. For tickets, call the Box Office at 973-408-5600 or visitwww.ShakespeareNJ.org.
Photos by Jerry Dalia

Charles Pasternak, Susan Maris, John Hickok, Raphael Nash Thompson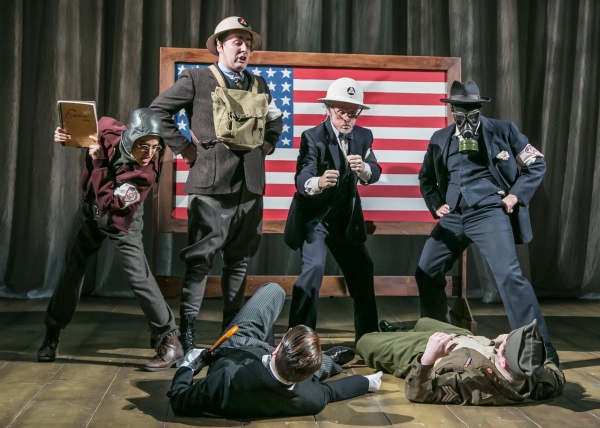 Jeffrey M. Bender, Conan McCarty

Raphael Nash Thompson, Charles Pasternak

Cast

Marion Adler

Jeffrey M. Bender