Photo Flash: First Look at Eagle Theatre's LOMBARDI
"Lombardi," a play about the legendary Green Bay Packers coach Vince Lombardi, made its professional area debut on September 20 at the Eagle Theatre in Hammonton, N.J. The theatre will be one of the first playhouses in America to produce the show since it close on Broadway in 2011, giving regional audiences a rare opportunity to catch this biographical drama. BroadwayWorld has a first look at the cast in action below!
Set during one week in the 1965 Season, "Lombardi" tells of the coach's efforts to take the Green Bay Packers to the championship. The story develops as a "Look Magazine" reporter follows the prolific coach in the hope of finding out "what makes Lombardi win."
"Lombardi" premiered at the Eagle Theatre on September 20 at 8 p.m., and will run through October 12 with performances on September 21, 26, 27, 28, October 4, 5, 10, 11, 12 at 8 p.m., and September 29 and October 6 at 3 p.m. Tickets are $25 for General Admission and $30 for Front Rows. Tickets can be purchased at www.TheEagleTheatre.com. For more information, please contact the box office at (609) 704-5012.
Photo Credit: Chris Miller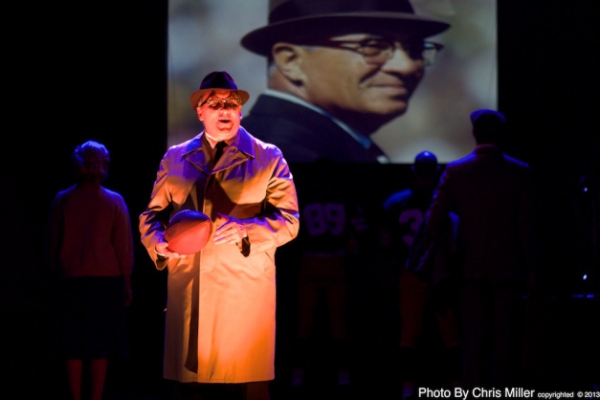 David T. Wills, Vince Lombardi

Peter Zielinski, Paul Hornung; Franklin Anthony, Dave Robinson; Tim Rinehart, Michael McCormick; David T. Wills, Vince Lombardi; James Eckstein, Jim Taylor

Tim Rinehart, Michael McCormick; Marianne Green, Marie Lombardi