Photos: Centenary Stage Presents SHERLOCK HOLMES AND THE CASE OF THE JERSEY LILY
Running now till October 23, Centenary Stage Company brings to life Sir Arthur Conan Doyle's mastermind detective Sherlock Holmes in Sherlock Holmes and the Case of the Jersey Lily in the Sitnik Theater of the Lackland Performing Arts Center and audiences are raving. "Sherlock Holmes and the Case of the Jersey Lily was wonderful; probably the best production I've seen in the last three years. It is well cast with excellent acting. The writing was superb and on a par with a true Sherlock Holmes mystery. Go see it. No, don't just see it, observe it." - Bronc Radak, audience member
Written by Katie Forgette, this cleverly crafted play combines the wit of Oscar Wilde with the cunning of Sir Arthur Conan Doyle, asHolmes, Watson and Oscar Wilde himself must band together to solve a case rife with mystery, humor and action. "Excellent, professional production in our own hometown- acting was superb, loved the accents, costumes were enchanting and the set was clever in every detail!" - Nancy Miller DeWitt, audience member
When Wilde brings celebrated actress Lillie Langrty to Baker Street, Holmes and Watson must foil a plot that threatens not only the English Crown but Holmes' own life as he faces off against his arch nemesis, "The Napoleon of Crime". As the mystery unfolds, comedy ensues as Holmes works diligently to solve the case, going so far as to disguise himself as an early version of Lady Bracknell from Wilde's latest play, 'The Importance of Being Forthright', while Watson falls head-over-heels for the Jersey Lily and a wicked professor attempts to bring the Crown to its knees.
Performances continue Thursdays, October 13 and 20 at 7:30pm; Fridays October 14 and 21 at 8pm; Saturdays, October 15 and 22 at8pm; Sundays, October 16, 23 at 2pm and Wednesdays, October 12 and 19 at 2pm. Centenary Stage Company is also offering buffet matinees for groups of 25 or more on Wednesdays October 12 and 19. All performances are located in the Sitnik Theater of the Lackland Center.
Tickets for Sherlock Holmes and the Case of the Jersey Lily range from $17.50 to $27.50 with discounts for students and children under 12. Buffet Matinees are available for groups of 25 or more at $42.50/person. Advance reservations are required. Centenary Stage Company is also offering a special alumni discount of $10.00 off adult ticket price for Friday evening performances. Thursday evening performances are "Family Night" $25.00 for ALL SEATS with a buy one/get one rush ticket special when tickets are purchased in person at the CSC box office, as early as, two hours prior to performance time.
For more information or to purchase tickets visit centenarystageco.org or call the CSC box office at (908) 979 - 0900. The box office is open Monday through Friday from 1 - 5pm and 2 hours prior to every performance. The CSC box office is located in the Lackland Performing Arts Center; 715 Grand Ave. Hackettstown, NJ. Centenary Stage Company can also be found on social media platforms Facebook, Twitter and Instagram.
The 2016-17 season of performing arts events at the Centenary Stage Company is made possible through the generous support of the Geraldine R. Dodge Foundation, the NJ State Council on the Arts, the Shubert Foundation, the Blanche and Irving Laurie Foundation, the Sandra Kupperman Foundation, and CSC corporate sponsors, including Premier Season Sponsor Heath Village Retirement Community, Silver Sponsors Hackettstown Medical Center, Home Instead Senior Care (Washington), The Holiday Inn in Budd Lake, and Fulton Bank of New Jersey, and Centenary Stage Company members and supporters.
Photo credit: Chris Young


(left to right) Colin Ryan as Holmes, Nicholas Wilder as Professor Moriarty

(left to right) David Sitler as Watson, Sandy York as Lily Langtry, Joseph McGranaghan as Oscar Wilde, Colin Ryan as Sherlock Holmes.

(left to right) Colin Ryan as Holmes, David Sitler as Watson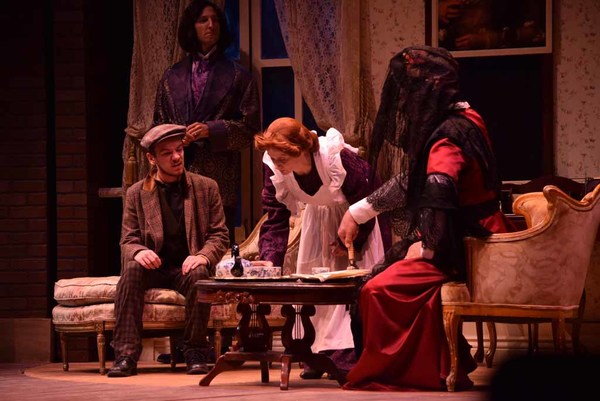 (left to right) Tom Farber as Smythe, Joseph McGranaghan as Oscar Wilde, Amy Griffin as Mrs. Tory