PIPPIN Comes to Fair Lawn Next Month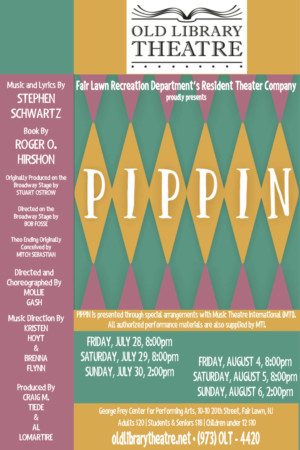 Heir to the Frankish throne, the young prince Pippin is in search of the secret to true happiness and fulfillment. He seeks it in the glories of the battlefield, the temptations of the flesh and the intrigues of political power. But where will Pippin find extraordinary happiness?
Directed and Choreographed by Mollie Gash. Produced by Craig M. Tiede & Al LoMartire. Music Direction by Kristen Hoyt & Brenna Flynn.
July 28, 29, 30 August 4, 5, 6.
Fridays and Saturdays at 8:00pm and Sundays at 2:00pm.
Starring:
Jack Lobley - Pippin
Katie Weigl -Leading Player
Bob Russell - Charles
Kassi McMillan - Catherine
Lauren Rowland - Fastrada
Jesse Bush - Lewis
MaryAnne Delaney-Bush - Berthe
Craig Legras - Theo
Ensemble:
Nicole Boscarino
Tyler Donovan
Paige Erdmann
Chris Gatterdam
Michelle McMillan
Maria Alessi
Cassandra Barckett
Donna Bialkin
Christina Eliades
Leah Feingold
Katrina Fett
Taylor Grbelja
Pearl Hart
Judi Layne
Frank Riccobono
Cynthia Smith Barry
Zack Clark
Matt Lam
Children Under 12 $10
Student / Senior $18
Adult $20
George Frey Center for Performing Arts, 10-10 20th Street Fair Lawn NJ 07410
https://www.onthestage.com/show/old-library-theatre/pippin-2056
More Hot Stories For You