JESUS CHRIST SUPERSTAR Opens March 30 In Manasquan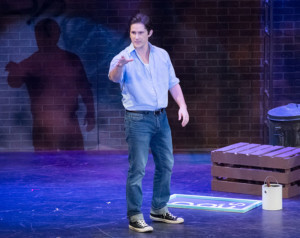 Andrew Lloyd Webber and Tim Rice's timeless musical "Jesus Christ Superstar" opens at Algonquin Arts Theatre on Saturday, March 30, at 8 p.m.
Entirely through song, "Jesus Christ Superstar" tells the story of the last week of Jesus Christ's life with a twist: it is seen through the eyes of Judas Iscariot. The story follows Jesus and his personal relationships with Judas, Mary Magdalene, his disciples, his followers and the Roman Empire.
Loosely based on the Gospels of Matthew, Mark, John and Luke, "Jesus Christ Superstar" begins with the arrival of Jesus and his disciples in Jerusalem and tells the week leading up to the crucifixion. The production offers a new interpretation, depicting interpersonal struggles between Judas and Jesus.
Webber and Rice's first musical to be produced for the professional stage was first released as a concept album. The two-LP set that dropped in September 1970 featured Deep Purple's Ian Gillan in the titular role, Yvonne Elliman as Mary Magdalene and Murray Head as Judas Iscariot. The album would go on to be the bestselling album of 1971 in the United States.
"Jesus Christ Superstar" has grown to be one of the most timeless and well-known musicals of all time. With instantly recognizable numbers such as "Superstar" and "I Don't Know How to Love Him," the rock opera has captivated audiences for over 40 years.
"Jesus Christ Superstar" opens at Algonquin Arts Theatre on Saturday, March 30 at 8 p.m. Sunday performances are on March 31, April 7 and April 14 at 3 p.m. Other performances will be on Saturday, April 6 at 8 p.m., Friday, April 12 at 8 p.m. and Saturday, April 13 at 2 p.m. and 8 p.m. The event is recommend for ages 11 and older. Children under age four will not be admitted.
The Sunday, March 31 matinee is sold out, and seats are filling quickly for each of the other showtimes.
Premium tickets are sold out or almost sold out for each show. Regular tickets are $32 for adults, $29 for seniors and $23 for students. To order, visit algonquinarts.org or call the Algonquin Box Office at 732-528-9211.
Aaron Richard Burt from Lauren Springs, N.J., debuts at the Algonquin in the title role. Rob Ryan, who starred as Tony in last spring's "West Side Story," returns as Judas. Also returning from the "West Side Story" cast will be Alicia Rose Dishon (Anita) who stars in the role of Mary Magdalene.
Pontius Pilate will be played by Stephen J. Rubino, returning to the Algonquin after starring as Norm Petty in the hit production of "The Buddy Holly Story. "
Brendan Flanagan, who has recently had numerous featured roles including Tim in "Noises Off," Mr. Fezziwig in "A Christmas Carol" and Franz Liebkind in "The Producers," continues to show his range as King Herod.
Sean Dickenson (Fred Anderson in "A Christmas Carol") returns as Peter and Zachary James (Richie Valens in "The Buddy Holly Story") returns as Simon, while David J. Fretz and Gregory Newton make their Algonquin debuts as Annus and Caiphais, respectively.
The remaining cast members playing the Apostles and ensemble roles include many leading and featured actors from past productions including John Wisienski (William Barfée in "Spelling Bee"), Julia Lupi (Belle in "Beauty & The Beast") and Lindsey Monaco (Mrs. Fezziwig in "A Christmas Carol").
The ensemble also includes Shawn Katz, Roni Banerjee, Joseph Bryant, Stephen Doucette, Nicolas Hewgley, Paulino Diaz Jr., Joseph Martinez, Norman "Doc" Hart, Natalie Hayes, Erin McAvoy, Julia Cicchinno, Leah Krupnick and Lizzy Legregin.
"Jesus Christ Superstar" is directed by Gina Lupi ("King & I," "A Christmas Story," "Kiss Me Kate") with musical direction by Mark Megill and choreography by Kathleen Pearlberg. Rachel Krupnick is the stage manager.
"Jesus Christ Superstar" is presented by arrangement with The Musical Company, LP.
More Hot Stories For You