Brundibár Returns to Monmouth County in Count Basie Theatre's New Production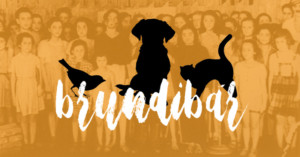 Brundibár returns to Monmouth County in Count Basie Theatre's new production led by Eli Villanueva and Jason Tramm August 19 & 20
Brundibár, Hans Krasa's opera of innocence and resistance, returns to New Jersey nearly 30 years after its first fully staged performance at the Main Post Theater in Fort Monmouth by a professional American Opera Company. In an inspired new production co-produced by its presenters Brundibár is paired with the NJ debut of the contemporary companion opera Friedl; staged directed by LA Opera's Eli Villanueva, with music direction by noted conductor Jason Tramm. Performances will take place Saturday August 19th at 8PM at The Count Basie Theatre in Red Bank and Sunday August 20, 2PM at The Jay and Linda Grunin Center for the Arts in Toms River.
Brundibár teaches the importance of tolerance, overcoming tyranny and our duty to question authority," says Adam Philipson, President and CEO, Count Basie Theatre. "The Basie is thrilled to be working with The Jay and Linda Grunin Center for the Arts to bring such an important and inspiring children's opera to the Jersey Shore."
Brundibár's 1988 New Jersey State Opera production, available for viewing in the Rodgers & Hammerstein Recorded Sound Archives at The New York Public Library, played a critical role in bringing the once obscure opera to light. In the three decades that have passed, Jewish Czech composer Hans Krasa's opera of innocence and resistance has gained increased recognition as a work of musical and historical importance in the body of work by classical composers who were executed during the Holocaust and whose work threatened with extinction. As a result of the awareness generated by early, daring landmark productions, Brundibár has been embraced by opera companies world-wide and increasingly continues to enjoy ever growing numbers of performances.
Luna Kaufman, Holocaust survivor and former president of the NJ State Opera Board who championed Brundibar's New Jersey premiere following its first North America performance in in Harford Connecticut in the 70's, will be in attendance at Sunday's performance at The Jay and Linda Grunin Center for the Arts.
In its most accessible sense Brundibár is a story told through the voices of children about a brother and sister attempting to help their mother by joining forces with a sparrow, a cat and a dog to enlist their community to outwit an evil organ grinder. In the European tradition of The Brothers Grimm and Hans Christian Anderson, widely popularized in the 19th century, Brundibár partakes in the universal appeal of a fairy tale. The genre proved inspirational for several opera composers whose work preceded Krasa- among them fellow countrymen Leos Janacek's Cunning Little Vixen and Antonin Dvorak's Rusalka (based on Anderson's The Little Mermaid); as well as Humperdinck's Hansel and Gretel and Bertolt Brecht and Kurt Weill, Der Jasager.
The opera was performed by the children of the Theresienstadt concentration camp located approximately 40 miles from Prague; a way station of sorts for over 150,000 European Jews,- many, prominent artists, musicians, actors, dancers and intellectuals, before their final deportation to Auschwitz, Fifty- five documented performances took place between 1943 and 1944. Scenes from Brundibár were unwittingly immortalized by Joseph Goebbel, the Nazi minister of propaganda, who realized the opera's power following a performance attended by Red Cross representatives during an inspection of concentration camp living conditions. Goebbel ordered Theresienstadt prisoner actor-director Kurt Gerron (who had appeared with Marlene Dietrich in the 1930 film "The Blue Angel") to incorporate scenes from Brundibár into his propaganda film, "The Fuehrer Gives the Jews a Town" hauntingly giving us a glimpse into Brundibár's final performance.
Friedl, composed by Eli Villanueva with librettist Leslie Stevens, tells the story of Theresienstadt prisoner Friedl Dicker-Brandeis, a teacher from Prague who, like all prisoners, were permitted to carry just 50 kilos of personal belongings to the concentration camp. While most prisoners understandably chose to pack valuables and personal belongings, Friedl Dicker-Brandeis packed her luggage with art supplies with the intention of using them to relieve suffering through creativity. Friedl saved over 4000 pieces of art created by the children in the same suitcases. When her name appeared on the transport list to Auschwitz, Friedl hid the luggage inside the walls of the children's dormitory. Her suitcases were found after the war, with the her students art safely preserved within them: the children's art she saved was used as evidence in the Nuremberg trials.
The inspiration for the opera Friedl began nine years ago, Eli Villanueva shared, "In 2008 LA Opera's, Opera Camp - a two-week intensive for students ages 9-17 interested in the world and art of Opera, was faced with a wonderful dilemma. We had a very large number of fine teenage singers who were interested in participating in our camp. We were proud of what we had to offer with regards to a well- rounded instruction in the fine art of music, singing, movement and social justice, but Brundibár did not have enough roles to keep these talented, teenage singers engaged in the process. We needed something that allowed them to be featured singers, engage them in the study of the social context of Brundibár and it must aid in the story telling of Brundibár and not detract from it. We needed to create something new. Leslie Stevens was asked to find this content. When she discovered the story of Friedl Dicker-Brandeis, she began to ask for more resources. She found books and survivors who were in Friedl's classes and shared recollections of their experience with her, and the preview of Friedl began to come alive.
Librettist Leslie Stevens writes "All the characters represented in this opera are based on real children and adults who lived in Terezin and participated in art classes with Friedl. They lived in the houses they mention and painted pictures like the ones they sing about. I have tried to incorporate qualities of personality where I could find clues in books, survivor memoirs or in the artwork and poetry itself. These children might not have been in her class on the same day or even in Terezin at the same time, but they were all her students. The majority of these young artists perished in Auschwitz as did Friedl, but their artwork has survived as a powerful voice across the decades... After the war, (works saved by Friedl by the young artists of Terezin) found their way to museums and collections all over the world. I find their story a mesmerizing example of courage and the transformative power of Art. In her utter refusal to surrender her creative expression or that of her students, Friedl held to a vision of a better future. She glows still."
The Count Basie Theatre's fully staged and orchestrated production of "Brundibár and Friedl" features a cast of talented young singers, students in the Basie's Performing Arts Academy inaugural opera camp. The opera camp offers young performers the invaluable experience of singing in a fully staged, professional opera production guided by critically respected opera artists. The opportunity to learn from experienced musicians, who have demonstrated a performance commitment to the music of the Holocaust is doubly enhanced by the fact that the Basie Performing Arts Academy opera leadership Eli Villanueva, and Tramm are well regarded educators too. Villanueva leads LA Opera's acclaimed education and community engagement department and Tramm serves as an Assistant Professor with Seton Hall University's College of Communications and the Arts where earlier this year he was awarded the distinction of Seton Hall University's 2017 Teacher of the Year. "It's been an honor working with Eli Villaneva and these young singers in bringing Brundibar to life" said Tramm "and remembering that in the face of horrific conditions, slave labor, the constant threat of deportation to Auschwitz, those courageous men, women and children fought back with art and music - and preserved their humanity" Tramm continued, "Their courage anticipated Leonard Bernstein's famous words, that always inspire me "This will be our reply to violence: to make music more intensely, more beautifully, more devotedly than ever before."
In addition to their operatic training, addressing the art form's unique technical demands, students participate in activities designed to give them greater insight into the tragic setting of the opera and the transformative power of art. A visit to the Museum of Jewish Heritage in New York City took place in week one followed by an exclusive meeting with Holocaust survivor, Sol Lurie, sharing his story with students in week two.
Vocalists selected to participate in the innovative program funded by a generous grant from the Toms River-based OceanFirst Foundation include Brundibár cast members : Lauryn Boyle (Wall, chorus); Lev Brewer (Tinton Falls, chorus); Catherine Creed (Highlands, chorus); Cakie Dym (Rumson, chorus); Alexandra Pennington (Middletown, 'Little Joe'); Amir Kamal (East Brunswick, chorus); Jack Kelly (Toms River, chorus); Olivia Lee (Manahawkin, chorus); Isabella Lee (Manahawkin, chorus); Lydia Lu (Red Bank, chorus); Olivia Marino (Toms River, chorus); Regina Messenger (Toms River, chorus); Isabella Moitoso (Holmdel, chorus); Alejandra Morales (Bayville, 'Milkman'); Amanda Philipson (Little Silver, 'Bird'); Andreas Psillos (Toms River, 'Policeman') Camille Pugliese (Red Bank, 'Ice Cream Vendor'); Abigail Pukin (Holmdel, 'Annette'); Sofia Ranucci (Interlaken, 'Baker'); Francesca Ranucci (Interlaken, chorus); Nevaeh Sickles (Ocean, chorus); Mia Spallina (Manahawkin, chorus); Grace Sweeney (West Long Branch, chorus); Claire Taylor (Ocean, 'Dog'); Ria Kiafoulis (Middletown, chorus); Skylar Yannello (Holmdel, 'Cat'); Nick DiBlasi (Holmdel, chorus); Trinitee Smith (Red Bank, chorus); Eli Fisch (Elberon, chorus); Alicia Henderson (Manalapan, chorus); Amaya Love (Lakewood, chorus); Nevaeh Love (Lakewood; chorus)
Friedl cast members include Lauryn Boyle (Wall, chorus); Lev Brewer (Tinton Falls, 'Jerry Rind'); Catherine Creed (Highlands, 'Tella'); Frances Forte (Rumson, chorus); Amir Kamal (East Brunswick, 'Josef Novak'); Jack Kelly (Toms River, 'Ivo Keo Kaytz'); Olivia Lee (Manahawkin, chorus); Isabella Lee (Manahawkin, chorus); Lydia Lu (Red Bank, 'Ruth'); Olivia Marino (Toms River, 'Ela') Isabella Moitoso (Holmdel, chorus); Amanda Philipson (Little Silver, 'Anita'); Andreas Psillos (Toms River, 'Peter Ginz'); Camille Pugliese (Red Bank, chorus) Abigail Pukin (Holmdel, 'Helga'); Sofia Ranucci (Interlaken, 'Eva'); Nevaeh Sickles (Ocean, 'Maria'); Mia Spallina (Manahawkin, 'Flaska'); Claire Taylor (Ocean, 'Friedl'); Ria Kiafoulis (Middletown, 'Lilly'); Alexandra Pennington (Middletown, chorus); Skylar Yannello (Holmdel, chorus); Nick DiBlasi (Holmdel, chorus); Trinitee Smith (Red Bank, chorus); Eli Fisch (Elberon, chorus); Alicia Henderson (Manalapan, chorus); Amaya Love (Lakewood; chorus)
ABOUT Eli Villanueva AND Jason Tramm
Stage Director Eli Villanueva has earned outstanding credentials as a performer, and has become a respected name as a stage director and published composer. He has appeared internationally in leading baritone roles including Figaro in The Barber of Seville, Marcello and Schaunard in La Bohème, and Falke in Die Fledermaus with such noted companies as the San Francisco Opera Center, LA Opera, and for the Cultural Arts Festival in Cortona, Italy. Recently for LA Opera, Mr. Villanueva directed the acclaimed production of Noye's Fludde at the Cathedral of Our Lady of the Angels in downtown Los Angeles conducted by Maestro James Conlon. This event combined a community cast and orchestra of over 200 as well as professional artists from LA Opera. Presently, Mr. Villanueva is resident stage director for LA Opera's acclaimed Education and Community Programs department. For their In-School Opera programs, he teaches and directs more that 1,500 students annually in original productions. These one act operas include his very popular compositions, Figaro's American Adventure and The Marriage of Figueroa working with his brother Leroy Villanueva as librettist. Mr. Villanueva's compositions are praised for their appeal to audiences and performers alike. In addition, compositions ranging from solo vocal to choral works to popular handbell songs, can be found through publishing companies like Fred Bock Music and Laurendale Associates. Mr. Villanueva has appeared as guest stage director for universities throughout Southern California.
Music Director, Jason Tramm was featured in Symphony Magazine's 2012 Issue of Emerging Artists and hailed as a conductor to watch, and is recognized as one of the most dynamic young conductors on the podium today. A protege of the late Alfredo Silipigni, whom Tramm succeeded as principal conductor and Artistic Director of the New Jersey State Opera (2008-2012), he created collaborations with some of the finest voices in opera, including: Samuel Ramey, Vladimir Galouzine, Angela Brown, Gregg Baker, and Paul Plishka and won artistic praise for productions under his leadership. The company's 2009 HDTV broadcast presentation with PBS affiliate NJN, "Verdi Requiem: Live from Ocean Grove" with Tramm at the podium, garnered a regional Emmy Award nomination. In May of 2010, he led an historic production of the Gershwin's Porgy and Bess, about which Opera News wrote, "After four years of limited activity and rebuilding the New Jersey State Opera roared back to mainstage activity with a magnificent realization of Porgy and Bess that deserved the thunderous standing ovation it won... under artistic director Jason C. Tramm, we heard the New Jersey State Opera Orchestra in a well-coordinated and sweeping reading of this challenging score. Tramm currently serves as Music Director of the Morris Choral Society, Adelphi Orchestra conductor and Artistic Advisor and principal conductor of the MidAltantic Opera with whom he made his Carnegie Hall debut in 2015.
As Director of Music in Residence of the Ocean Grove Camp Meeting Association for the past 11 years, Tramm leads the choral, orchestral, and oratorio performances in the 6500-seat historic Great Auditorium, appearing in two National Public Radio broadcasts with organ virtuoso, Gordon Turk and large orchestra. Tramm is an Assistant Professor at Seton Hall University, College of Communication and the Arts where he leads the University, Choir, Chamber Choir and teaches voice and conducting. A frequent guest conductor, Maestro Tramm has led operatic and symphonic performances in Albania, Hungary, Italy and Romania, recently returning from the 2017 Narnia Festival where he led the Festival's premiere productions of Puccini's "Gianni Schicchi" and "Suor Angelica." On October 27, 2017 Tramm will lead the classical concert "Prayer for Peace: The Power of One Voice" at NJPAC.
Brundibár and Friedl (COMPOSED BY Hans Krasa/LIBRETTO Adolf Hoffmeister) (COMPOSED BY Eli Villanueva/LIBRETTO Leslie Stevens)
The Count Basie Theater, 99 Monmouth St., Red Bank Aug. 19, 8 p.m. A second performance will take place at the Jay and Linda Grunin Center at Ocean County College, 1 College Drive, Toms River, Aug. 20, 2 p.m. Tickets cost $20; www.countbasietheatre.org; 732-842-9000.